NJS.com WORLD HEADQUARTERS -- The 2017-18 high school sports year is in the books, so it is time to take a look back and hand out some awards. The week-long extravaganza that is the Barton's Best Awards starts today as the best from the Fall 2017 season are recognized.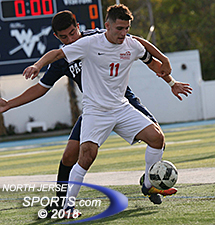 CARLO GONZALEZ
Male Athlete of the Season:
Carlo Gonzalez, Pompton Lakes Soccer
The dynamic striker was as consistent as they come and stepped up when his team needed him most. Gonzalez scored in 16 of his team's 24 games and netted at least two goals in 10 of them. Whether it was in county or state tournament play, playoff time was when Gonzalez was at his best.
Even with opposing defenses focusing solely on how to slow him down the Felician College-bound senior found a way to rise to the challenge. In the Passaic County Tournament when he scored five of his team's six goals in two matches, including a season-high four in the quarterfinals against Hawthorne Christian. But it was in the state tournament where Gonzalez carried the Cardinals to greatness.
He scored in all but one of the Cardinals' six state tournament games, including a hat trick in the North 1, Group 1 section final win over Waldwick. That was just an appetizer with the state title coming as the main course. With a tough angle outside of the top corner of the penalty area on a direct kick, Gonzalez delivered a perfect strike. His shot glanced off the far post and in just over a minute into the first overtime for the 'Golden Goal' that secured a Group 1 state title for Pompton Lakes. Gonzalez finished with school records of 29 goals for the season and 74 for his career.
VIN DEPALMA
Runner-Up:
Vin DePalma, DePaul Football
DePalma was a tackling machine throughout his outstanding career at DePaul. He led the state in tackles as a junior and followed that up with another great season his senior year. He finished with 119 total tackles, 17 of them for loss, along with six sacks and three forced fumbles, adding in three rushing TDs on offense.
His final game in a DePaul uniform would be a memorable one. With St. Joe's (Montvale) driving for the go-ahead score late in the Non-Public Group 3 championship game, DePalma forced a fumble on the Spartans' own one-yard line that helped secure a 7-3 victory.
Honorable Mention:
Javonte Jean-Baptiste, Bergen Catholic Football
Jose Escandon, Kearny Soccer
Shayne Simon, St. Peter's Prep Football
Sebastian Varela, Ramapo Soccer
Khris Banks, DePaul Football
Omar Sowe, Harrison Soccer
David Estevez, River Dell Football
Kevin Brennan, Don Bosco Prep Football
Colin Eifert, Northern Valley/Old Tappan Soccer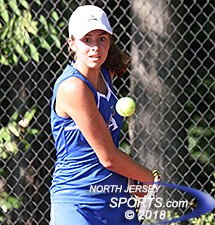 ASHLEY HESS
Female Athlete of the Season:
Ashley Hess, Holy Angels Tennis
Hess ripped through a wide variety of quality opponents throughout a season inwhich did not see her drop a set, let alone a match, until the NJSIAA state singles final.
The junior had only one competitive match during the regular season, a 6-3, 7-5 win over Northern Highlands star Riya Ravi. She faced Ravi again in the Bergen County first singles final and dropped just one game before Ravi retired midway through the second set as Hess won her first county title.
The state tournament was more of the same as she rolled through stacked field; beating highly-regarded Sydney Sharma of Watchung Hills to reach the state final. Although she eventually lost to Rutgers-bound Tess Fisher of Vineland in the championship match, Hess had one of the best seasons ever in Bergen County history and will be the favorite to win the state singles title as a senior.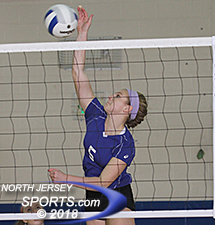 ELLEN HAMLIN
Runner-Up: Ellen Hamlin
Northern Valley/Demarest Volleyball
Hamlin has been a stalwart in the Demarest lineup since her freshman year. Her versatility and leadership is what set her apart as one of the state's premier players. Whether at the net, in the back row or behind the service line, Hamlin always seemed to make the right play at right time.
Hamlin, who will play next year at Colgate University, finished with 239 digs and 165 kills for the season as she lead Northern Valley/Demarest to finals appearances in both the Bergen County Tournament and the Group 2 state finals.
Honorable Mention:
Elena Montgomery, Ramapo Volleyball
Julia Morris, IHA Volleyball
Julietta Thron, Dwight-Englewood Soccer
Samantha Grandich, River Dell Volleyball
Braden Renke, Demarest Field Hockey
Claudia Dipasupil, Northern Highlands Soccer
Danielle Dellapi, West Milford Field Hockey
Olivia Homan, Northern Highlands Soccer
Alexa Correa, Ramsey Soccer
Rachel Scrivanich, Northern Highlands Field Hockey
Erin Hedrick, Pascack Hills Volleyball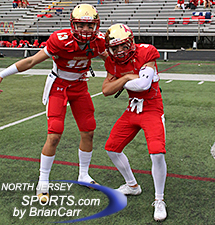 BERGEN CATHOLIC FOOTBALL
Boys' Team of the Season:
Bergen Catholic Football
The Crusaders had plenty of pressure on them coming into the 2017 season. After a loss to Pennsylvania power Archbishop Wood and a 62-14 setback against the nation's No. 1 ranked team, Mater Dei (CA), Bergen Catholic was at a crossroads.
The Crusaders were able to put those losses behind them and played a physical brand of football for the remainder of the season. A one-point win against Pope John was followed by a miraculous comeback against Don Bosco Prep where Anthony D'Addetta hauled in a 32-yard TD catch from Johnny Langan with 48 seconds left for a 29-26 victory.
That gave the Crusaders plenty of momentum and confidence heading into the state tournament. There they put on a dominant performance on both sides of the ball, outscoring their three opponents to the tune of 141-44, capped off by a 44-7 drubbing of St. Peter's Prep in the Non-Public Group 4 state title game to end a 13-year drought and finish as New Jersey's No. 1 ranked team.
Runner-Up:
Kearny Soccer
Kearny is well known throughout the country as Soccertown U.S.A. While the Kardinals have been one of the state's best teams for decades, it has been quite some time since the Kardinals made a serious run at winning both the Hudson County and Group 4 state titles.
It would not be an easy road to get either of those titles. The Kardinals had a knack for winning close games all season, with a pair of comeback 3-2 triumphs over Harrison and St. Peter's Prep to claim Hudson County supremacy. Then, en route to a section title, the Kardinals knocked off Clifton in overtime in the quarterfinals before besting longtime rival Montclair in penalty kicks in the section final.
The Group 4 semifinals also needed PKs to be decided with Kearny pulling it out (5-4 in PKs) over Bridgewater-Raritan after 100 scoreless minutes before a 3-1 win over Princeton finished off an unbeaten season with its first outright state title since 2002.
Honorable Mention:
Rutherford Football
Old Tappan Football
DePaul Football
Old Tappan Soccer
Hasbrouck Heights Football
Pompton Lakes Soccer
River Dell Football
Ramapo Soccer
Clifton Soccer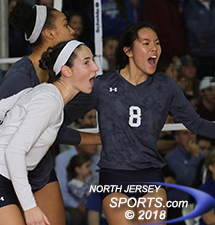 IHA VOLLEYBALL
Girls' Team of the Season:
IHA Volleyball
Having lost the previous two Tournament of Champions finals and with a host of experienced seniors in the lineup, 2017 was poised to be 'The Year' for the Blue Eagles. With a four-year setter in Julia Morris, plenty of size in the front row and athleticism in the back row and a schedule chock full of quality opponents up and down the Eastern seaboard, the Blue Eagles lived up to their lofty hype.
After a 5-0 showing during a Florida trip, IHA ran into its only loss of the season during the Garden State Challenge. They fell in the final of the showcase to undefeated Virginia state champion Flint Hill, 28-26, in the third game.
However, that was just a blip on the radar for one of the best seasons ever by a girls' volleyball team in New Jersey. In 34 matches against in-state opponents, the Blue Eagles did not drop a single set and only allowed more than 20 points in a set four times out of 68 sets.
In the Tournament of Champions final, IHA got its chance to celebrate. Showing off its depth, IHA had four different players record at least seven kills led by Sydney Taylor's nine and three different players finished with at least eight digs, led by libero Erica Timpanaro's 13. The Blue Eagles took down River Dell 25-21, 25-15 to finish with a record of 40-1 and end the season as New Jersey's top-ranked team.
WESTWOOD GIRLS SOCCER
Runner-Up:
Westwood Soccer
With a loaded five-team division, a reasonable expectation for the Cardinals' growing program was to finish in the top half of the Big North-Patriot Division. But with one crazy comeback after another early in the season, the Cardinals felt like the sky was the limit even if history told them otherwise.
Giving perennial power Ramapo everything its could handle in the Bergen County quarterfinals, a 1-0 loss, could have been enough for Westwood's season to be considered a success. Instead, it was just the beginning of a march towards the best season in school history.
With freshman Meghan Riedel up front, Lucie Gehringer and Carlye Danziger in the middle, Erin Wilson along the back line and Camryn Collova between the pipes, Westwood's strength was up the middle of the field. The bigger the game, the better they played.
After three straight 1-0 victories, including one over Sparta to win the North 1, Group 2 section title, the Cardinals were decided underdogs against Wall in the Group 2 state final. The never-say-die spirit of the Cardinals shined throughout the game as they battled all the way until losing in the final minute of regulation, 4-3. They finished with an 18-2-3 mark on the season.
Honorable Mention:
Northern Highlands Girls Soccer
River Dell Volleyball
Old Tappan Volleyball
Northern Highlands Tennis
Hudson Catholic Volleyball
Wayne Valley Volleyball
Ramsey Soccer
Pascack Valley Soccer
Ramapo Tennis
TO BUY A COLLECTOR'S PRINT OF THIS STORY PLEASE VISIT 4-FeetGrafix.com.