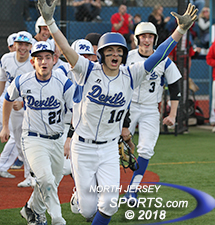 Jack Barteck, the author of this story, is one of only three seniors on this year's Wood-Ridge baseball team.
(Editor's note: Jack Barteck, the author, is a senior at Wood-Ridge High School where he plays basketball and baseball. He plans to study communications in college.)
WOOD-RIDGE -- Over the last few years, the Wood-Ridge baseball program has cemented itself as a perennial contender for league titles and a gritty Group 1 team. Last year, the Blue Devils posted a 23-9 record that featured a win over Group 3 Northern Highlands in the Bergen County Tournament.
Looking forward to this season, which should start any day now, Wood-Ridge returns only two everyday starters from last year's squad that fell to Emerson in the North 1, Group 1 state sectional semifinals. Graduating six seniors, including top offensive performers/pitchers Shian Tanaka (Third Team All-County) and Nick Pronti (First Team All-County), there are clearly going to be some holes to fill.
However, the biggest void that opened came in the offseason and not anywhere on the field, but rather in the dugout. When head coach Mike Carcich took over the program in 2011, he brought his assistant coaches, Mike Petrucelli and Jesse Romano, with him. Over the years, this trio built the program from the ground up. Over the summer, Romano welcomed his first born child into the world. With the life changing event of becoming a father, Romano stepped away from his well-worn spot in the coaches box down the first base line.
"Coach Romano was tough to replace. He had a great rapport with the kids and he has Wood-Ridge history after growing up in the town and going to high school there as well," said Carcich.
Romano's ability to call a game is what will be missed most.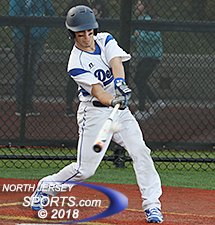 Mike Giancaspro would have been one of Wood-Ridge's two returning starters, but he will miss the season with a knee injury suffered during football.
Carcich added, "He also had great temperament with the pitchers, which I do not have. He knew how to find the positives when I was focusing on the negatives. We played off each other very well."
As it turns out Carcich did not have to look too far for a replacement. In fact, he was sitting in the Wood-Ridge High School principal's office behind the nameplate that reads 'Joe Sutera'.
"Joe has tremendous knowledge of the game of baseball, but much more experience as a coach…" Carcich said. "I think it's a good thing for the town, the high school and the program to get him on board."
Before becoming the athletic director, then vice principal and eventually principal at Wood-Ridge, Sutera had an illustrious coaching career at New Milford, Elmwood Park and Glen Rock. In his years of coaching, he garnered three state sectional titles, one state title and exactly 199 wins. In fact, one of the "clauses" of his contract, says Carcich, is that Sutera must take over for one game in order to get that 200th career win.
Although he has coached summer teams for the Complete Performance Baseball Academy and his sons' little league district teams and is also the co-host of Talkin' Baseball, northjerseysports.com's original multimedia series, Sutera was itching for a return after three years away from high school baseball.
"I miss the relationships with the kids beyond the classroom and the hallways. The team atmosphere, there's no replacing that," said Sutera.
When Carcich approached him with the opportunity, it got the juices flowing again and he is more than happy to get on board after receiving approval from the Wood-Ridge Board of Education. When asked what he is most looking forward to, Sutera highlighted the teaching of the game and the experiences that come with it.
He added, "I think the thing I'm looking forward to most is the challenge; seeing 14 guys going out there with one common goal."
Another emphasis of Sutera's was how easy it was coaching with Carcich, who basically gave him free reign when he stepped in.
The Blue Devils have not had the best preseason in preparation for the 2018 campaign as they have been hampered by injuries to their two returning starters. Mike Giancaspro will miss the entire season after a knee injury suffered in football and Jack Barteck (me) is on the shelf indefinitely after a shoulder injury suffered while hustling down the first baseline in a preseason scrimmage.
The Blue Devils were set to open the season on Monday against Ridgefield and, although they are lacking experience, Carcich and his staff have confidence that their squad can make a run this year.
No matter what this season has in store, Sutera says he will enjoy it and make the most of his opportunity.
"It's good to be back. I've accepted this place as a home, I've been welcomed with open arms, and it just keeps getting better and better."
TO BUY A COLLECTOR'S PRINT OF THIS STORY PLEASE VISIT 4-FeetGrafix.com.