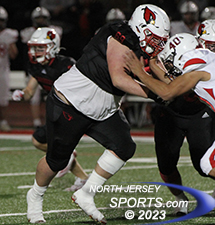 Braeden Roberts and Westwood dominated up front in a 17-0 win over Bernards in the Group 2 semifinals on Friday night.
WASHINGTON TWP. -- For the second straight week Westwood picked up a program-validating win. Last time out the Cardinals won a second straight state sectional championship and on Friday night they pushed one step further. With a 17-0 shutout of Bernards, Westwood is heading to the Group 2 state final for the first time in just the second year of that game's existence.
And everyone, it seemed, was there to see it. A packed house in Washington Township elevated a high school football game to a true community event.
It was fun and quarterback Robbie Carcich is glad that the party will last for one more game, the Group 2 state final against Rumson Fair Haven that will be played at Rutgers University at the end of the month.
"Everyone says that the goal is to win a state championship and they are right. The regional championship, don't get me wrong, is great and we are so blessed to be 12-0 right now," said Carcich. "But it won't be a truly successful season unless we finish it off with a 'W."
Bernards was also undefeated coming into the game and had won the program's first ever state sectional championship last week when it defeated Lakeland in the North 2, Group 2 final. The Mountaineers, with a size advantage in the trenches, were confident and vocal.
Then they mishandled the opening kickoff of the game, started the first possession from their own 3 yard line and never really recovered. Bernards five first half possessions ended in four punts and two completed passes inside the final 15 seconds of the first half before time expired.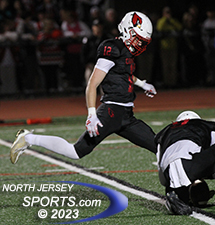 Sean Morrison's 22-yard field goal put Westwood ahead for good with 4:42 left in the first half.
"These guys come in with a great attitude for practice and it carries over right into games. Hats off to Bernards, they have a heckuva program, but we just shut them down," said Westwood head coach Bobby Guy. "Our defensive line played really well. Our guy inside, RJ Ussher, does a tremendous job of two-gapping, Dario  Mathurin is an animal on the edge and so is Luke Biello. And then don't forget about [linebacker] Mikey Carcich. He just reads the game so well."
Westwood's defensive dominance gave its offense the time to overcome a slow start of its own. Too many penalties slowed the Cardinals early and the game was still scoreless when they took over possession on their own 35 yard line with 8:19 to go in the first half. Westwood's first sustained drive of the night reached the Bernards 5-yard line before ending in a 22-yard Sean Morrison field goal that put the home team in front for good with 4:42 to go in the second quarter.
It took one minute exactly for Westwood's defense to force a 3-and-out and then the Cardinals finally got into an offensive rhythm.
"We did not come out firing on offense, but we did not fold. We looked forward and we knew we were going to get the job done," said Carcich. "It wasn't clicking right away, but it just goes back to the trust factor. We trust that our guys are going to be in the right spots, we trust our schemes and we knew we would find a way."
Carcich, ever comfortable in the pocket and so elusive outside of it, found his way through the air in the Cards' final drive of the first half. He hit Tommy Bussanich right at the sticks on a third-and-eight from the Bernards 43 and a late hit out of bounds tacked on a free 15. On third-and-goal from the 3 with 20 seconds left, Carcich found one of his favorite targets, senior Joe Klein, over the middle and over the goal line for the score.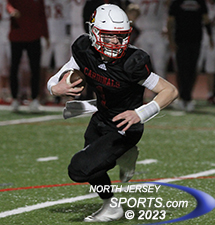 Robbie Carcich and Westwood's Band of Brothers will play Rumson-Fair Haven in the Group 2 final at Rutgers.
Morrison tacked on the extra point to make it 10-0 and with the way Westwood was playing defensively that seemed like more of a yawning gap than a skinny two-possession lead.
"Our defense held up great, a lot of stops. We held them to zero points as you can see on the scoreboard and our offense got the job done," said Klein, a senior two-way starter at wide receiver and in the defensive backfield. "That is how you win football games."
This dream season in Washington Township has been a family affair, literally. Sure football players on successful teams call the bond they build a brotherhood, but Westwood's team is exactly that.
Joe Klein's younger brother, Steven Klein, ran in the game's final TD with 6:05 left in the game and Nicky Klein, a freshman, is also in the roster. Robbie Carcich and Mike Carcich are twins, seniors who have been playing sports together their whole lives. They have one more football game together, then a basketball season and, if a grassroots effort to draft Robbie back onto the baseball diamond is successful, maybe one more after that. Then there is Tommy and Luke Bussanich and a pair of starting offensive tackles, Tyler Roberts on the left and Braeden Roberts on the right.
Brothers always fight, but on this team that means fighting for the common goal of winning the first ever outright state championship in program history.
"We have brotherhood already. We would hang out all summer with the guys. We made that really important," said Robbie Carcich. "It sounds cliché, but that chemistry really means everything to us."
FOR MORE PHOTOS FROM THIS EVENT CLICK HERE. TO BUY A COLLECTOR'S PRINT OF THIS STORY PLEASE VISIT 4-FeetGrafix.com.