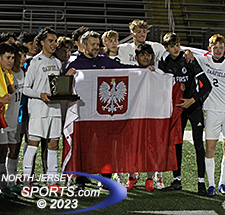 With a 2-1 win over defending champion Robbinsville in the Group 3 final, Garfield celebrated the second outright state championship in the history of its boys soccer program.
SOMERSET – As Garfield's state tournament run has picked up steam so have the story lines and because the Boilermakers took it all the way down to the final day of boys soccer season there have been more opportunities to tell them. All of them have happy endings now because Garfield beat Robbinsville, 2-1, in the Group 3 state final at Franklin High School in Somerset.
A little over three months ago Andrej Tutureski was in his home country of Macedonia contemplating a move to a new country, a new culture and a new educational system. On Saturday night, after scoring the first goal of the game, he was speaking in heavy accented but surprisingly expressive English about his journey.
"I came from Macedonia three months ago. I met some Estonian guy who told me that Garfield had a good soccer team, one that could win the states and now we win it and we are very happy," said Tutureski, a junior defender. "I was never [in America] before, but these guys are so good. They help me with football, my language and I am so proud of my teammates."
The win completed what was probably Garfield best ever season as it finished at 20-1 with the lone loss coming against Ramapo, the eventual co-champion, in the quarterfinals of the Bergen County Tournament. The Boilermakers have now won two state titles in program history and, hopefully, this one will leave that same kind of impression on its participants as the one in 2015.
In that game, Wojciech Piwowarczyk scored twice in a 27-second span late in the game to give Garfield an improbable 2-1 win over Holmdel. Piwowarczyk went on to play collegiate soccer at Fairleigh Dickinson University, won an North East Conference title and went to the NCAA Tournament in 2019 and has gone on to become a physical therapist. He was at Franklin High School watching the sequel on Saturday and last Tuesday he was watching the returns come in as he was elected to the Garfield Board of Education.
Junior defender Anrej Tutureski, who was living in Macedonia three months ago, scored Garfield's first goal.
"I have some much pride in this program and the City of Garfield. That is why I wanted to run for the Board of Education. This is Group 3. When we won it we were Group 2, so this is even a bigger accomplishment and I am so proud of this team," said Piwowarczyk, who grew up in and now represents one of the most diverse school districts in Bergen County.  "Garfield is a melting pot. When I was standing outside the school on Election Day handing out cards there was everybody coming in; Spanish people, Polish people, Italians. It's a diverse community that pulls together and it is awesome."
The Boilermakers, as they have been for the whole of the state tournament, were awesome against Robbinsville. Playing in front a crowd that has adopted the chant "Garfield is on fire," they got right to work. Five minutes in, they had two cracks at Eric Zawada corner kicks and finished the second one as Tutureski came up from the back, got into the mixer and finished through the traffic in front of Brody Kaplan's net.
Garfield had numerous chances to extend its lead with a low rip from Zawada finishing just wide left in the 19th minute, a Krystian Nitek liner from 25 yards was pushed wide of the right post in the 36th minute and all the while it kept Robbinsville from really settling in in the offensive third. The Ravens have one of the state's most dangerous strikers in senior Bora Turker, but the Boilermakers were able to stay in front and redirect him away from goal when he did receive service in dangerous areas.
It was 1-0 at halftime and 2-0 eight minutes into the second half. One minute after Brenden Baeza pinged a header off the crossbar, he got involved again from the left flank. Baeza picked out Mateusz Domurat, the senior defender who was sprinting up the boundary on an overlapping run. Domurat won the endline and then played a low cross to the middle of the six where Nitek was just arriving. Nitek took the time to settle through a tangle of feet and then was on balance as he rifled home from in close.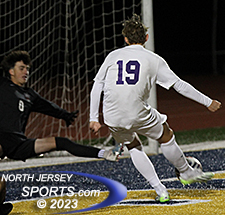 Junior Krystian Nitek scoring Garfield's final goal in a historic season.
"It was a big counterattack and I am just glad that I scored," said Nitek, a junior. "This means a lot to use. We have not won something this big in a very long time. It's going to be a happy [bus ride home]. We have a lot of water in the bus and there will be a lot of cheering and celebrating."
But before they could get the water bottles out and start spraying, the Boilermakers had to see out a game against a quality side from Robbinsville, the defending state champion with Turker, who is a threat every time he gets near the ball. Turker saw one of his chances cleared off the line by Tutureski and another denied by goal keeper Jakub Piszczatowski in a bang-bang, 1-v-1 situation.
Turker was finally rewarded for his hard work with 5:24 left in regulation when he was knocked over in the box on a diagonal run and then buried the penalty kick to make the final minutes more stressful for Garfield. The defense held up and then head coach Piotr Sala held up the Group 3 state championship trophy while his players were draped in flags of their respective ancestries.
There were flags from Poland, Macedonia, Columbia, Mexico and probably a few others, and they all fit perfectly under the Garfield umbrella.
"After that PK we were really nervous but we survived. I was confident because I have watched these boys all season and, with all of the hard work, they deserved the result," said Sala, speaking through his Polish accent on what, coincidentally, was the day of observation for Polish independence. "These are big things for the small community of Garfield and football, you know I mean soccer, is growing there. Soccer is going to be bigger than American football hopefully and we can continue this growth."
FOR MORE PHOTOS FROM THIS EVENT CLICK HERE. TO BUY A COLLECTOR'S PRINT OF THIS STORY PLEASE VISIT 4-FeetGrafix.com.