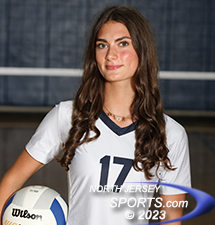 Sam Kranzler had 12 kills to lead NV/Old Tappan past Pascack Valley in straight sets on Wednesday night.
OLD TAPPAN – Northern Valley Old Tappan's volleyball team, fresh off a win over a loaded field at the Hendrick Hudson Tournament this past weekend, used balanced scoring and strong defense en route to a 2-0 (25-18, 25-18) win over Pascack Valley in league play on Wednesday night.
"I think this team has a lot of potential," said Old Tappan senior Layla Giordano. "We have depth in all positions and I think we're looking forward to playing the tough games coming up. Our schedule is pretty good. I'm just excited to see how far this team can go."
"Today we served and passed well," added coach Melissa Landeck. "Pascack Valley was doing a lot of good things on their side of the net. I know they graduated a lot last year but you can see they're a team that is going to continue to improve."
Old Tappan trailed only once -- when Valley took a 1-0 lead on the first point of the match on a great block by senior middle blocker Mia Hachadourian. The Golden Knights tied and took the lead on a blast by junior Samantha Kranzler and service ace by senior libero Grayson Housley.
Panthers junior outside hitter Jillian Feeley tied the game 2-2 with a well-placed kill, but Old Tappan junior outside hitter Brenna Delaney hammered a kill to give the lead back to the Knights. The teams exchanged points and Feeley's service ace tied the game at 6-all. Maya Giordano gave Old Tappan the lead for good, 7-6, with a thunderous kill, one of the many hard hits in the match.
"We're all tall, big girls and we play a lot of other sports, which I think helps," Maya Giordano said. "We play sports together, we train a lot and we do a lot of stuff outside of volleyball that helps us get ready for the season."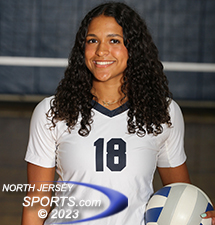 Senior Layla Giordano had four kills for Old Tappan, which improved to 3-0 on th season.
The Old Tappan defense kept Valley from going on any scoring runs so they were able to maintain a 5- to 7-point advantage throughout the first set.
"I just think we are good at reading the hitters and where they're going to hit," Housley said. "We have good communication and can trust each other. If one of us calls the ball off to someone else we are good at communicating."
"That's something we talk about all the time," said Landeck. "Everybody has got to be on the same page, talking on every ball, regardless of what grade they are in or what position they play. When the communication is there we're just a better team."
Old Tappan jumped out to a 7-0 lead in the second set thanks to a block by junior setter Addison Gioffre, a pair of kills by Kranzler, a thunderous kill by Layla Giordano and seven service winners, including an ace, by Delaney.
The balanced scoring is something the Knights can use to their advantage.
"It's a benefit for us to use against the other team," said Maya Giordano. "They never know where the ball is going. Anytime it goes to anyone it's a kill. We have a lot of great options to confuse the other team and it works so well."
"Every rotation we have options we can use and kids that either get a kill for us or make a smart shot and put it in the court if they don't have the point," Landeck added. "We're also making some good decisions out there."
Later in the second set a service ace by Kranzler boosted the advantage to nine, 13-4, and Valley never got closer than within six points the rest of the way.
"We're fortunate that we have a lot of depth and kids that can play multiple positions," said Landeck. "We have practiced with several different lineups and played matches. We were just in a tournament. We have a lot of nice options and kids that will contribute in all kinds of ways depending on the day."
Feeley finished with 6 kills and 6 digs, while Hachadourian added 4 kills and 2 blocks and sophomore setter Celia Torres had 9 assists for Valley, who fell to 1-2 on the season.
Old Tappan improved to 3-0, as Kranzler led all scorers with 12 kills and also scooped 8 digs. Maya Giordano tallied 6 kills, while Delaney contributed 5 kills. Layla Giordano chipped in with 4 kills. Junior setter Addison Gioffre had a kill, a block and an impressive 29 assists.
"We have high expectations for the season," said Housley. "It's really fun on and off the court. We do a lot of pasta dinners, a lot of bonding time. But when we're in the gym we take it seriously. We set high expectations for each other. We call each other out when something bad is happening. Overall it's good."
"This is the first game where everyone is playing together," added Layla Giordano. "We had a couple of injuries and I feel as we play together and keep going we become one unit, one family and we can learn to sync together. A lot of us have played together in the past, but we are getting adjusted to this specific team for the rest of the year."
FOR MORE PHOTOS FROM THIS EVENT CLICK HERE. TO BUY A COLLECTOR'S PRINT OF THIS STORY PLEASE VISIT 4-FeetGrafix.com.