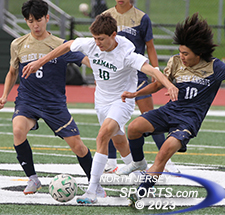 Ryan DeKorte's goal early in the second half stood up for Ramapo in a 1-0 win over NV/Old Tappan on Sunday in the Bergen County Tourtnament quarterfinals.
FRANKLIN LAKES – To speculate, if Ramapo and Northern Valley/Old Tappan, two evenly matched sides that both have multiple attacking options and stable defenses, were to play each other in boys soccer 10 times then all 10 of those games might be decided by one goal either way. A little over a week after an overtime game won by Northern Valley/Old Tappan, Round 2 of the season series came on Sunday in the first of four Bergen County Tournament quarterfinal games played in Franklin Lakes.
Ramapo had some almosts through a fast-paced but scoreless first half as its attack poked and prodded one of North Jersey's premier backlines that had allowed just six goals in its first nine games of the season.
"We got the ball down the flanks like we wanted to at times, but Old Tappan did a good job of stymying it. They are well organized and hard to get around," said Ramapo head coach Evan Baumgarten. "The important thing that was we kept at it and stuck with the plan."
Everything fell into place for the Green Raiders just over six minutes into the second half when striker Damon DiLisio turned distributor. DiLisio took down a ball played in from the midfield with his back to goal and then rolled it into the path of Ryan DeKorte, who was in full stride as he raced to catch up to the through ball..
With momentum behind him, a defender closing from the left and a tight angle, DeKorte cracked one just inside the opposite post for the lone goal in a 1-0 victory that moves Ramapo, the No. 6 seed, into the semifinals where it will take on No. 7 Don Bosco Prep, a 2-0 winner over second-seeded Tenafly. Top seed and defending champion Bergen Catholic, which knocked out No. 8 Pascack Valley, and No. 5 Ramsey, a 1-0 winner over Ridgewood, will make up the other half of the Final 4 bracket next weekend.
"The ball got laid off to me, I saw an opening and I took a touch into the space. I hit it as hard as I could and just hoped. When I saw that it went in I was so excited," said DeKorte, one of 11 seniors on the Ramapo roster. "We knew it was going to be a tough game, we knew we were going to have to battle and we all went into it with that mindset. We had to put in the work."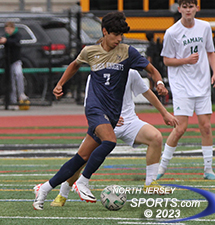 Old Tappan striker Kevin Contreras was dangerous right down the final whistle.
DeKorte's might have been the only goal of the game, but not the only chance. Old Tappan goaltender Michael Greenberg was called into action on a few occasions in the first half and was up to each of those challenges. Greenberg made a diving save of a sizzling free kick hit by Jake Weis in the 30th minute, positioned himself smartly at the near post before pulling in Jordan Hunt's left-footed attempt in the 43rd minute and punched away a knuckling DiLisio effort just under four minutes before halftime.
For a stretch when it was having success going forward, Ramapo had five sophomores – DiLisio, Hunt, James Fitzmaurice, Julian Cuttita, Dylan Dungo – on the business end of the midfield stripe. The last time Ramapo played NVOT it did not sub after halftime, this time the Raiders' legs looked fresher.
None of that, however, made it easier to defend against Old Tappan's Kevin Contreras as dangerous a striker as there is in the county and not one who needs the ball at his feet for extended periods to be effective. Contreras is a goal-scorer of opportunity, so he always demands a full accounting,
That job fell to senior defender Jake Kramer, who spent most of his day keeping track of Old Tappan's No. 7 jersey.
"He is dangerous, obviously, so I wanted to get up close, cut down space and not let him turn. I tried to apply pressure and force him backwards," said Kramer, the Raiders' senior defender. "It's very stressful with a player like him because any shot could go in and he definitely knows how to draw fouls in and around the box."
Damian DiLisio assisted on the goal for Ramapo, which will play Don Bosco Prep in the semifinals.
That made for a nervy stretch run for Kramer and his cohorts as Contreras was front and center in the Golden Knights' search for the equalizer. With just over 10 minutes to play in regulation, Contreras pinged the crossbar with a long-range zinger and in the last four minutes he was involved in a pile-up that cleared with no foul given. Goran Saric had Old Tappan's last best chance, but his hard roller along the turf was handled by keeper Antonio Spina as Ramapo found its way into the semifinals.
The season series between these two perennial contenders in the North 1, Group 3 state sectional playoff bracket and there may still be a Round 3 coming up in the postseason. For now, however, this was a tough one for Old Tappan (8-2) which is trying to chase down Tenafly in the Big North National league title race.
"I thought we played well enough, it was a close game like you would expect in the quarterfinals. We hit the bar and we had some other chances there," said Old Tappan head coach Mark Torrie. "It didn't go our way. It is what it is and we will move on from here."
Ramapo is moving on to a 6/7 matchup in the county quarterfinals but to say that either the Green Raiders or Don Bosco Prep are on some kind of Cinderella run is to ignore history. These are probably Bergen County's two biggest heavyweights and it should be a doozy.
"We know about [the history], but we try to ignore what has gone one in the past and just focus on what we have going on now," said DeKorte. "We are doing the best with the players and team that we have now and we are super pumped [to be going to the semifinals]."
FOR MORE PHOTOS FROM THIS EVENT CLICK HERE. TO BUY A COLLECTOR'S PRINT OF THIS STORY PLEASE VISIT 4-FeetGrafix.com.