Tommy Ramos' first high school goal was the overtime game-winner in NV/Old Tappan's 2-1 victory over Ramapo.
OLD TAPPAN – Winston Kim had a plan. Lined up over a free kick late in overtime in a rainy tilt against rival Ramapo, Kim wanted to put the perfect spin on the ball so that it travelled on a pre-prescribed line in order to land directly on a teammate's head from where it could be redirected in for a clinical goal that would win the game in dramatic fashion.
"At the end of the first half I had a really bad free kick, so I tried to learn from my mistake. I set it up and was really trying to think about where I was placing it," said Kim, Northern/Valley's dead ball specialist who can hit a ball consistently with touch and pace. "The plan was to whip it in on the left side."
But with rain pelting down onto the wet turf and with 88-plus minutes on of wear on the players engaged in an up and down game, the free kick did not necessarily turn out to be a work of art.
"I find of messed it up," said Kim. "It ended up going straight right into the middle."
Proving that athletic effectiveness does not always derive from athletic art, Kim and his teammates still got the end result they were looking for. The whistled into the scrum right around the six-yard box where it caromed out with one high bounce, about eye level with Tommy Ramos, the junior defender who had never before scored a high school goal.
Ramos seized the opportunity, nodded the ball into the open net and game the home-standing Golden Knights another quality win on their resume, a 2-1 overtime victory over Ramapo on the same day that the Bergen County Tournament seeds were announced.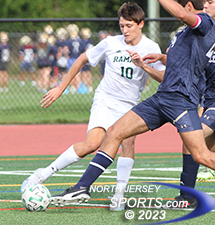 Ryan DeKourte scored the equalizer for Ramapo early in the second hald.
"Honestly, I don't even know what happened in there. I went in to see if the ball would be bobbled and next thing I knew the ball was right in front. Just like that…goal," said Ramos. "It was just reaction. I saw the ball and I was like, 'It's go time.' It's the first goal of my high school career and it is a really special moment. Ramapo is a great side; they played a great game so it was sweet to get that goal in overtime."
Old Tappan is now 6-1 on the season and earned the No. 3 seed in the Bergen County Tournament right behind No. 1 Bergen Catholic and No. 2 Tenafly, the only team to beat the Knights so far this season. Ramapo fell to 5-2 and was No. 6 when the seeds were announced on bergencountycoaches.org.
"I thought at times we were able to have and keep the ball, but as the game went on more of the chances were for [Old Tappan]," said Ramapo head coach Evan Baumgarten. "The one kid up top for them [Kevin Contreras] is really dangerous, he likes to shoot and he really can so they are always a threat."
Contreras set the Old Tappan record for goals in a season (22) last year as a junior and is chasing his own mark as a senior. He added to his tally with just under 8 minutes to go in the first half. Having forced a save out of Ramapo keeper Antonio Spina with a low spinner toward the opposite post, Contreras got right back to work on the restart, a Kim corner kick from the left flag. Contreras controlled the ball in traffic and went right back to the same spot, but this time with enough pace to tuck it inside the first post to make it 1-0, a lead that held up through halftime and four-and-a-half minutes of half No. 2.
Ramapo was most dangerous when players like Damian DiLisio were make spirited runs up the flank then swinging the ball in from wide spaces. Albert Carilli had his moments chasing service and so did Ryan DeKourte, who got in on a DiLisio cross and took his time even with a defender closing fast. DeKourte hit one low and with a spin that kept it moving away from the keeper who could not get enough on the shot. DeKourte's banker from left to right tied the game in the 45th minute.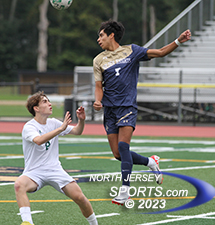 Kevin Contreras scored the opener for Old Tappan, which earned the No. 3 seed in the Bergen County Tournament.
There were chances on both ends for the rest of regulation, but Old Tappan's obvious advantage, other than Contreras' right foot, was its depth. While Ramapo did not substitute after the intermission, OT used 20 players in the game, had trust in all of them and let the fresh legs do the work.
The Knights were pushing leading up to Kim's free kick and Ramos' game-ending finish.
"I like the Winston just put the ball in a dangerous area. The ball does funny things in this sport, especially in these conditions. I was happy with the way we played. Everyone got to play, we used both keepers and the second group might have found it a little bit easier because they were tired and the game opened up," said Old Tappan head coach Mark Torrie, whose team earned a first round by in the county tournament. "I never worry about seeds. We had a good seed last year and it didn't work. We got found out. We'll see how it goes this time."
Old Tappan will play the winner of the first round match between No. 14 Glen Rock and No. 19 Wallington next weekend. Ramapo, the No. 6 seed, awaits the winner of No. 11 Garfield against No.  22 Dwight-Englewood.
FOR MORE PHOTOS FROM THIS EVENT CLICK HERE. TO BUY A COLLECTOR'S PRINT OF THIS STORY PLEASE VISIT 4-FeetGrafix.com.