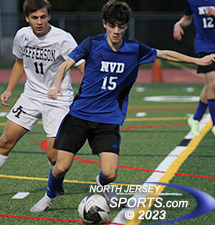 Connor Shea scored with 2:22 left in the first overtime to give NV/Demarest a 2-1 win over Jefferson in the opening round of the North 1, Group 2 state sectional tournament.
DEMAREST – Northern Valley/Demarest has just about all of the attributes of an effective offensive soccer team. The Norsemen can ping the ball around, they provide effective service and they attack from multiple angles, which can stretch an opposing defense. The devil has been in the finishing.
"Everybody on this team plays with fantastic heart and passion. These guys have tremendous skill, but if we struggle in one part of the game it is finding the frame," said Demarest head coach Rob Romeo. "We possess, but at the end of the day it comes down to the score."
Demarest has been trending up late in the season and with the postseason getting underway on Wednesday, it needed all of its improved offensive efficiency. Both of the Norsemen goals came through the run of play, the second on a quality service and that set up Connor Shea for a defender-splitting finale late in the first overtime that gave eighth-seeded Demarest a 2-1 win over No. 9 Jefferson in the opening round of the North 1, Group 2 state sectional playoffs.
Shea's game-winner, his second goal of the season, came off a perfectly-weighted, lofted serve by Ryan Dunne that hugged the touchline as sent Shea into space. With a defender on his back and another arriving from the inside out, Shea split the pair, took a tough into space and then went across the goal with a low skidder that tucked itself just inside the far post with 2:22 showing on the clock.
The walk-off win sends the Norsemen into the quarterfinals where they will visit top-seeded Ramsey on Saturday.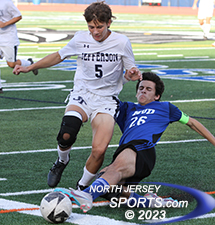 Jamison Reid's goal for Jefferson with 8:49 left in regulation tied the game at 1.
"Ryan Dunne, No. 4, sent in a great ball over the top. I took a touch, I saw a space. I tried to juke out the defender, he fell for it and I just shot it," said Shea, a junior. "I faked a shot, went across my body and went for the far post. It's probably the best goal of my career. Feels great."
There was an early feeling out period, literally, between the two sides. There was one bloody nose and one yellow card inside the first nine minutes of a first half that looked destined to finish in a scoreless stalemate before one moment of brilliance on a Demarest rush.
Ari Karageorge turned a quick change of possession into a dalliance down the left channel and he centered a ball for senior striker Jacob Krylov, or at least so it appeared. Instead of trying to bury the ball himself, Krylov let the ball run for an unlikely secondary attacker, junior Erez Shinar, who had never before scored a varsity goal.
"I was playing the 6, but I saw the ball and I ran into the box. I told my striker to leave it, but I never get the ball so I didn't expect it to come through. Then I was like, "Oh, my God. I have the ball," said Shinar. "I had the ball, I was inside the 6 and I was so scared. I had my first assist last game and now this…my first goal. I couldn't believe it. I shot it, it went in and then I ran to the wrong side of the field to celebrate. There was nobody in those stands over there."
Shinar's goal came with 4:14 left in the first half and that one goal was enough to keep Demarest in front through the intermission and well into the second half although it nearly doubled its advantage 52nd minute. Jefferson keeper Spencer Mutsavage (5 saves) made two tough saves to rob both Dunne and Karageorge on the same sequence.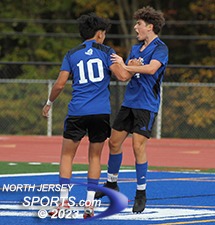 Erez Shinar (right) celebrating his first varsity goal, which gave Demarest a 1-0 lead.
With seniors Joe Monaco and Arda Karaburun anchoring the defense, Demarest limited traffic in its own penalty area. Jefferson managed just two shots on goal, but the first one by Charlie Obermann led to a rebound that was buried by Jamison Reid. With 8:49 left in regulation, the game was tied again.
"We were controlling things back there and their goal wasn't expected, but our captains – Joe [Monaco], Adrian [Cami] and Ryan Cohen – did a great job of getting us back together and getting us refocused," said Shinar. "We got into a huddle, we talked things out and we just said 'Stick with it,' and everything is going to be fine."
Everything was fine once Shea scored in the 88th minute and the Norsemen (8-6-2) will be underdogs, but not overwhelmed by their next state tournament opponent. Ramsey is 17-0-2 on the season and is this year's Bergen County co-champions after a draw against Ramapo in the county final, but their other tie was a 1-1 stalemate against Demarest one month ago to the day from Saturday's rematch.
"We have to go with a lot of heart, a lot of drive and a lot of belief," said Romeo, whose team was knocked out of last season's state tournament by Ramsey in the semifinals before then Rams went on to win the section title. "I love [Ramsey head coach] Cesar Blacido. He's a great guy; he has a great team and a great program. It's always a lot of fun, it's great competition and it is a great opportunity for our guys and their's as well. Really looking forward to that game."
FOR MORE PHOTOS FROM THIS EVENT CLICK HERE. TO BUY A COLLECTOR'S PRINT OF THIS STORY PLEASE VISIT 4-FeetGrafix.com.