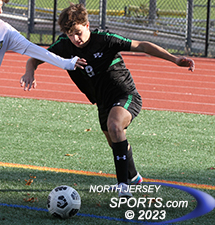 Steven Giffords scored both goals for Pascack Valley, the No. 7 seed that earned a third straight trip to the section finals with a 2-1 win over Indian HIlls.
HILLSDALE – A couple of months ago the idea of Pascack Valley and Indian Hills meeting deep in the state playoffs was inconceivable. The Panthers, back-to-back state sectional finalists, lost a ton of talent from those two quality teams, the kind of talent not easily replaceable for a public school program. Indian Hills started this season at 0-4-1 and if not for a win over Paramus late in the third week of the season it would have gone the whole of the opening month without a win at all.
On Wednesday in Hillsdale, Pascack Valley, the No. 7 seed, and Indian Hills, having won two playoff games on the road from the No. 11 spot in the bracket, squared off with a trip to the state sectional final on the line.
With a goal in each half by Steven Gifford, the second one nine minutes into the second half, it was Pascack Valley that claimed a spot in the championship match. The 2-1 victory sets up Saturday's North 1, Group 2 final against top-seeded and defending champion Ramsey, which rolled past No. 12 Mahwah, 5-0, in Wednesday's other semifinal.
From a 4-4-2 start to the season to one game for the trophy; Pascack Valley (11-6-3) has come a long way from the start this season
"With this group we had some pieces to move around and some work to do, but the boys have been able to step up and accomplish the jobs that we have asked them to do," said Pascack Valley head coach Luciano Cofrancesco. "Truthfully, I am as surprised as you."
Pascack Valley was coming off an upset of No. 2 Pompton Lakes in a quarterfinal match that was decided in penalty kicks, while Indian Hills had scored seven goals in its first two state playoff matches including five in the quarterfinals against league rival Pascack Hills. There were goals to be had on a windy day in The Valley and Giffords got the first one 15 minutes in on the business end of a hustling individual effort that saw him storm up the left touchline.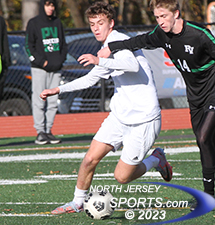 Evan Rozman scored the goal that got Indian Hills even a 1.
"The defender was trying to force me to my right, so I said, 'Why not take the left?' I took the left and it opened up a lot of space," said Gifford. "I cut right in, I was able to get a shot off with my right foot and it went across the goal and in."
Up until that point, Indian Hills was the team that looked more dangerous in the final third and the Braves were undeterred when they fell behind and it was only a great save by PV keeper Bennett Scalia kept the home team from falling behind before the half.

Indian Hills got even with just under nine minutes left in the opening half when Michael Caso was taken down 25 yards from goal and in the middle of the park. Dylan Biernacki struck the restart cleanly and forced Scalia down and to his left to keep the original effort out. Evan Rozman pounced on the rebound, however, and netted the equalizer with a roller back inside the far post.
Two-and-a-half minutes later, Scalia found himself on the move again, this time in pursuit of a rip by Colin Kamm, who hit a left-footed laser that was on target and knuckling, Scalia got over in time to pin the ball against his right post before it dribbled out back into traffic from where it was cleared out of trouble by Tristan Verdonck Flores.
"After they scored that goal to tie it we just said, 'Hold the rope." Soccer is a game of up and down momentum," said Ethan Perlman, PV's central defender. "We just kind of had to weather the storm, get into halftime and reset from there."
It wasn't long after the break that the Panthers again had a margin of error. Again it was Giffords and he finished what Adrian Cano started in the 49th minute.
Center back Ethen Perlman anchored the Pascack Valley defense, which 'Held the rop,' in the second half.
"On the second goal all of the credit has to go to Adrian Cano. He put the ball exactly where it needed to be," said Giffords. "I took one touch around a defender and into the bottom corner it went. That was it."
That was it in terms of offense, but PV still had a whole lot of defending to do as the final 30 minutes did not pass easily.
"Once we got that second goal we just had to hunker down. They were pounding in balls, but we competed and we got up for the challenge," said Perlman. "Danny Lin, me, [Aiden] O'B[rien], Tristan [Verdonck Flores], the freshman on the right, Stefan [Villanueva] on the left, we all just came together as a backline to get every ball out and see this one through."
With the defense limiting Indian Hills to mostly shots from distance down the stretch and Bennett picking off the ones that were too heavily weighted, Pascack Valley ended Indian Hills' playoff adventure. The Braves had not been this deep in the postseason since making the North 1, Group 3 final back in 2015.
From a nearly winless September to a 10-9-2 finish, Indian Hills made some memories.
"We had a four-win season last year and then to start off the way we did I think a lot of people wrote us off, but not this group. We knew what we were capable of and nobody in our locker room was surprised we made it this far," said Indian Hills head coach Christopher Mayer, whose team got its first win of the season on September 23 and then took off from there. "We leaned into our captains Caden Concepcion, Dennis Karakash, Michael Caso and Dylan Biernacki and we had some very honest conversations. Instead of looking back at what we did we started looking forward to what we could do and we went on a little bit of a run when October started."
Mayer's plan is to not wait eight years to make another deep postseason run.
"I would hate for this to be a one-time thing. This was a good group, we knew it was a good group, but this is a sleeping giant at Indian Hills and I really believe that we can do big things," said Mayer. "I hope that the guys we have coming back learned a lot this year. We were playing a lot of freshmen this year, a goalie and two midfielders, and the younger guys now know what it takes to get to this level."
Pascack Valley is no one-hit wonder as they get ready for a state sectional semifinal rematch on Saturday in Ramsey.
"If someone told me at the beginning of the year that we would be back in the section final, to be honest I would have been a little skeptical," said Perlman. "But I think after that Tenafly game (a 1-1 tie in Hillsdale on September 21) was when we realized that we could be special and that this group could make a run. We have made a run and now we want to finish the job."
FOR MORE PHOTOS FROM THIS EVENT CLICK HERE. TO BUY A COLLECTOR'S PRINT OF THIS STORY PLEASE VISIT 4-FeetGrafix.com.