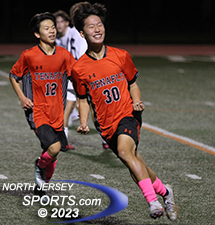 James Jang celebrating his goal in the 51st minute that gave Tenafly a 1-0 win over Waldwick in the Round of 16 in the Bergen County Tournament.
TENAFLY – Tenafly, unbeaten through 10 games to start the season, makes teams run. The Tigers use ball movement along the full width and length of the pitch to constantly force defenses into decisions. With everyone involved, Tenafly is always probing for the breakthrough.
"We tell our guys to read the defense. If they want to press up we let them come to us and then we play it around. If they want to sit back then we play it and use the whole field," said Tenafly head coach Mike Carrasquilla. We have multiple styles of play, which is great."
The one the Tigers chose against Waldwick on Thursday night in the Round of 16 of the Bergen County Tournament was one of possession that turned into opportunities with diagonal darts played over the top from the flanks.
"We have some good teams in our league and in our section at the Group 1 and 2 level, but we don't see a team that can bang it that good over the top that often," said longtime Waldwick head coach Jon Nochese, whose team is a perennial county tournament qualifier and seemingly always in the mix for league and state sectional titles. "I was happy with the way our boys handled it because we don't see that type of soccer with that type of ability to bang it. They play a nice brand of soccer and it was a good experience for us."

But Waldwick, seeded 15th, was not just there to make up the numbers. The Warriors were forced to play defense and chase maybe more than they are accustomed to, but they got through the first half still scoreless and got a yeoman's effort from their junior goalkeeper Axel da Silva to keep it that way through the first 10 minutes of the second half.
Four minutes after da Silva saved a penalty kick and 11 minutes past the halftime intermission, James Jang took down yet another service played in from near the right touchline by Andres Aldeco Ortiz. With a half-second or so available to collect and pick out his target, Jang finally found a way around da Silva for the lone goal in Tenafly's 1-0 victory at Geissinger Field.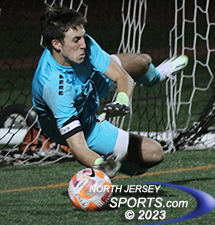 Waldwick keeper Axel da Silva saving a PK early in the second half.
The win moves Tenafly (8-0-2) in the quarterfinal round where it will play No. 7 Don Bosco Prep, a 2-0 winner over Northern Valley/Demarest on Sunday at Ramapo High School.
"I just received the ball from Andres, made a quick turn and shot it with my right foot. Honestly, their defenders played really well and I wasn't really expecting to score. It was a good feeling when I did, though," said Jang, who now has five goals on the season. "We were dominating possession, but when the score is 0-0 for that long it gets kind of nerve-wracking. We needed to just get one in and we couldn't let the pressure get to us."
In the first half especially, Tenafly had an overwhelming advantage in possession with Nicholas Vaimakis running the show from the engine room in the middle of the park. Drawing defenders and then slipping past or distributing just in time, he kept everyone involved and kept the Warriors from ever getting comfortable.
"We have a lot of talented players on our team and we also have a lot of depth. The whole game we switch players in and out. We stay fresh and we try to dominate all parts of the game," said Vaimakis. "We anticipated that they would park the bus. We put hours in watching film and we did our homework. We had a game plan ready to go and we executed."
Tenafly had myriad chances in the opening half with Aldeco Ortiz and Chris Carrillo hammering in the crosses and Eyal Mermelstein and David Shin trying to turn them on goal, but even while it was on the chase, the Waldwick defense maintained its shape. With da Silva there to pick off anything of too much length, the Warriors held the Tigers, who were averaging nearly four goals per game coming in, off the board through the first 40.
Andres Aleco Ortiz had the assist on the goal for Tenafly, which will play Don Bosco Prep in the quarterfinals on Sunday.
Waldwick even had the last best chance of the first half when, on a well-orchestrated counterattack, Andrew Del Ray played one into the path of Julian Ruehlemann, whose rip forced Inaki Gonzalez Gomez into action. Gonzalez Gomez, who split the shutout with Alexander Chun, who played the second half, got up to his right to deflect Ruehlemann's screamer wide in the 30th minute. That was Waldwick's first shot on goal in the game and its best.
And Tenafly is relentless. It never sped up, always letting the ball do the work on the turf before being played into a willing runner and eventually it paid off in the game-winner.
"We have been having a successful season, but we have done it one match at a time. Don't get cocky, don't get arrogant and always be humble," said Carrasquilla, who is in his second year as the Tenafly head coach. "In 2014 and 2015 I coached at Bogota, so I know Waldwick. I knew they were going to come to play. They are always tournament contenders; they are state championship winners, so it could have been anybody's game. Thankfully we got one to go in."
The Warriors (7-2) certainly made some noise before making their exit, while Tenafly advances in the county tournament while simultaneously trying to hold on to a slim lead in the league title race. The Tigers are 5-0-1 in the Big North National Division, probably North Jersey's most competitive, where five of the six teams qualified for the Bergen County Tournament.
There is competition, there is motivation and there is a greater purpose in this season.
"We lost coach Fernando [Picariello]. That was a big loss for the program. He was my assistant coach last year and on our jerseys you see his initials. We lost him to a heart attack back in December, the whole program was crushed and we are playing in his honor." said Carrasquilla, who brought back Bill Jaeger, the Tenafly legend who had two different highly successful stints as the head coach, including a Bergen County championship run, to be his assistant this year. "You can't put a price on knowledge and experience and that is what he brings. He says 'That is just a different way to call me old,' but I am very thankful that he is here with this program where he belongs."
FOR MORE PHOTOS FROM THIS EVENT CLICK HERE. TO BUY A COLLECTOR'S PRINT OF THIS STORY PLEASE VISIT 4-FeetGrafix.com.