Martin Czovek converted to PKs into goals, the second one came in overtime and gave Garfield a 3-2 win over Summit and a spot in the Group 3 state final.
GARFIELD – The City of Champions Athletic Complex is a peach. When it is completed in the vast expanse behind Garfield High School it will be a state-of-the-art, one-stop shop for at least the next generation or two of athletes from youth sports straight up through high school and beyond. The crazy thing is that in all of its future years it may never host an event quite like the one it did in its soft opening on Wednesday afternoon.
The construction equipment provided the backdrop, the rented scoreboard kept the time, the lively student sections from Garfield and Summit provided the atmosphere and the players brought the drama to the Group 3 state semifinals.
North 2 champion Summit went from being completely out-played in the first 20 minutes or so to a two-goal halftime lead. Garfield went from a 2-0 deficit with 21 minutes to play to forcing overtime and then to a stunning conclusion. Martin Czovek's penalty kick 3:33 into the extra session gave Garfield, all of Garfield – the students, the community at large, the administrators and the politicians who dreamt up The City of Champions and got enough of it completed in time for state tournament playoff soccer -- a 3-2 win that sends the Boilermakers into the Group 3 state final for the first time since 2015.
"There was not even one second when I stopped believing in the boys because, you know what? We deserved this," said Piotr Sala, who is in his first year as the Garfield head coach and who, like the City of Champions Athletic Complex, will have a hard time replicating his debut in the years to come. "Crazy game, but finally we scored two goals, we went to overtime, got a PK and made it. Look what is going on right now. The whole school is here, the boys are celebrating with them and they are heroes…heroes. Amazing."
Garfield will play Robbinsville on Saturday in a 5:30 start at Franklin High School for the Group 3 state title with a chance to win the second outright state championship in school history. The Boilermakers beat Holmdel in the 2015 final with two second half goals. The coach of that 2015 team was…Mark Pieklo and he was in attendance on to see this next program milestone.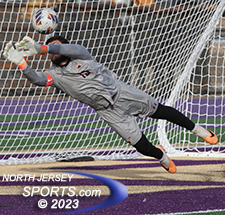 Summit keeper Sebastian Arias saved everything he could get his hands on and he got his hands on just about everything.
"This means everything. This process started with Nick Perrapato in the '70s. He laid the foundation with the first two sectional titles. He was the original coach of the Garfield Boilermakers," said Pieklo. "We put another level on the foundation and now Coach Sala has put the third floor on. This is kind of like a dream come true building this complex. I give a lot of credit to the Board of Education and the town for putting in the funds to build this. And then there was this game."
So, back to THIS game.
Garfield had chance after chance in the early going only to repeatedly run up against a brick wall wearing a goalie's kit. His name is Sebastian Arias the senior keeper stoned the Boilermakers repeatedly at every turn. Diving saves, climbing the ladder to punch ball out of trouble, picking off long balls, cutting angles, he did it all while frustrating the Garfield attack that was pouring it on.
In the ninth minute Arias held his ground against a full-speed, three-pass combination between Czovek, Brenden Baeza and Krystian Nitek and broke it up just before its fitting conclusion. Two minutes later he made the original save on a Baeza blast and then scrambled in time to limit any rebound opportunity.
There were other early thwartings, but this is a long story already so we will skip to the point when the momentum noticeably changed. The scouting report said Summit is dangerous on set pieces, particularly on Thomas Flack's long throws and when one caromed around the area onto the foot of Quinn Dillon, the senior midfielder turned and fired it home for a 1-0 Summit lead in the 15th minutes that came completely against the run of play,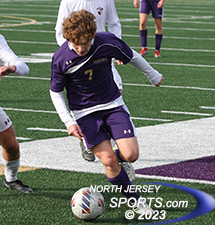 Eric Zawada drew the foul in overtime that facilitated the decisive penalty kick.
A few Garfield near misses later and Summit got another chance at an uncontested restart, this one a free kick in the middle of the part about 25 yards from goal and Jack Staples deposited it in the left side in the 31st minute.
Winning in possession, chances and flowing, Garfield walked off the pitch at halftime trailing 2-0.
"We knew we should not have been down like that. We had chances that we did not finish and their goalie was really good, but we knew we still had another half to play," said Garfield junior Leland Gonzalez. "Everybody came out here to support us, we were the first ones to ever play on this field and we wanted to be the first ones ever to win on this field. That is something that is going to be big in Garfield history and we had to go out and get it."
Lost in the final two minutes of the first half was that Staples picked up a yellow card, a development that would become more important later on. In the meantime, Garfield got right back in hot pursuit mode after the break and finally found a way around Arias. It was from the penalty spot after Nitek was held back on a bully run into the box. Czovek converted that PK to make it 2-1 nine minutes into the second half.
Then, in the 51st minute, Garfield found the equalizer with a restart of its own. Gonzalez, who does not usually take throw-ins, did so in order to make it quick. Eric Zawada kept the ball moving before Baeza was able to shift it on to his favored left foot and score from in close to tie the game at 2.
Another Arias diving sparkler robbed Baeza of the potential go-ahead goal a minute later and on it went to the next major development, which was the showing of a second yellow card to Staples with eight minutes left in regulation. Two yellows equals one red, so the Hilltoppers were left a man down, which they navigated through the end of regulation, just barely, as Gonzalez's free kick rip was heading for the left side panel before Arias intervened with a dive to his right for one of his best and final saves of regulation.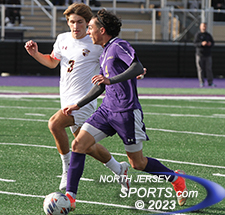 Brenden Baeza scored the first goal for Garfield, which will play Robbinsville for the Group 3 state title on Saturday.
The Boilermakers are a team that stretches defenses at all times anyway, but with the man advantage and the fatigue setting in on the Summit defense, something had to give. Zawada made sure it did when charged into the box from the left and then crumpled when the defense converged.
"After halftime we were so pumped. The first 10 minutes of the second half we were pushing and pushing and we knew were going to get that goal. Then we did and we got the second and when we went into extra time we just felt it,' said Zawada. "For that third goal I got the ball, I dribbled a little, I felt contact, a lot of contact and I went down. He [the referee] called a penalty, so I was very happy about that."
So was Czovek, who took off his shirt and ran to celebrate with his teammates and the with the crowd and then in the crowd.
"I have just always wanted to do that. That is just my thing," said Czovek, who was swinging his shirt and he raced over the brand new purple track ringing the field. "We made some mistakes in the first half. We were slow on the ball, we gave away a dumb foul and they scored a nice goal, but when we went into our locker room we got our heads up. Coach [Sala] gave us a talking to, we stayed focused, stayed humble, showed character, we played our game and we won."
They did and now the scramble to get City of Champions up and running is over. The slower but steady pace of construction can resume as the Boilermakers will board buses to a place they have never been to take on an opponent they have never played.
From the No. 5 seed in the North 1, Group 3 state tournament bracket to the last day of the season: It's been quite a run and there are plenty of people to thank for it.
"It feels great, especially for the kids and for Coach Sala. To play on this field for the first time, to win on this field with the first game being a state semifinal with a big crowd; what else could we ask for?" said Garfield Athletic Director Mike Alfonso. "First off you thank our principles, the administration overall, the high school administration, my assistant, Tom [Giuffre], the grounds guys for getting it done and our Director of Facilities Tony Lio did a great job. We needed to get sandbags, we needed to get garbage cans, we didn't have anything. We were not ready.
There are so many people to thank: Our Superintendent of Schools Nicholas Perrapato and the Board of Education for allowing us to play here. Dakota Construction worked endlessly to get this ready and to Boswell Engineering. A lot went in to making this a great day for our students and for Garfield as a whole."

FOR MORE PHOTOS FROM THIS EVENT CLICK HERE. TO BUY A COLLECTOR'S PRINT OF THIS STORY PLEASE VISIT 4-FeetGrafix.com.