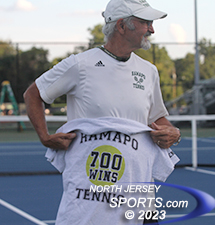 With a 5-0 win over Pascack Hills on Tuesday, Ramapo head coach Kim Marchese picked up the 700th win of his career
FRANKLIN LAKES – As longtime Ramapo  tennis head coach Kim Marchese looked out at the smiling faces of his players, he gave them a pep talk as he does at the end of every match he has coached in his storied career. This one was different.
Instead of focusing on the technical or mental aspects of the game, he focused on the relationships he has built with the players' families over the years. In fact, two of his current players' parents were former players of his along with several aunts and uncles. In a time where coaches generally do not last or do not stay long at one school, Marchese, one of the true class acts in all of North Jersey, showed just how special it is to build a successful program and see it all the way through.
A senior-dominated Ramapo team has gotten off to another hot start. Each of the five spots won handily to give Marchese the 700th victory of his career with a 5-0 win over Pascack Hills on Tuesday in Franklin Lakes.
"I never want this to be about me. It's about the experiences that have occurred along the way," said Marchese. "I remember so many matches or specific moments in those matches over the years. It's just as memorable as the 40 years I spent in the classroom."
Caroline Baker and Elizabeth Ring are one of the top doubles tandems in the state. Their cohesion and experience on the court, and especially at the net, was on full display against Pascack Hills (1-1) with a dominant performance at first doubles to get Ramapo its first point.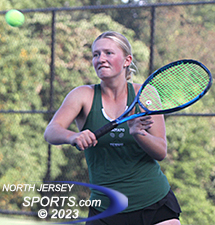 Catie Sauter's win at second singles notched the win for Ramapo, which improved to 2-0 on the season.
"After having a really good year last year, we carry some confidence going into the big matches we have coming up," said Baker. "I admire our whole team because of how tough we are. We never give up on a point and we try our best every time we step on the court."
"Every year we come back with sense of drive and a new motivation towards reaching our goals," said Ring. "No matter the circumstances are, we just put one foot in front of the other and give it our best effort. Watching this team grow from where we were freshman year to where we are now is surreal. It's been a pleasure to watch us blossom into the team we've become."
The pleasant surprise in the early portion of the season for Ramapo has been the play of third-singles player Chloe Heller. With an improved serve and an aggressive approach at the net, the senior has seamlessly moved into her new role. She had it all working with a 6-1, 6-1 win before Catie Sauter used her heavy topspin forehand early and often to take care of business at second singles and clinch the match for the Green Raiders.
"I've been through a lot of changes personally on this team and it's prepared me for I am now as a player," said Heller. "It's all about staying aggressive, working hard, and keep pushing forward no matter how the match is going. We're such a close team and it really makes us want to play hard for each other."
Ella Saxton's win at first singles and the duo of Arielle Gonberg and Olivia Ring won at second doubles by identical 6-2, 6-0 scores for Ramapo (2-0).
With his 700th win, Marchese moves into a club that only a select few in New Jersey state history have reached. It shows not only his dedication to his players on the court, but the lasting impression he leaves once they go onto college and beyond. After suffering heartbreaking losses in each of the last two years in the North 1, Group 3 section final, Marchese's focus is not achieving personal milestones, but having this senior-laden team finish their high school careers out as champions.
"This team is pleasure to coach and it's why I have coached as long as I have," added Marchese. "They're such a great group of kids; always working hard, always pulling for one another. There are no superstars on this team, just a team that's working towards being the best they can be. Each player on this team has a story on how they have progressed to get to where they are today. That's the part I love the most, seeing that progression play out. It's been a great ride and I'm looking forward to a great season with this group."
FOR MORE PHOTOS FROM THIS EVENT CLICK HERE. TO BUY A COLLECTOR'S PRINT OF THIS STORY PLEASE VISIT 4-FeetGrafix.com.