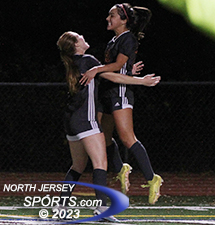 Senior Leila Murillo (right) celebrating her second goal in the final 7 minutes of Pascack Hills' 2-1 win over Westwood on Senior Night in Montvale.
MONTVALE – The Pascack Hills girls soccer team was enjoying its Senior Night. The nine members of the Class of 2024 entered the stadium in grand style, through an honor guard made up of the arms of their teammates. There were hand-crafted collages full of inside jokes hung on the inside of the fence and vinyl banners with their faces hanging on the other side. There was the emotion of meeting with their parents on the field in the pregame ceremony and there were pictures, lots and lots of pictures.
It was all set up for a triumphant night full of good vibes, but Westwood, a team that Pascack Hills beat by four goals the first time around the league schedule, refused to cooperate. With a well-organized defense and some timely counterattacks, Westwood changed the mood in Montvale.
It went from reflective before the game to excited at its start to more and more tense and the clock rolled. The first half passed with a goal for either side and then the first 30-plus minutes of the second half did the same. Pascack Hills really could have used one of its seniors to rise to the occasion. Leila Murillo stepped up. The striker doubled her goal total for the season in the span of 3:20 as she scored with her left foot in the 73rd minute and with her right in the 76th minute to put the Broncos in front.
"It was the second half, there were under 10 minutes remaining, we really wanted to win this game and we just had to push," said Murillo, a natural righty who saw an opportunity to use her off foot. "Bailey Palfrey played the ball over me from the left mid and I did not really see anybody in the 6 [yard box], so I just kind of hit it with my left foot hoping it would go in."
The ball squeezed between the cross bar and the able gloves of Westwood keeper Meghan Morrison. Murillo added another lofted goal when she dispossessed a Westwood player that had just taken down the second ball off a corner kick. She was not in possession long before she lofted in another goal, which proved more than just a stat-padder. Westwood got one back inside the final two minutes, but Pascack Hills held on for a 2-1 win that snapped a two-game losing streak,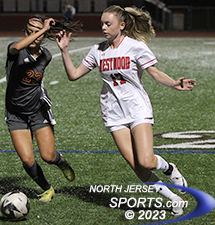 Erin Gashler (right) scored the Westwood goal with two minutes left in regulation.
"This is my third year with the program, so I have really gotten to know these girls. This year we have had some ups and downs, but I am really happy that we came out with a win and the girls got what they worked so hard for on their Senior Night," said Pascack Hills head coach AJ Alaprantis. "We switched up the formation in the second half and I had faith that eventually it would help open some things up. We changed the pace a little bit."
Senior defender Brooke Bonanno had a more technical diagnosis of the alterations.
"In the second half we figured out a way to get around their 5-man midfield. We used our outside backs a lot, [Nicolette] Giammanco and Sloane Irizarry, to get to our wings. We tried to break them down by playing out wide a lot," said Bonanno. "The defense worked really well together to get the ball up. Our offense is strong, we have a lot of speed up top and that was our main goal, to connect passes and get the ball to Leila up top."
Westwood (4-7-2) had given up 16 goals in its previous four games, but that is a little misleading. The Cardinals play a tough schedule in a tough league and lost a solid senior class from last season's state playoff team that gave eventual champion Northern Valley/Old Tappan a good run in the opening round. Westwood's defense was tight against Pascack Hills this time around as it did not allow a shot to the opposition through the first 20 minutes.
The Cardinals had the first two half-chances of the game when freshman Cameron Roche squirted free momentarily up the left side before Pascack Hills' senior keeper Brianna Arendacs slid out to clear away the trouble in the fifth minute. Erin Gashler got in shooting range five minutes later but was bodied off just in time by Giammanco. Inside the final 30 seconds of the opening half Eva Wofse forced Arendacs up to keep out an arcing effort that looked dangerous in the air.
Bailey Palfrey assisted on the first goal for Pascack Hills, which improved to 6-4-1 on the season.
After halftime Pascack Hills' chances started to come more regularly with Sophie Pinkwater getting it started in the 47th minute by nearly wrong-footing Morrison on a deflected shot before the keeper recovered at her left post. Kate Sneath sent in Asiya Crandall, who forced Monaghan into a save with just over 15 minutes left in regulation and Pinkwater picked out Amelie Ruocco with a cross field pass that led to a shot that just went wide of the near post with 11 minutes to go.
When Murillo finally put Pascack Hills (6-4-1) in front with 7:56 to play and then doubled its lead with 4:25 left, it looked like it was all over, but Gashler turned in a corner kick which kept the tension up right through the remaining two minutes before the Broncos could put a wrap on their sixth win of the season.
"We lost a couple of tough ones in a row and I think the moral and the mindset could kind of get stuck a little bit and I think this kind of game was exactly what we needed to get out of that," said Alaprantis. "We play in one of toughest leagues in Bergen County and the kind of competition we play always gets us ready for the states. We see tough competition every day, we see good soccer and hopefully we can carry that experience right into the states and play well when we get there."
FOR MORE PHOTOS FROM THIS EVENT CLICK HERE. TO BUY A COLLECTOR'S PRINT OF THIS STORY PLEASE VISIT 4-FeetGrafix.com.