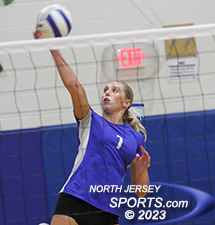 Taylor Miller had 32 kills and 20 digs for NV/Demarest, which dropped the first set then rallied for a 27-29, 25-12, 25-9 victory over River Dell in the North 1, Group 2 state sectional final.
DEMAREST - Senior Taylor Miller pounded 32 kills and scooped 20 digs to propel the Norsewomen to a 2-1 come from behind victory over River Dell to win the North 1, Group 2 volleyball sectional title. It's the Norsewomen's first sectional title since 2019.
"We were thinking about our sophomore season (in 2021) when River Dell ended our season in this gym in the semifinals," said senior libero Isabella Villas, who contributed 14 digs. "We told ourselves we are not ending that way this season. We had too many missed serves, too many shanks not to target, so we flipped that switch and it really showed in the last two sets."
The first set was a hard-fought battle, featuring 14 ties and plenty of lead changes. Demarest led by 3 points twice but the teams were within a point or two of each other the rest of the set.
River Dell earned the first set point, 24-23, on a Demarest error, but Miller blasted a kill to tie it up. Demarest grabbed a 26-25 advantage but a service error allowed the Golden Hawks to even the score.
Demarest had a 27-26 lead when Miller smashed a shot toward the back line. The line judge called it out causing the Norsewomen to protest vehemently, to no avail, so the score became 27-all.
"There were a lot of calls that were rattling," said Demarest coach Beth Powell. "We talked about expecting everything to go against you. I told them calls are going to go against you. You're going to get calls on nets that you didn't hit. You've got to just keep playing."
River Dell won the set two points later on a service ace by senior Helena Marcus and a kill by senior Julia Ryan, who finished the match with 4 kills and 3 blocks.
Erin McCabe was dominant in River Dell's first set win.
"Honestly, I don't know," Miller said, when asked about the Norsewomen's slow start. "Going into the game everyone seemed confident and ready but I think we were playing timid and scared. We realized River Dell wasn't going to give up. They were going to give us a fight and a battle. That second set we flipped the switch and started playing more aggressively, smarter and more confident."
Demarest opened the second set with a 9-1 run as Taylor varied her means of scoring with a dink, a well-placed hit, a block and 4 thunderous kills.
That 2021 loss in the sectional semifinals to River Dell was on the minds of the Norsewomen seniors.
"I think we let them walk in here and get confident," said senior Netta Saban. "No. 15 on their team (senior opposite Erin McCabe) had that kill and was serving well [in the first set] and I think we let it get into our heads. We looked around and we heard the crowd - there was a lot of adrenaline. In the second game we just got mad; we were furious. We realized this is our home game - we have the home court advantage. As we went on the 9-1 run we knew it was now or never - we had to get it done. We kind of made the point that today is the day for redemption and revenge. It showed who we are and made our point that if we play our game, do what we had to do, we would come out on top."
"Going into this game we knew River Dell was a tough team and we wanted that redemption from two years ago," added Miller. "We weren't going to let them come into our gym and beat us. It's our house - we're not going to let that happen."
River Dell wasn't about to go down without a fight, however. McCabe and Ryan smacked kills, junior Leah McHale served back-to-back aces and a pair of Demarest errors closed the gap to 9-7. But a 7-3 run boosted the lead back up to six, 16-10, and later senior setter Claire Song closed out the set with five straight service winners, including a set-winning ace to even the match, with a 25-12 victory. Saban smacked 3 of her 9 kills down the stretch. She also had a block and 3 digs in her role as a complement to Miller.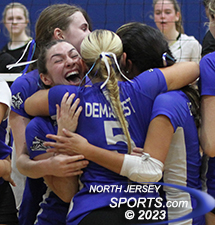 Demarest celebrated its first section title since 2019.
"It's always been Taylor - and for a good reason," Saban said. "She's incredible. She always gets the job done. She always knows what to do and when to do it. I always know before every game my role is to take that step back and say, 'I'm that back up and I know what I have to do.' I know how to get the kills, I know where to go, I know to get to the spots to take. I'm just going to get the job done."
"Netta is amazing," Powell said. "If you see us get a little rhythm with her hitting - she's really good. I think she sits in the backseat to Taylor a lot but she's a big reason why we won this game today."
It was all Demarest in the third set. They took a 3-0 lead on a pair of kills by Miller sandwiched around a service ace by freshman Kara Kim and never looked back. They closed out the match with a 9-3 run.
"Their (Golden Hawks) serving is tough and it really is basically a serve and pass game," said Powell. "We have to win the serve and pass battle. You saw in the last game - that was a serve and pass battle. In the first game we struggled in the first two rotations because they had two tough servers and they were on and got them in. In the second game we started out strong with the serve, got ahead, tightened up and reminded ourselves it's pass and serve."
As imposing as the offense was, the defense was also a key component in Demarest's ability to best River Dell. After allowing the Golden Hawks to score 29 points in the first set the Norsewomen held them to 21 points in total for sets 2 and 3. The team combined for an impressive 72 digs, including 12 from Song, the senior setter who also distributed 37 assists.
"Defense has been one of our main focuses of the last half [of the season] because River Dell has a lot of strong hitters on their team," said Villa. "It's a full team thing - me, Kayla [Sanchez], Syrena [Sayid], Taylor (Miller), Netta (Saban) - all working on defense. It's a teamwork thing that is part of our daily practice. We work on defense every single day."
"We've been working so hard in practice reading and moving," added Miller. "We watched a lot of film on River Dell so we knew where their hitters were going to attack. Our defense did a great job reading, stopping, moving. We've been so ready for this - we've worked so hard. I'm very proud of everyone."
With the win Demarest has now won 11 sectional titles under Powell.
"She knows what to do," said Miller "She has full trust in us and she makes great decisions throughout the game. She knows the game inside and out and I trust her fully. She's an awesome coach and I'm very honored to play for her."
Demarest improved to 21-4 and heads to Montville Thursday night for the Group 2 semifinals. River Dell finished its season with a 17-5 record.
"This past couple of years we kept falling short of winning this title," said Miller. "It feels great, after all the blood, sweat and tears we've been going through this season, to get that title, get that win. We worked so hard this entire season. We were very mentally prepared for this game and we went into it with the mindset of no one is beating us in our gym. This is our game - we want it. It's a great thing to have to finish our senior season off."
"Up until the Old Tappan game (in the semifinal matchup)," said Saban, "I think we had a lot of trouble starting a game strong, getting the first serve, getting on that run, getting in our rhythm. But the day before that OT game we were locked in - we were ready. We knew we could get it done in two sets and I think we had the same energy today, knowing that if we could beat a big name team like Old Tappan we could do it again in our home gym."
FOR MORE PHOTOS FROM THIS EVENT CLICK HERE. TO BUY A COLLECTOR'S PRINT OF THIS STORY PLEASE VISIT 4-FeetGrafix.com.