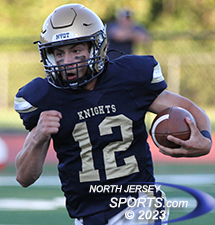 Alex Orecchio threw for two scores and ran for two others as Old Tappan shrugged off a slow start to top Pascack Valley, 38-6, and improve to 3-0 on the season.
OLD TAPPAN – Northern Valley/Old Tappan's offense exploded in the second half en route to an impressive 38-6 victory over rival Pascack Valley Thursday night. The Golden Knights scored 28 points in the second half to win their ninth game in a row, the longest active winning streak in New Jersey, which includes a Group 3 state title victory over Delsea last year. They have won 18 of their last 20 games and are 3-0 this season.
"I made some really bad reads [in the first half]," said junior quarterback Alex Orecchio. "We all were a little shaky coming out. The juice on the sideline was not there. We came back, our line stepped up when they needed to, our skill players stepped up, we made crucial blocks and we were able to get back to our bread and butter."
It took a while for the Knights to get the offense going, as the Valley defense stepped up big time. The Panthers forced a 3-and-out on OT's first possession, including a sack of Orecchio by Valley junior lineman Colin Krause.
"I thought they were a good team after watching them on film," Old Tappan coach Brian Dunn said of the Panthers. "Our kids probably didn't think they were as good as they are. They thought they were going to walk in (and win). They (PV) did a great job defensively especially. I thought they had a great game all the way around. The score isn't really indicative because we had a couple of short fields on them in the second half."
Likewise, Old Tappan stymied the Panthers offense in their first two possessions. Knights junior defensive back Robert Agans sacked sophomore quarterback Adam Shaw on the first play from scrimmage and two plays later senior linemen Ryan O'Neill and Dennis Delaney combined to drag Shaw down for a 12-yard loss.
Midway through the first quarter Old Tappan began a 12-play, 55-yard scoring drive.
Junior running back Nicholas Rossi gained 12 yards on two carries for a first down, but Panther linebackers Jake Merlino and Kai Smith sacked Orecchio for a 3-yard loss. Pass completions to senior Evan Brook (16 yards) and sophomore Joey Crescitelli (6 yards) and a 6-yard run by Orecchio gave Old Tappan a first down at the Valley 22-yard line as the first quarter ended.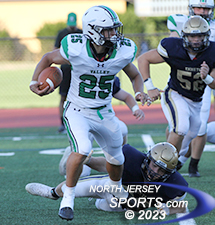 Kevin Regula and Pascack Valley had won their first two games of the season and held Old Tappan to just 10 first half points.
On 3rd-and-9 from the 21 Orecchio lofted a pass toward the left side of the end zone. Brook leaped, batted the ball and, as he fell into the end zone, he hauled in the ball for a touchdown. Senior Nico Ottomanelli booted the extra point and the Knights took a 7-0 lead.
"He's the safety outlet on every play," Orecchio said of Brooks. "If I don't know what to do with the ball I find No. 8 and get him the ball."
Later, Ottomanelli had an opportunity to kick a 23-yard field goal but a bad snap/hold resulted in the kick being blocked. Spurred on by the block, Valley began a drive from its own 20-yard line. An 8-yard run by junior Kevin Regula and pass completion from Shaw to senior Owen Deady earned Valley a first down at the 34.
A couple of penalties set them back but a 16-yard pass completion to Deady gave the Panthers a 4th-and-2 at their 43. A fake punt was pitched to Smith and he scampered seven yards to midfield. On 2nd-and-10 a pass to Regula resulted in a 3rd-and-2 at the Old Tappan 31. An incomplete pass made it fourth down.
Rather than punting the ball the Panthers went for it and a pass was intercepted by Brooks, who ran the ball back to midfield. A penalty moved the ball to the Valley 40-yard line with 7 seconds left in the first half.
"Going into it I wondered what play we were going to call on offense to score a touchdown," Orecchio said. "Coach told me to get as many yards as you can and at four seconds slide. We're going to call a timeout and we'll let our kicker do his thing."
Orecchio's run got the ball to the 31 and Ottomanelli came on to attempt a 48-yard field goal, which would be the longest field goal he ever made.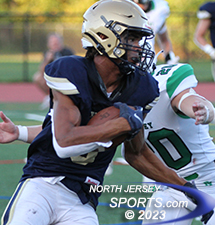 Evan Brook scored Old Tappan's first half TD and also had an interception that led to a field goal just before the intermission
"I was not worried about the distance at all," said Dunn. "I was more worried because we had the field goal blocked. I was worried about the snap, the hold and being able to block it up. I wasn't worried about him - he can put his foot on the ball and be fine."
Ottomanelli blasted the ball and, as time ran out in the first half, it sailed through the uprights to boost the lead to 10-0.
"I told Nico to go get it and he did what he does best," Orecchio said. "He kicked a great field goal to help us. We had a safety valve in Nico, and he was able to kick a 48-yard field goal."
The Knights ran off the field and into the locker room and when they came out for the second half they were really fired up.
Orecchio talked about Dunn's remarks to the team.
"He's always got wise words that are 'classified'," he said, laughing. "We came into the locker room and we knew we played a bad first half. We had to come out and do our best; we had to show him what we're made of."
On 3rd-and-5 of the opening drive of the second half Orecchio connected with Crescitelli, who was way ahead of the Valley defense, for a 68-yard touchdown and 17-0 lead. On the ensuing Valley possession the Old Tappan defense allowed one first down before a quarterback sack ended the drive and the Golden Knights got the ball at their own 44.
"They do an amazing job out there," Orecchio said of the defense. "They always make crucial plays - sacks, tackles for loss, big plays. If we need a stop they get it."
Rossi and Orecchio took turns running the ball to earn a first down at the Valley 20. On second down Orecchio went back to pass, scrambled to the right and ran the ball down to the 3-yard line. He carried it in from there and Old Tappan led 24-0.
"I knew I could run," Orecchio said, "but coming in at quarterback the job is to pass the ball, help my team as best I can. But if I can get a few yards I'll lower my shoulder and do what I can."
"By getting out of the pocket and moving he compensates for his lack of height and creates some stuff with his feet," added Dunn. "He can run the ball and he keeps plays alive. It's good to have a kid who is able to do that."
Valley fumbled the ball on its next possession and Knights junior lineman Michael Gracey pounced on the loose ball at the Panthers 13-yard line. An Orecchio pass to senior tight end Zachary Piccinich gained 12 yards and Rossi ran it in from there to increase the lead to 31-0.
The Panthers got on the scoreboard with a 13-yard run by Shaw but a minute later Orecchio closed out the scoring with an 82-yard run in which he rolled left, avoided a tackler, ran over another and sprinted down the left sideline. He finished with 142 yards rushing and two scores. He also tossed two TD passes.
Old Tappan (3-0) travels to Bergenfield next Saturday while Valley (2-1) hosts Northern Highlands next Friday.
"We just want to keep moving forward," Orecchio said. "Right now we have a chip on our shoulder and it's never enough. We know there are a ton of guys that want our spot and we just have to stay there and keep it. There is still so much work to be done. We came out and played a bad first half. We came out in the second half and did a good job. We're 3-0 and tomorrow we get back to 0-0."
FOR MORE PHOTOS FROM THIS EVENT CLICK HERE. TO BUY A COLLECTOR'S PRINT OF THIS STORY PLEASE VISIT 4-FeetGrafix.com.