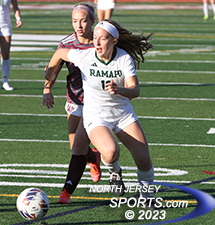 Kate Langfelder scored the first and last goals for Ramapo, which advanced to the North 1, Group 3 state sectional final with a 3-1 win over Wayne Hills.
WAYNE – Ramapo and Wayne Hills were once fierce rivals that battled at the top level of just about every sport in the old NBIL. Everything about it, including the walk from the parking lot to the football/soccer field at Wayne Hills High School is legendary. It's a long one that has been taken by some of the best coaches, players and teams in North Jersey sports history.
It also gave Ramapo girls soccer coach Maddie Gibbs the time to explain a little history to her players as they made the trek from the bus to take on Wayne Hills on Thursday in the semifinals of the North 1, Group 3 state sectional semifinals.
"Walking down here, you know what seems like a three-mile walk, I was telling the girls about how big the Ramapo-Wayne Hills rivalry used to be. I was a part of it as a player and just as a student at Ramapo," said Ramapo head coach Maddie Gibbs, obviously an alum of the team she now coaches. "That walk, all three miles of it, you get chills thinking about the history and I wanted to express that to them and how much that means."
Did the message get through?
"I think so," said Gibbs. "It was quite a showing by our team."
That it was. Ramapo, the reigning Group 3 state champion and the No. 3 seed in the North 1, Group 3 state sectional tournament this year, controlled the action from start to finish in a 3-1 victory over No. 2 Wayne Hills that puts the Green Raiders in the section final and smack dab in the middle of another all-time soccer rivalry. It will be Ramapo against top-seeded Northern Highlands on Monday for the section title. The Highlanders topped Randolph on Thursday in the other semifinal.
"I will be totally honest with you, I had no idea about the old [Wayne Hills] rivalry, but that aside we know they are an excellent team, they always have been and it is always a challenge to play them no matter what happened in the past," said Bridgett Carr, Ramapo's senior goaltender. "This game was about who wanted it more. We are both good teams, full credit to Wayne Hills, but we came out on top today."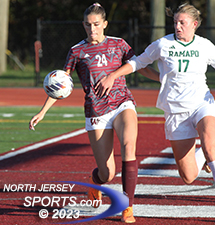 Sophia Bradley earned the PK and then buried it for Wayne Hills' goal.
Ramapo came out flying and had just about all of the possession and most of the scoring chances through the first 40 minutes. With Mary Grusser up top partnered by Grace Saxton and Abby Hendrickson out wide and then Kate Langfelder, Maddie Saxton, Carolina Mosquera and others moving up aggressively in support, the Raiders had everything but a goal through the first 27 minutes of the game.
That changed in the 28th minute after another dangerous scramble in front of Danielle Iannelli's net led to a corner kick that Hendrickson sent into the mixer. Grace Saxton kept it alive long enough for Langfelder to run on and hammer home the goal that gave Ramapo the lead for good.
"It was a corner, the ball got crossed in and there was like a little bit of a scrum. I was right there and luckily I just poked it in," said Langfelder, who scored two goals in Ramapo's win over Cherry Hill West in last season's classic Group 3 state final. "A lot of times it's like you are so close, but you are not there yet. We just kept putting on the pressure and eventually it paid off."
Wayne Hills (15-4-1) was hanging on by its finger tips as Iannelli was tested often, but the Patriots do have one of North Jersey's top strikers in Sophia Bradley who, when she could get on the ball, showed her quality. With four minutes left in the first half and completely against the run of play, Bradley stepped through two defenders and forced Carr out in a hurry. The Ramapo keeper cut the angle and made a bang-bang save to preserve the 1-0 lead through the break.
Wayne Hills' best stretch of play came at the start of the second half. Bradley won a corner and Charah Sysounthone sent the restart into a dangerous spot before it bounced through the goal mouth untouched and, a minute later, Sysounthone got off a low shot that we ticketed for the lower left hand corner before Carr intervened with a full stretch to deny.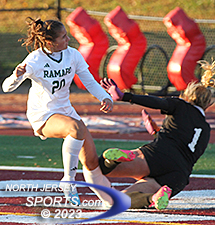 Sophomore Kyra Magerko scored Ramapo's second goal and had a hand in setting up the third one.
Just under the 30-minute mark, Ramapo finally was able to tack on. Sophomore Kyra Magerko, who came off the bench not a minute before, made her mark almost immediately. Carolina Mosquera's pressure on a Wayne Hills defender resulted in a Sarah Krause throw-in from just north of the corner flag. Langfelder got a touch, the second ball found its way onto Magerko's foot and she finished from in close to make it 2-0 in the 51st minute.
Five minutes later, Langfelder made it 3-0 at the end of a sequence started by Gusser's run up the right and her pinpoint service toward Magerko, whose shot, just before Iannelli came sliding out, hit the crossbar and bounced back into play. Langfelder got the last touch into the empty net after Mosquera and Krause combined to put her in position.
"Sarah Krause saw the ball in the gap and then fed it to me," said Mosquera, one of six seniors on the Ramapo roster, which also includes her twin sister Monica, a starting defender. "I crossed it to Kate and I knew she was going to score."
Wayne Hills got its consolation in the 57th minutes when Bradley won a PK when she maintained possession while being taken down in the box and then converted from the spot for the Patriots final goal of the season.
Ramapo improved to 14-3-2 on the season and it will be like old times again when the visit Allendale on Monday. The Raiders lost 13 seniors from last year's state championship team, but are now just three wins away from matching their accomplishments.
"We graduated 13 seniors, but with that being said we have a lot of returning starters and a lot of young players who, by this point of the season, have gained a lot of confidence," said Gibbs. "They have seen [a state championship] happen before and they want it for themselves and they know they have to work for it."
FOR MORE PHOTOS FROM THIS EVENT CLICK HERE. TO BUY A COLLECTOR'S PRINT OF THIS STORY PLEASE VISIT 4-FeetGrafix.com.