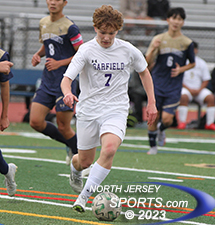 Eric Zawada assisted on the first goal and scored the second for Garfield, which won its first state sectional title since 2015 with a 3-0 victory over Old Tappan in the North 1, Group 3 final on Saturday..
OLD TAPPAN – As the lone Group 3 school playing in the NJIC, it is hard for Garfield to earn respect by the numbers. Power points for state tournament seeding are not easy to come by and a lack of quality wins, through no fault of its own, garnered it a No. 11 seed in the recently concluded Bergen County Tournament when it was probably, talent-wise, a top 5 team.
Playoff games, however, are played on fake grass not on paper and Garfield looks much better on turf than it does in ink on tree pulp.
"They are a good team, the best team we have played," said Mark Torrie, the Old Tappan head coach whose team hosted Garfield on Saturday in the North 1, Group 3 state sectional final. "They can play. They can really play."
Indeed they can. The Boilermakers pinged the ball around the pitch faster than the opposition could chase it as it continued its postseason tear through the Big North Conference. Leland Gonzalez converted a low cross from Eric Zawada less than three minutes into the game to signal how the rest of it was going to go.
Garfield piled up a possession advantage, a host of scoring chances and a 3-0 victory that gave the Boilermakers their first state sectional title since 2015. In four sectional playoff games fifth-seed Garfield scored 11 goals and in their last three, all road games against Big North competition, they scored seven.
Definitely under-seeded and probably a little under respected, Garfield is heading to the Group 3 state semifinals where it will host North 2 champion Summit.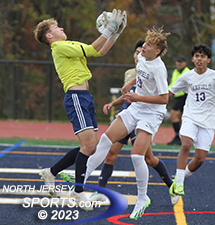 Keeper Michael Greenberg made 7 saves for Old Tappan.
"To be honest I don't watch any of the rankings. Our goal is just to enjoy every single game. These boys, this is their passion: soccer. They sacrifice for soccer," said Piotr Sala, who is in his first season as Garfield's head coach, through a thick Polish accent. "This is a special group of boys, an amazing group of boys. We have 18 on the varsity and every one of them deserves to play. We are not just carrying anyone. Everyone is a part of the team, every one supports each other and every one challenges each other every day in practice."
It's an entertaining brand of soccer that Garfield plays and that did not happen by accident.
"Every day in the summer we woke up at 6:00 [am], got to the field at 6:30," said Zawada, "We got home, took an ice bath and recovered and that is what we did all summer."
Zawada, Brenden Baeza and Mateusz Domurat, the three senior starters, made sure there was complete buy-in.
"There would be times where boys would oversleep and wake them up or drive to their houses," said Baeza. "There were times that we would not be able to sleep at night because we were so excited for this season to come. We had three main goals and we have conquered two [league and section titles]."
Old Tappan made its best bid to get back even early in the second half when Winston Kim sent in a free kick from deep in the corner near the left touchline. Goran Saric got up over everyone to nod the service on frame, but Garfield keeper Jakub Piszczatowski pushed the ball onto and then over the crossbar in the 45th minute.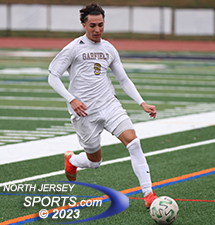 Brenden Baeza scored the final goal for Garfield, which is now 18-1 on the season.
When Garfield got a free kick opportunity five minutes later it got the desired result. Johannes Alvarez hit a dart of a restart with his left foot, Zawada's deft first touch dropped the ball onto his own right foot and he spun and fired home to make it 2-0 in the 50th minute.
Old Tappan keeper Michael Greenberg made quality saves on sizzlers hit by Krystian Nitek and Gonzalez to keep the Golden Knights within touching distance and Kevin Contreras, Old Tappan's all-time leader for goals scored in a season nearly halved the deficit midway through the second half. Contreras hit a cracker on a diagonal from the left, but Piszczatowski took the ball in his gut to maintain the clean sheet.
Five minutes later and with Old Tappan pushed up in numbers, Baeza snuck in behind, ran onto Krystian Nitek's well-weighted through ball and finished to cap the scoring with 14:17 left. Old Tappan never let off, but Garfield saw out its first state sectional title in eight years. In 2015 the Boilermakers won North 2, Group 2, the same year that Old Tappan won its last title, which was in North 1, Group 3.
"This feels amazing to be honest; I never thought this would actually in my years of high school. My freshman and sophomore years we got knocked out of the states in the first round. I am very proud of my team," said Piszczatowski, a junior. "After the first goal I knew we were going to be OK. We were on fire pretty much for the whole game. I thought were amazing on the sides playing the ball. Our ball placement over the top was right on through our wingers. Now we just have to keep our heads down and stay humble."
Garfield (18-1), whose only loss of the season came against eventual co-champion Ramapo in the Bergen County Tournament, is generating some buzz. What will be a community jewel, a brand new sports complex set to be open shortly, maybe even in time to host the Group 3 semifinals, will bring the program's facilities up to par with the best in Bergen County and the soccer culture is alive and well. Junior Martin Czovek transferred back home from St. Benedict's and junior defender Sebastian Lesiczka came gave up the anonymity of academy soccer for the camaraderie of high school ball.
"That loss against Ramapo was a good experience for me in the second round [of the county tournament]. Now I know a little bit more about those kinds of teams. It is my first year coaching the high school team and I am learning," said Sala. "It's step by step and we are growing together. I enjoy teaching the boys football and they enjoy learning."
Old Tappan made its exit having wrapped up another solid season. The Knights (15-5) were coming off one of the most exciting games of the entire state tournament when they scored with 10 seconds left to nip Dover, 3-2, in the semifinal round. They held their own against one of the toughest league and crossover schedules in North Jersey and hosted a state sectional final.
Not bad.
"I was proud of the boys, proud of the effort that we gave," said Torrie. "It's been a great season. If we could have taken them into the deeper waters and stayed a little closer we might have had a chance or two here or there but it wasn't meant to be. I don't think there is much shame in getting beat from [Garfield] because they are a good team."
FOR MORE PHOTOS FROM THIS EVENT CLICK HERE. TO BUY A COLLECTOR'S PRINT OF THIS STORY PLEASE VISIT 4-FeetGrafix.com.