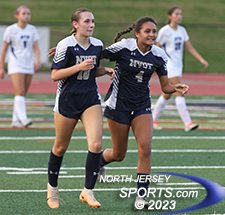 Sophomore Mia Colon (left) was one of three underclassmen to score a goal for NV/Old Tappan, which opened defense of its state sectional title with a 3-0 win over Demarest on Thursday.
OLD TAPPAN – In winning the North 1, Group 2 state sectional title last season, the first in the history of the girls soccer program, Northern Valley/Old Tappan scored just two goals in four games while relying on a stout defense and goalkeeper Mackenzie Ward, a penalty kick stopper extraordinaire. The Golden Knights opened defense of their title as the No. 5 seed on Thursday but, while similarly successful so far, barley resemble last year's unit.
Up against Northern Valley/Demarest Old Tappan ran through the offensive gears in a 3-0 victory that sends it into the quarterfinals against No. 4 Vernon on Monday.
"We were a lot more defensive in last year's tournament but that was what we needed to do to get the job done," said Old Tappan head coach Laela Henriquez. "This year is different in that if you look at our stats we have a lot of different people making those stats. We are not relying on one person and that attribute has been a huge benefit to us this season."
Old Tappan and Demarest, sister schools and close rivals could not be more familiar with each other. This was their third meeting of the season and the second was just two days earlier, a 1-1 tie in the regular season finale in Tuesday. That game ended in a 1-all tie and Demarest, the No. 12 seed, had a chance to ramp up the upset pressure early in this one. Awarded an early penalty kick for a foul in the box, Demarest saw its chance to take the lead sail wide to the right of the target.
When Old Tappan got its chance to take the lead through the run of play it did so with freshman Caroline Ognibene converting an Elly Ho through ball into what turned out to be the game-winning goal inside the first 10 minutes of the game.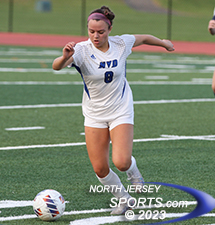 Camillie Hervieu was dangerous going forward for NV/Demarest.
"Me and [Demarest goalie Alexa Baker were kind of in line and it looked like she was going to grab it," said Ognibene. "So I took a touch around her and the goal was open. It was really exciting,"
The 1-0 score stood up through the rest of the first half and the next goal was likely to be decisive. It belonged to Sienna Drullinsky, the junior midfielder, who put Old Tappan up 2-0 nine minutes into the second half. Sophomore Mia Colon made a run up the left and scored into the opposite corner with 25:05 left in the game to cap the scoring. For Old Tappan it was three goals by three different goal scorers, none of them seniors.
And while it is true that the Knights are not the defense first, second and third like they might have been last season when they did not allow a single goal in the run to the state sectional title, they are still organized in the back and not easy to score against.
Demarest (6-7-1) has some capable assets going forward in Lauren Tong, Leeya Rice, Cammille Hervieu, Chloe Abramson and others, but the Old Tappan (10-6-2) defense limited the Norsewomen to mostly shots from distance or from tight angles closer to goal with a back four that included Olivia Connell, Tea Kisala, Gianna DeMarco and Nina Canuedo.
"Today we played as a team. It was the state tournament and we have been working towards this since July and we were ready," said Connell, a senior. "This year is definitely different. It's a new team with a new strategy. We played four defenders today and we have been going with three recently and we are confident with Eva [Saric] in goal. All around it has been good and we are excited to be moving on."
Saric made two saves in the final 10 minutes, reaching up toward the crossbar to keep out long distance efforts by Rice and Hervieu to solidify the clean sheet and set up a road trip. Waiting in the quarterfinals is fourth-seeded Vernon, a 6-1 winner over Dwight Morrow. That game will take place on Monday in Sussex County.
"We are out of the Big North and I think that is really good. A nice change to see a different opponent," said Henriquez. "It's someone new, it's different competition and we get to see how we compare against a school that is outside our bubble. It's going to be a long bus ride and we are going to have to rise to the occasion."
FOR MORE PHOTOS FROM THIS EVENT CLICK HERE. TO BUY A COLLECTOR'S PRINT OF THIS STORY PLEASE VISIT 4-FeetGrafix.com.