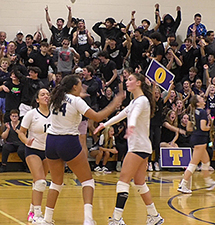 In a fun environment for a high-level high school volleyball game, NV/Old Tappan topped rival NV/Demarest in three hotly contested sets.
OLD TAPPAN – Northern Valley/Old Tappan rallied back from a first set loss to top sister school Northern Valley/Demarest 2-1 (23-25, 25-22, 26-24) in a hard-fought battle between district rivals and two of New Jersey's blue blood volleyball programs on Tuesday night.
"That was such an intense game, such a good game," said Old Tappan sophomore setter Eva Curko, who finished with a game-high 42 assists. "Everyone was in it. I was just looking for players that wanted to put the ball down. It was an amazing game. I'm really proud of my team."
"I think we have so much depth this year," added OT senior middle blocker Layla Giordano. "Our top level of potential has not even been tapped yet. We have a lot of injured people on the bench who are waiting to come back and I think we're a different caliber team when they are back on the floor."
The Golden Knights grabbed a 13-5 lead in the first set thanks to a hammered kill by junior outside hitter Samantha Kranzler, who had 13 kills and a block in the match, but Demarest went on a 10-2 run fueled by 2 kills and a block by Norsewomen senior middle blocker Taylor Miller, a kill by senior middle blocker Netta Saban and several Knights attack errors to tie the game 15-15.
Old Tappan retook the lead and the teams traded points until Demarest took its first lead of the game, 19-18, when Miller walloped the ball to the floor on Old Tappan's side. The Norsewomen extended their lead to three on a kill by senior outside hitter Lilly Hamlin, but a block by Old Tappan senior defensive specialist Kayla Sanchez, a blast by senior outside hitter Maya Giordano and a service ace by Kranzler tied the set at 23-all.
Nevertheless, Demarest closed out the first set with a kill followed by a block by Miller to win it, 25-23.
We came out strong in the beginning," said Layla Giordano, "but I think we let it go a little. We underestimated them in the first set. Though we lost, we knew we had to come back with all our might in the last two sets."
Between the first and second sets Old Tappan huddled and talked about the strategy going forward. It wasn't the first time the Golden Knights had lost a first set this season and that experience apparently paid off as they charged out to an 8-0 lead in the second set.
"We were saying [between sets], 'let's go put on the gas right here, everyone has to walk in right here. We can do this - it's all our game. Let's just put it all out there.''" Curko said.
"I think we've been good at losing the first, forgetting that game, resetting and going all in," added Maya Giordano.
Old Tappan led throughout the entire second set but Demarest kept inching closer. Miller had five of her game-high 19 kills and a block and Saban contributed three kills. Attack errors again plagued the Knights and back-to-back errors allowed the Norsewomen to close to within one point, 22-21, but a well-placed hit by Sanchez and two kills by Maya Giordano sandwiched around a service error closed out the set at 25-22 to tie the match at a set apiece.
"It's so nice to have that many weapons," Curko said. "I'm just excited that all of my teammates are willing to do whatever it takes to make it hit the floor and get that kill so we can get the side out and get the point."
"We have a lot of options," Maya Giordano said. "Other teams don't know where it's going. It's nice to have those options. My sister (Layla) and I are in the same rotation and both of us are doing great."
The third set featured 9 ties and 12 lead changes as the two teams fought hard for the win. The biggest lead for Old Tappan was six, while Demarest managed to lead by two on a couple occasions.
"I think it shows how good both teams are," said Layla Giordano. "We're sister schools so we're always gonna have the same competition every year. This year we're two really great teams and the matchups are always going to be good."
Late in the third set Maya Giordano belted a kill to give Old Tappan a 23-20 lead. But a serve into the net, an attack error and a receiving error allowed Demarest to tie the set 23-23. Maya Giordano gave Old Tappan a match point with a soft, well placed hit but Demarest junior outside hitter Ava Buckley tied the game with a kill. On the next play Layla Giordano found an open spot on the Demarest side and put the ball there for match point No. 2.
Curko stepped to the service line and stuck a serve right on the end line for the game-winning point.
"I could barely breathe out there - I was shaking," she said laughing. "It felt really good. I felt really proud of myself. I'm happy I was able to get that last point for my team. It feels amazing. I think all of our hard work this season has really paid off. I think we're going to continue to work so hard in practice, in all our games so we can beat them again."
"In volleyball a kill is a kill and a point is a point whether you tip it in for a point or get a hard swing," said Old Tappan head coach Melissa Landeck. "It's similar to a base hit in baseball or softball where you can get a bloop or a line drive and it's still a hit. We ask the kids to make good decisions and mix up their swings, be unpredictable and Demarest certainly does a good job of that."
Maya Giordano finished with 17 kills, while Layla Giordano had 12 kills and 3 blocks. Senior libero Grayson Housley scooped 10 digs. For Demarest, in addition to Miller's 19 kills, Saban finished with 7 kills and a block, senior setter Claire Song distributed 23 assists and senior libero had 21 digs.
"I think we were just all in," Maya Giordano said. "We've been working on finishing because we've had a bit of a problem of being focused in close games. It was a big crowd and it was easy to get distracted. We were all in, locked in, focused on the next point - not worrying about anything else but each other."
"I think from a spectator's point of view it was everything they could have wished for and come to watch," Landeck said laughing. "From a coach's perspective it's mutual respect and going in you know it's going to be a battle regardless of the year it's going to be a battle. It's the way it always is and it's a credit to their team and their grit and their determination. They had some outstanding plays today and some big rallies. I was proud of my guys for fighting right back."
TO BUY A COLLECTOR'S PRINT OF THIS STORY PLEASE VISIT 4-FeetGrafix.com.