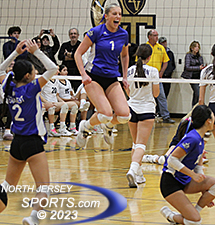 Taylor Miller, whi finished with a match-high 20 kills, celebrating NV?Demarest's 25-21, 25-21 win over NV/Old Tappan in the North 1, Group 2 semifinals on Friday.
OLD TAPPAN - "Oh my gosh, it's been so long since we've won in this gym," Demarest volleyball coach Beth Powell said after the Norsewomen defeated rival Old Tappan 2-0 in the semifinals of the North 1, Group 2 state playoffs on Friday afternoon. "I don't know exactly when that was."
Demarest earned a berth in the finals by winning a pair of 25-21 set victories over its sister school.
"We talked a lot about putting two games together in which we play well," Powell said. "In the IHA game (in the county semifinals) we played really well, then we played poorly. We played really well for two games today. I'm so proud of them."
Senior middle blocker Taylor Miller was on fire in the first set, blasting kills all around the Old Tappan side of the court. She finished with 20 kills and 2 blocks.
"That's the way to do it - swing as hard as you can," Miller said. "Old Tappan is not a team that will let tips hit the floor so I just knew I had to swing away."
Along the way in the match Miller recorded career kill No. 800.
"I've been working so hard this season," she said. "I get these milestones - it's always due to my team.
I wouldn't have gotten it without them. I'm so grateful."
"In your [coaching] career how often or never do you have a player like that," Powell asked out loud. "She plays six rotations, she's passing. I can't tell you the growth I've seen in her play this season - her fight on the court, the choices. It's just amazing."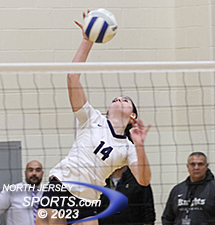 Brenna Delaney had a team-high 8 kills for Old Tappan, which finished its season with a 20-4 record..
There were 8 ties in the first set and several lead changes. Old Tappan led by three points a couple times, while Demarest led by as much as five, 15-10, on one occasion. The Golden Knights battled back to grab a 17-16 lead, but it was the last time OT would lead in the opening set.
Old Tappan managed to tie the score at 18-18, 19-19, 20-20 and 21-21 but never could take back the lead. Demarest went ahead for good, 22-21, on an errant serve and then senior libero Isabella Villa served out the set with a service ace and two return errors by the Knights.
Demarest never trailed in set No. 2. Old Tappan stayed within a point or two until midway through when the Norsewomen went on a 6-2 run to grab a 20-15 lead. Senior middle blocker Netta Saban came alive with 4 kills and a block to propel Demarest to the 25-21 win.
"Netta had a lot of big blocks," said Miller. "I was praying she was going to get them. She did a great job - she was hitting hot today and had an all-around great game."
Senior setter Claire Song ran the offense, distributing 24 assists and also contributing 6 digs on defense.
"Claire did a great job today," said Miller. "She had a lot of confidence. She knew who had the hot hand and she did a great job of reading and delivering the ball."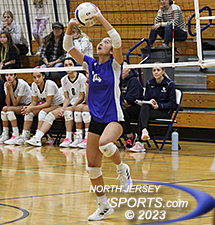 Clair Song handed out 24 assists for Demarest, which will host River Dell in the section final on Tuesday.
"We've been working really hard on passing," added Powell. "Bergen Tech was a really tough-serving team so we've worked really, really hard on our passing ever since then. We work on it every single day. I thought our passing was really good."
The team defense was also a key to the victory. It seemed like everyone contributed to stopping the powerful Old Tappan offense, which was held to 22 total kills. Miller led the way with 9 digs, Song and Villa each had 6 and Lilly Hamlin contributed 3 digs.
"We've played Old Tappan plenty of times so we know where they hit, so we were prepared for this," Miller said. "We read them pretty well. We switched our defense to three back which I think covers the court pretty well. We knew they weren't going to tip a lot so that played to our advantage on our side."
"We have all these kids that have heart in the back row, popping balls up," Powell said. "I often say to the front row, you get all the glory but turn around and say, 'great pass, good dig, way to go.'"
Junior Brenna Delaney led the Golden Knights with 8 kills, senior Maya Giordano had 7, sophomore Eva Curko added 4 and senior Maya Giordano contributed 3 kills and a block. Senior libero Grayson Housley scooped 8 digs, while junior setter Addison Gioffre passed for 17 assists.
Demarest (20-4) moves on to host River Dell (17-4) in the North 1, Group 2 final Tuesday night.
"Coming into the states we knew we had to play aggressive, we couldn't play timid," said Miller. "We were very prepared for this. We watched a lot of films and were reading very well. We were very prepared for both these games and we're going to do the same for the final. Our passing has been pretty 'on' these past couple of games. Our libero is doing a great job of reading and moving and holding. Even our freshman, Deanna [Finkelstein] (4 digs, 2 assists) was put in the back row recently and she is adjusting greatly. We did a great job of reading and moving and stopping."
"I have a little fraction of disbelief," said Powell. "I haven't absorbed the win but I'm so proud of the way we played. I think we played well today."
FOR MORE PHOTOS FROM THIS EVENT CLICK HERE. TO BUY A COLLECTOR'S PRINT OF THIS STORY PLEASE VISIT 4-FeetGrafix.com.