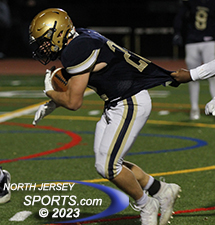 Old Tappan junior Nicholas Rossi finished with 180 yards rushing and 2 touchdowns as the Knights advanced to the North 1, Group 3 final with a 36-0 win over Lincoln.
OLD TAPPAN -- Senior running back Nicholas Rossi came alive in the third quarter, scoring a pair of touchdowns to propel top-seeded Northern Valley/Old Tappan to a 36-0 victory over Lincoln of Jersey City in the North 1, Group 3 state sectional semifinals on Friday night.
"At halftime coach [Brian Dunn] showed me some of my runs that were just a little bit off - one more broken tackle and I'm scoring," said Rossi. "He told me and I just executed. It was mostly coach."
"He started off a little rough," Dunn said of Rossi. "He was playing a little stiff on offense and defense, a little mechanical and worried about doing the right thing, but once he got into the groove he did really well."
Rossi actually got into the groove defensively with 1:30 to go in the first half when he sacked Lincoln senior quarterback Nick Hinds for a 4-yard loss on a 4th-and-goal at the Old Tappan 6-yard line.
"We definitely knew we had a tough opponent," Rossi said. "They were scoring a lot of touchdowns the past few games. I think we just worked every single day in practice and all the linebackers were ready for it. There wasn't anything that they did that we weren't prepared for and I think we were physically there."
After Rossi's sack the Golden Knights got the ball on their own 10-yard line and moved swiftly downfield. Junior quarterback Alex Orecchio gained 37 yards to the 47 but a holding penalty set the Knights back.
Orecchio connected with senior wide-out Evan Brooks for 21 yards down to the Lincoln 31-yard line.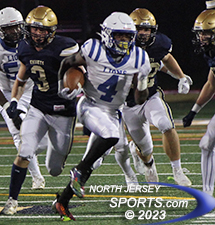 Rahmir Gosa ripped off a couple of big runs on Linclon's first possession of the game.
"We were watching film and saw that the defense was zero man so it was press-in coverage with zero people behind," said Brooks. "Sometimes they went zone but for a taller guy like me (6'4) it's a nice treat when they run press-in so I can get more targets by using my long body."
"Sometimes they were giving us zero-man coverage," added Dunn. "When they do that it's hard to block them up front when they are putting 8 or 9 guys in there so we have to try to get the ball to him."
After an incomplete pass Orecchio hit senior wide receiver Tim Rutigliano with a 31-yard TD pass. Old Tappan went for two and Rossi carried the ball into the end zone to make it 15-0 with 9 seconds to go in the first half.
Old Tappan had scored first on its second offensive possession of the game, which began in the first quarter and carried into the second, going 80 yards and consuming 9:23 of the clock. Rossi carried the ball 8 times for 32 yards, an Orecchio to junior wide receiver Ronan Malady pass gained 14 yards and a pass to Brooks earned 11 more. Orecchio also ran twice for 9 yards to get a first down inside the Lincoln 10 yard line.
On 3rd-and-6 the situation was eerily similar to a down and distance that occurred last week in the game against Paramus. On that night Orecchio tossed a pass into the end zone and Brooks had to reach up to catch the ball one-handed for the touchdown. After that Paramus game Orecchio said of Brooks, "He bails me out a lot."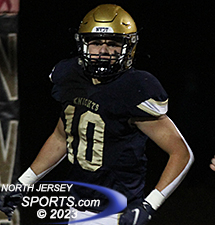 Tim Rutigliano caught a TD pass late in the second quarter to give NVOT some cushion just before halftime.
After the game against Lincoln Brooks was asked if he frequently bails Orecchio out.
"Sometimes in practice I make a pretty good catch," he said laughing. "I think of it as he allows me to make highlights."
This week, on the 3rd-and-6 play Orecchio fired a bullet that Brooks caught for a touchdown. It was a perfect pass.
"It's the same thing in practice every time," said Brooks, who finished with 5 catches for 63 yards and a touchdown. "We practice how we play. Alex throws the ball hard every time so you get used to it. In a situation for Alex, where you have to zip the ball in, I'm ready for it."
In the first possession of the second half a bad snap cost Lincoln seven yards and on 2nd-and-17 Knights senior defensive back Michael Miceli made the first of his two interceptions t in the game to give Old Tappan a 1st-and-10 at the OT 35.
Orecchio handed the ball to Rossi and he burst through the middle, cut left and sprinted down the left sideline for a 65-yard touchdown. Senior kicker Nico Ottomanelli boomed the extra point through the uprights to give the Knights a 22-0 lead two minutes into the third quarter.
Old Tappan scored twice more in the game. With four minutes to go in the 3rd quarter Old Tappan had a first down at midfield. Rossi gained 15 yards to the Lincoln 35 and on the next play he took a handoff, broke a tackle, cut left and outran the Lincoln defense to the end zone. Ottomanelli's kick made it 29-0. Rossi finished with 180 yards rushing and 2 touchdowns on 14 carries.
Knights junior running back Nicholas Rotolo closed out the scoring in the fourth quarter with a 16-yard sweep around left end. Ottomanelli pounded his fourth extra point to make it 36-0.
The Old Tappan shutout was significant because coming into the game Lincoln had won its previous games by scores of 54-0, 74-32 and 52-12 in last week's state playoff game.
"Coach [Joseph] Clause and Coach Dunn did a really, really good job preparing us and making sure we were ready for anything that could happen," Brooks said. "It starts with coach Clause and the film room. Whatever he cooks up with coach [Ryan] Steffner and Coach Dunn - whatever they call we just run it. We're talking, we're communicating with the linebackers to make sure all zones are covered."
"We watched a lot of film," added Rossi. "We played them last year (in the opening round of the state tournament) but every guy was watching film so we were well-prepared for them. We didn't single out running backs but I think we knew most of the plays before they were happening."
The Golden Knights move on to play West Morris in the next round of the playoffs Friday night in Old Tappan.
"We adjusted to the game more and we were more locked in," said Brooks. "We adjusted to how athletic and fast these kids really are. These kids could move - they were really quick."
"We played them in the first round of the playoffs last year so we had seen them before," said Dunn. "We were a little bit familiar with them. Coach Hampton does a great job with those kids. They've got some players. They took some things away from us early in the game that we're used to being able to do so I think once the kids got their feet grounded they showed a little confidence, stepping up and making a couple of plays."
FOR MORE PHOTOS FROM THIS EVENT CLICK HERE. TO BUY A COLLECTOR'S PRINT OF THIS STORY PLEASE VISIT 4-FeetGrafix.com.