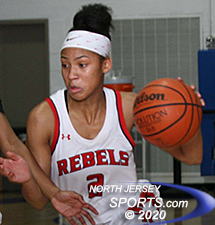 Saniah Caldwell tied her career-high with six three-pointers on her way to a game-high 29 points for Saddle River Day, which won the Non-Public North B title with a 65-50 victory over Montclair Immaculate.
WAYNE – Saddle River Day head coach Danny Brown loaded up his schedule this year to put his team in every type of situation in preparations for runs at winning championships. However, in the Rebels' biggest game of the season they encountered a situation that was entirely different. Trailing by six midway through the third quarter against surprising Montclair Immaculate, the Rebels were not just losing on the scoreboard but getting beat at their own game.
With plenty of time still remaining there was no panic. A team that was once short on big-game experience was now full of it. The Rebels prided themselves on wearing opposing teams down. Led by the backcourt of Saniah Caldwell and Jordan Janowski, the Rebels did that and more.
Caldwell was unstoppable offensively with a game-high 29 points and Janowski was all over the floor making plays defensively as top-seeded Saddle River Day pulled away in the second half for a third straight Non-Public B North section title with a 66-50 victory over No. 6 seed Montclair Immaculate on Wednesday night at Passaic County Technical Institute in Wayne.
"You get to this point of the season you're going to run into great players and great teams," said Janowski. "Even when we were down at halftime we felt confident that we'd come back. It comes down to mental toughness and making the right play at the right time. Once we started controlling the tempo that's when we chipped away at their lead."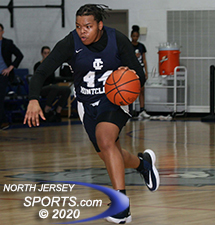 Azatah Lawrence finished with `12 points for Montclair Immaculate, which finished the season with a 21-9 record.
The Rebels had not been seriously threatened in over a month and it did not look like it would happen in this game either. Caldwell hit two three-pointers right out of the gate and Janowski added a backcourt steal and layup to cap a game-opening 10-0 run.
Montclair Immaculate was playing in its first section final in nearly three decades but it was certainly no fluke. The Lady Lions went a perfect 6-for-6 from the charity stripe in the first quarter and a three-pointer by Azatah Lawrence cut the lead to one. Madison McCarthy and Caldwell hit long-range threes in the final minute of the quarter to seemingly weather the storm and push the lead up to seven, 22-15, at the end of one quarter.
In a stunning turn of events the storm kept coming and Saddle River Day could not keep pace with the dead-eye shooting of the Lady Lions. Nasira Williams hit a pair of threes wrapped around another Akinola drive to the basket pulled them within striking distance. When Lawrence was fouled on a three-point attempt with a second left in the first half and hit two of three free-throws it was Montclair Immaculate who held the lead going into the locker room, 35-33.
"In the second quarter they really took it to us every mistake we made they made us pay for it," said Brown. "No doubt about it, that was the best shooting team we've faced this year. I didn't want to get in a playground type of game. We mixed up the pace a little bit and that helped us get on track. We engaged more in the second half of the gameplan we had initially. I felt like our conditioning was a factor and we felt like we could wear them down once we got to the fourth quarter."
Not many guards can match the speed of Saddle River Day's backcourt but Akinsola was up to the task, her drive to the rim gave the Lady Lions their largest lead, 42-36. For the first time all season in a county or state tournament game the Rebels were in trouble. Caldwell stayed hot throughout and got some help from sophomore Dakota Corey. Her three-point play in the midst of a 12-2 run to close the quarter gave the Rebels the lead for good. Corey was rewarded for her aggressiveness in the third quarter, getting to the foul line seven times and hitting six of those.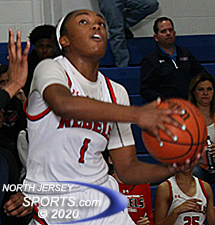 Cierra Pearson scored 7 of her 9 points in the fourth quarter as Saddle River Day pulled away.
Saddle River Day held a four-point lead going into the fourth quarter before the conditioning and depth took over. After a rough first three quarters another dynamic guard, Cierra Pearson, got on track. Her three-pointer from the wing bumped the lead up to nine and and she scored seven of her nine points in the final stanza. The Rebels' defense clamped down and allowed just eight points over the final 12 minutes to lock up a third consecutive Non-Public B North crown.
"It comes down to execution but it also comes down to wanting it more," added Brown. "There was a feeling amongst the coaches that they wanted more than we did in the first half. How you lose to a great team like this is to just trade baskets back and forth. Once we started getting stops and being more patient with our shot selection that's when things started to turn in our favor."
Caldwell tied her career-high with six three-pointers on her way to a game-high 29 points along with four assists, three steals, and three rebounds for Saddle River Day (23-3). Janowski finished with 15 points and provided lockdown defense throughout the second half. Corey added ten points, eight coming in the crucial third quarter.
Williams led the way with 19 points for Montclair Immaculate (21-9). Akinsola and Lawrence added 12 and 11 points, respectively.
Saddle River Day will now have to wait patiently to hear the fate of the Non-Public B state title game against Trenton Catholic on Saturday at RWJ Arena in Toms River. The rematch of last year's state final is still on as of press time, but it is tenuous with the sites of the boys' basketball state finals having been moved twice already and still searching for a landing spot it is conceivable that the Rebels' have played their last game of the season. For right now though, they will focus on the task at hand and that is getting the opportunity to retain their state title.
"The deeper you get into a season the harder it is to put together a full four quarters," said Caldwell. "All the teams you play from this point on are really good and we know we'll get another really good team in the state final. With each game in the state tournament you have to raise your game and become even more focused. It always comes down to the little things. We settled down and got re-focused for the second half tonight."
TO VIEW MORE PHOTOS FROM THIS EVENT PLEASE CLICK HERE. TO BUY A COLLECTOR'S PRINT OF THIS STORY PLEASE VISIT 4-FeetGrafix.com.