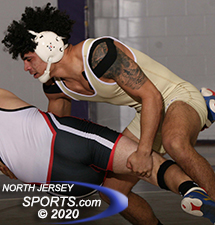 Josue Matias came up with a key pin during Garfield's match-ending 5-bout win stretch that gave the Boilermakers a 37-32 victory over Glen Rock.
GARFIELD – Coming into this season the Garfield wrestling team's main goal was to win a league title and that the road to it went through Glen Rock. When the two programs faced off on Wednesday night and when Glen Rock's Greg Schlett pinned at 160 pounds, Garfield saw its margin of error shrink to near zero. Facing a 20-point deficit with just five bouts left, the Boilermakers relied on the strength of their lineup to pull them through.
Hamdi Korreshi sparked a run with a major decision and Kacper Szuberski scored a hard-fought win wrapped around pins by Josue Matias and Charles Davis as Garfield climbed all the way back to grab sole possession of first place in the NJIC-Division 2 standings with a 37-32 triumph in Garfield.
"We knew it was going to come down to us at the upper weights and we had to come through," said Matias. "The match was intense and we were pumped up but we had to stay under control. I feel like we've been sleeping giants all season and now we're starting to realize all the potential that we've shown all season."
The crowd was buzzing from the start of the match and there was plenty of action right from the opening bout. Glen Rock took control early with back-to-back first-period pins by Ryan Novick and Justin Sanowski at 120 and 126 pounds, respectively, to give the Panthers a 17-6 lead. They kept the momentum going right through the middle weights with an impressive pin by Ben Katzman at 152. Schlett followed suit with a third-period pin to give Glen Rock a commanding 32-12 lead.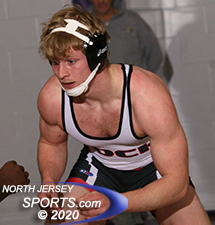 Greg Schlett's pin at 160 gave Glen Rock its largest lead of the night.
It was a crisis moment for the Boilermakers. Even though the odds were against them their confidence never wavered and their energy never dipped. Korreshi gave them some hope with arguably his best performance of the season. He wrestled smart and took good shots throughout in earning a 15-3 major decision at 170.
"We were down 20 points but we had to come together and fight back," said Korreshi. "I had to stay focused to just wrestle my match. We haven't slacked in the room all season. I was ready for this moment and we prepared ourselves to be ready for any challenge."
Having torn his ACL and his meniscus near the end of football season, Szuberski is forced to wear a bulky brace and had to overhaul his entire approach to how he wrestles this season. But that did not alter how hard he worked on a daily basis nor the size of his heart when he was on the mat. Through two periods it was a hard-fought battle with neither wrestler giving an inch. Clinging to a one-point lead midway through the third period, Szuberski came with a huge takedown and added three back points to pull away for an 8-3 decision that put Garfield back in the driver's seat.
"I'm confident in my team to do their job and I couldn't let them down," said Szuberski. "When I was on the ground I felt comfortable with what I was doing and my gameplan for the match. We have some amazing coaches who really get us ready for any situation. They push us to the max every day and that helps for matches like this. I just had to keep going 100 percent and wait for my opportunity to split the middle and then hit him with the cradle."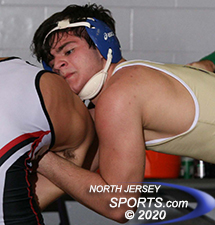 Hamdi Korreshi kicked off Garfield's match-clinching run of five straight wins.
Charles Davis set the tone quickly at 220 pounds and notched a first-period pin to pull the Boilermakers within one, 32-31, and seemingly set the stage for a grand finale. Garfield's best wrestler was on deck at 285, Michael Alfonso. The senior came out fired up and was filled with adrenaline. However, the end result was an anticlimactic one as Glen Rock (4-3) did not send out a wrestler with Alfonso and Garfield earning the victory by forfeit.
Garfield (3-2) still has two league matches left, neither of which will be a cakewalk. They take on Elmwood Park on Friday before getting Lodi next week. Wins in both matches though will give them an outright league title in NJIC-Division 2.
"We want that title and we don't want to share it with anyone else," said Garfield head coach Aaron Khan. "We lost the league title to Glen Rock last year by three points, so we were fired up for tonight. Our kids kept working and we never gave up hope even when we were down big, Where we're strong is where we needed to be strong tonight. Everyone from 152 on up are seniors and we relied on that senior leadership to step up. The key was every one of our guys wrestled hard. When you do that every day you start to see the results and we're getting closer every day to where we want to be."
FOR MORE PHOTOS FROM THIS EVENT PLEASE CLICK HERE. TO BUY A COLLECTOR'S PRINT OF THIS STORY PLEASE VISIT 4-FeetGrafix.com.