Freshman Rich Machado scored 11 points for Saddle River Day, which won its 10th straight game, 60-42, over Cresskill.
SADDLE RIVER – Last year Saddle River Day opened some eyes with, by far, the most successful season in the history of its boys basketball program highlighted by a run to the Bergen County Jamboree quarterfinals. However, in their only two losses of the season the Rebels felt they were exposed defensively. For this year's version to be equally as successful, if not more so, they needed to make on-the-ball defense within a team concept a top priority.
With the Bergen County Jamboree starting this weekend the Rebels are once again streaking into county tournament play, this time on the backs of a rock-solid defensive effort and some sharp three-point shooting to boot.
Facing a Cresskill team that needed a win to earn automatic entry to the Jambo, Saddle River Day raced out to a quick lead and never looked back. Sebastian Giannotti hit two first quarter threes in a 14-0 run as the Rebels cruised from that point on to their 10th straight win, 60-42, over Cresskill on Tuesday night in Saddle River.
"We're trying to force the pace, play fast, and make that what we do game in and game out," said Saddle River Day head coach Anthony Gallo. "We know it's always going to be a battle and we were happy to catch them on an off night without one of their better players. We definitely need to cut down on our turnovers. But we made up for that by playing physical, setting a tone and that helped us get the job done tonight."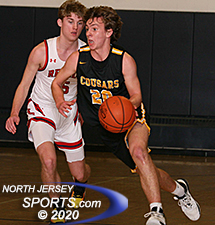 Aiden Feulner scored 10 points for Cresskill, which is now hoping for an at-large Jambo bid.
Cresskill came into the game short-handed without the services of leading scorer Kristian Radovich. Aiden Feulner scored on a drive to give the Cougars their only lead, 4-3. The Rebels answered right back by forcing several turnovers and pushing the pace. Giannotti's 3 from the corner put the Rebels ahead and Ryan Cassels followed with a long-range bomb of his own. After Giannotti's second three-pointer of the corner Sean O'Neill converted a conventional three-point play with three seconds left in the opening stanza to bump the lead up to double-digits, 15-4.
Cresskill trimmed its deficit to 7 points midway through the second quarter. The Rebels' defense kept coming in waves and they received some timely production off of their bench late in the first half to regain control. Sophomore Rob Mesropyan's first varsity points could not have come at a better time. He knocked down a pair of three-pointers from the corner in the final two minutes, the latter of which gave the Rebels a 28-12 halftime lead.
Senior Connor Cyran did not have his usual breakout offensive performance, but showed the flashes that makes him a player to watch in the Jambo. He scored all nine of his points during the third quarter, including six in an 8-2 spurt to start the period.
"Everybody on our team is locked in, especially on defense," said Cyran. "I think us being so interchangeable and having that versatility defensively is our greatest strength. Anybody can guard anybody one through five and that is definitely something we try to take advantage of. Plus, with so many guys that can score on any given night it's important for us to work together and share the ball."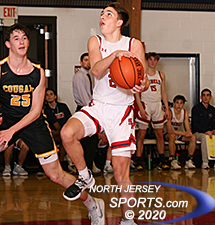 Ryan Cassels had 11 points for SRD, which is now 12-2 on the season.
Not only was Saddle River Day (12-2) balanced on the defensive end they also spread it around on the offensive end of the court. O'Neill led the way with 13 points with Cassels and impressive freshman guard Rich Machado each adding 11 points.
Kyle McGee led all players with 18 points and Feulner added 10 for Cresskill (9-5). The loss put the Cougars' Jambo fate into the hands of the committee.
"We knew we were up against it tonight being short-handed against a very good team in their gym," said Cresskill head coach Dan Egerow. "Right now it's just a wait-and-see situation. Give credit to Saddle River Day, they're an excellent team and they are one of the top teams in the county. We're on the bubble and hope some things fall our way. If so, that would be great for our kids. If not, we will have to keep our heads up and look forward to accomplishing other goals."
When the Jambo seeding meeting commences later on this evening the Rebels are hoping they are given a top-eight seed and a first-round bye for the second consecutive season.
"We have to play up to our capability and teams are going to be gunning for us now," added Cyran. "Coming off a really successful year where we went 26-2 and playing as well as we've been lately we have high expectations going into the Jambo. Overall, if we can clean up some little things and play at the level we're capable of I think we can go pretty far."
FOR MORE PHOTOS FROM THIS EVENT PLEASE CLICK HERE. TO BUY A COLLECTOR'S PRINT OF THIS STORY PLEASE VISIT 4-FeetGrafix.com.