Sophomore Madison Schiller tied a career-high with 23 points as Ramapo advanced to the Bergen County Tournament semifinals with a 67-49 win over Paramus Catholic.
FRANKLIN LAKES – When a team shares the ball and is completely unselfish is when they are at their most dangerous. Despite being a young team without a senior on the roster, Ramapo has seen throughout this season what it is capable of when the ball moves and offense runs seamlessly until finding the open player. Facing a hungry Paramus Catholic squad, the Green Raiders showed the rest of the county just how dangerous they could be when they put it all together.
Madison Schiller and Lauren Achter each had seven points in a 20-3 run to end the first quarter with third-seeded Ramapo holding a double-digit lead from that point on en route to a 67-49 triumph over No. 6 seed Paramus Catholic in the Bergen County Tournament quarterfinals on Saturday at Ramapo High School in Franklin Lakes.
Paramus Catholic got back-to-back layups from Rachel Hippolyte to grab a 6-0 lead. It did not last long as the Green Raiders responded with eight quick points to pull ahead. Aria Myers canned a three to give the Paladins their last lead midway through the quarter but Ramapo was unfazed. Julia Corella, a classic throwback-style point guard broke down the defense and found fellow sophomores Schiller and Achter for easy looks at the basket. They finished the quarter on a 12-0 run, ten of those coming from Schiller and Achter as Ramapo was already in control heading into the second quarter with a 20-9 lead.
"When they scored the first six points it was a wake-up call that we needed," said Corella. "We knew we had to pick up the pace and have better execution both offensively and defensively."
Paramus Catholic pulled within ten on a three-pointer from Janel Moore but never got any closer. Schiller was sensational both on and off-the-ball throughout the game, especially in the third quarter where she hit four of her five shots for nine points to double that lead to 20 points, 50-30, by the end of the third quarter.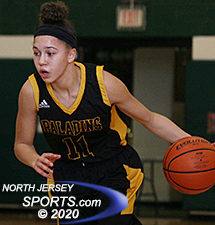 Aria Meyers scored a team-high 18 points for Paramus Catholic.
"We have a lot of offensive weapons that if we take care of the ball and move the ball that we'll get open shots or layups," said Schiller. "When we're smart with the ball and we're moving well without the ball we feel confident that we can score on any given possession."
Schiller tied a career-high with 23 points to go with 10 rebounds for Ramapo (19-2). Achter had 15 points and Savannah Ring added 13. Corella finished team-highs of 10 rebounds and seven assists.The Green Raiders were money at the free-throw line, hitting 20 of 24 attempts (83%).
Myers led the way for Paramus Catholic (15-5) with 18 points.
Ramapo will get the challenge it has been waiting for all season next Sunday. Beating four-time defending Bergen County champion Saddle River Day in the Bergen County semifinals will be a tall order but it is the kind of test that can define their season and show that Ramapo will be a championship contender for years to come.
"We've had a target on our back all year and it's nice to be an underdog," added Schiller. "We're going to play our game and give it everything we have."
FOR MORE PHOTOS FROM THIS EVENT PLEASE CLICK HERE. TO BUY A COLLECTOR'S PRINT OF THIS STORY PLEASE VISIT 4-FeetGrafix.com.