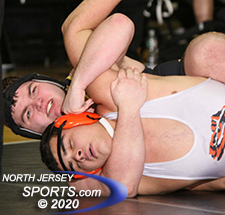 Matt Tibus' pin at 285 got things rolling in River Dell's direction as the second-seeded Golden Hawks advanced to the North 1, Group 3 semifinals with a 70-6 win over Tenafly.
ORADELL – If there is one thing wrestlers know well it is participating in a regimented routine. Each day is filled with practicing moves and strategies on the mat before trying to execute them during matches. When going through the same cycle for two-and-a-half months it is understandable for the intensity to wane.
That is not an option for a team like River Dell.
With the state tournament upon them and a bid for a section title in sight the Hawks know this opportunity is what they have been working toward all season. Facing a Tenafly team they beat handily during the regular season, the Hawks showed no let up and are peaking at the perfect time.
Second-seeded River Dell notched four straight pins to start the match and never looked back in a 70-6 win over No. 7 seed Tenafly in the North 1 Group 3 quarterfinals on Monday night at River Dell High School in Oradell.
"This was probably our hardest warm-up that we've had all season, we were ready," said River Dell senior Jaden Michel. "We're not taking anyone lightly. When you get to the state tournament you have to bring it and we looked really sharp tonight."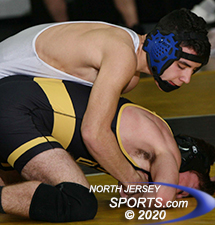 George Blinikos got the first three points for Tenafly, which was making its first state playoff appearance in 26 years.
Matt Tibus got things started with a pin at 285 pounds. As the match switched to the lower weights the Hawks continued to dominate. Taisei Kurachi, Noah Krakower, and Matt Di Gennaro scored consecutive first-period pins at 106, 113, and 120 pounds, respectively to give River Dell a quick 24-0 lead.
Tenafly got on the scoreboard at 126 with an impressive performance for a 7-1 decision by George Binikos. The Hawks quickly got back on track with a pin by Chris Link at 132 and never looked back in advancing to the North 1, Group 3 semifinals.
River Dell (17-6) also got pins from Colin Chambers and Michel. Kyle Link added a victory via major decision and Gabe Case was ahead in his bout at 145 pounds before earning a medical forfeit and avenging a loss from earlier in the season.
In the most exciting bout of the night at 170, Andy Jeon snapped a tie on an escape with 20 seconds left before holding off a last-second takedown attempt to hold on for a 7-6 win. Although the loss was convincing, the experience was a positive one. The match was the first state tournament appearance for Tenafly (9-13) in 26 years.
This year the Tigers were happy to merely to qualify for the states. Next year, they hope to grow as a program and take the next step.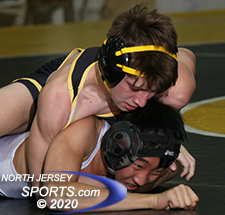 Matt Di Gennaro, who pinned at 120, and River Dell will host Sparta in the semifinals.
"We are not ashamed at all of our performance, all of our kids wrestled hard," said Tenafly head coach Chris Marren. "Hopefully we can fill the weight classes a little better next year and it's something to build off of. Now we understand what we have to do to get to the level of where River Dell is. We will learn from this and it will make us a better program in the long run."
River Dell earned another match at home and will get a seasoned opponent in No. 3 seed Sparta (a 43-27 winner over Northern Valley/Old Tappan in the N1G3 quarters on Monday). With no breaks from here on out the Hawks know they have to raise their intensity up another notch. Having gone throughout a rigorous schedule has prepared the Hawks for the long haul.
"We're battle tested, we haven't run from anyone," added Michel. "Sparta is going to be a really tough team and we have come out ready like we did tonight. As well as we wrestled tonight we have to wrestle even better against Sparta. We feel like we've really improved throughout the season and we'll be ready to go on Wednesday."
FOR MORE PHOTOS FROM THIS EVENT PLEASE CLICK HERE. TO BUY A COLLECTOR'S PRINT OF THIS STORY PLEASE VISIT 4-FeetGrafix.com.