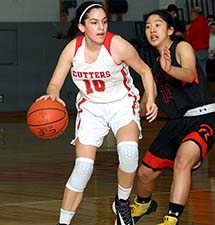 Fair Lawn's Sophie Pickett scored eight points as the 16th seeded Cutters beat 17th seeded Fort Lee, 38-30, in the Bergen County Girls Basketball tournament on Saturday morning.
FAIR LAWN - Having confidence in yourself is the first, and maybe the most important, step towards becoming a team leader. After a tough first half that saw her commit several turnovers on top of being saddled with foul trouble, In the Cutters' biggest game of the season Fair Lawn's Kellie Martinez did not feel confident in her play. Facing a second-half deficit against Fort Lee in the first round of the Bergen County Tournament, Martinez knew she had to get her groove back and be the spark that her team desperately needed.
Martinez came alive in the second half, especially in the game's final minutes. She hit a contested NBA-range three-pointer with 1:56 to go that gave 16th seeded Fair Lawn the necessary breathing room to get past No. 17 seed Fort Lee, 38-30, on Saturday morning and reach the Bergen County Tournament's Round of 16.
"We didn't have the best start but we kept playing hard," said Fair Lawn point guard Sophia Pickett. "In the second half we rebounded a lot better and we took care of the ball, that's how we got the lead back."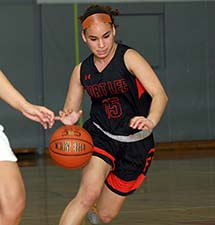 Emily Diaz led Fort Lee with 10 points, four rebounds and four steals.
The teams traded leads throughout the first half until late in the second quarter when Fort Lee turned consecutive turnovers into points. Yishi Huang hit a three-pointer to give the Bridgewomen the lead before Sofia Pagan's putback doubled it to four at halftime, 18-14.
"I thought we played well defensively but we missed shots that we normally make," said Fair Lawn head coach Brian McCourt. "I just told them to keep playing defense and we were still only down four even without (Martinez) for most of the second quarter."
Emily Diaz scored on a drive to bump the lead up to six and Fort Lee had a pair of layup opportunities that could have stretched the lead out even further. Both rolled off the rim and the Cutters' made them pay after the second miss with a three from point guard Sophia Pickett to trim the six-point lead in half. Martinez then heated up quickly with a baseline drive for a basket then a mid-court steal and layup to put Fair Lawn ahead for good, 21-20. Melissa Viellette added four of her six points during the 13-2 run to close out the third quarter with the Cutters leading 27-22.
It was a one-possession game with three minutes to play and the Cutters inbounding the ball underneath the Fort Lee basket. Martinez caught the ball along the wing. She forced up a tough shot in double-coverage and banked it to make it a five-point lead. Emily Diaz answered to trim it back to three before Martinez struck again on an inbounds play. She took another inbounds pass along the wing, this time the senior guard dribbled back behind the three-point line before hoisting up a shot. Even with a hand in her face the streaky Martinez canned the rainbow three to give Fair Lawn a 35-29 lead with less than two minutes to play.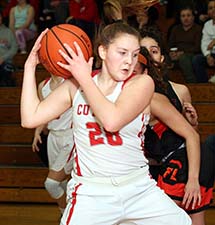 Hailey Conklin chipped in with four points for Fair Lawn.
"I wasn't playing with confidence in the first half, but once I started getting confidence in the second half I was ready to shoot," said Martinez. "I saw even though I could have dribbled more time off that I had an opening to shoot and I was confident that I'd make the shot."
Martinez had 13 of her game-high 20 points in the second half for Fair Lawn (8-5). Pickett added eight points and Hailey Conklin had four.
Emily Diaz finished with 10 points, four rebounds, and four steals for Fort Lee (10-4).
Fair Lawn now gets the ultimate when facing top-seeded and undefeated Immaculate Heart Academy in the BCT's Round of 16 next Saturday. With everything to gain and nothing to lose the Cutters are excited for the opportunity to see what they can do against one of the state's top teams.
"We know they're a really good team and we have to protect the ball," said Pickett. "They want to play quick, get a lead and then build on it. We have to slow the pace down, take good shots, and play with the confidence we showed in the second half today."
FOR MORE PHOTOS FROM THIS EVENT PLEASE CLICK HERE. TO BUY A COLLECTOR'S PRINT OF THIS STORY PLEASE VISIT 4-FeetGrafix.com.