Or Sundjyevsky helped Fair get off to a fast start in a 79-49 win over Midland Park in the opening round of the Bergen County Jamboree.
WESTWOOD – After a highly successful season last year and with nearly the entire team returning for this season expectations were high for Fair Lawn. However, the flu/injury bug has hit the Cutters harder than any team in Bergen County, so much so that only in the last week have they finally been playing with the lineup expected to be starting from day one. The Bergen County Jamboree is an awfully good time to get healthy and with a full complement of weapons and a senior-laden lineup the Cutters showed they will be a tough out.
Or Sundjyevsky had a big first-quarter performance and Darius Sohikish followed with a monster second quarter as 10th seeded Fair Lawn cruised to a 79-49 win over No. 23 seed Midland Park in the first round of the Jambo on Saturday at Westwood High School.
With a young squad little was expected of Midland Park going into this season, but with the return of 6-foot-8 sophomore David Luberoff the Panthers have been a dangerous outfit all season. They showed that promise in the game's first few minutes with Brett Murray hitting a three-pointer and Luberoff following with a finish inside to give Midland Park a 7-2 lead. Another Murray three put the Panthers up 10-9 but that lead would be their last.
Playing with a mask on to protect an injury to his nose, Sundjyevsky had to adjust. He did so seamlessly as he hit deep three-pointers from the wing on consecutive possessions to quickly give Fair Lawn a sizable lead, 17-10.
"Once I hit my first three I kind of forgot that I was even wearing a mask," said Sundjyevsky. "I got that out of my mind and just focused on playing basketball. I know when I hit some threes that it motivates the team and pumps us up. It all begins with getting defensive stops and forcing turnovers. When we do that we can get out in transition and the offense flows."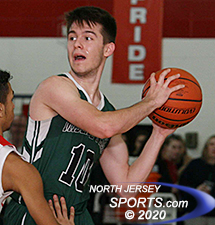 Brett Murray finished with a team-high 16 points for Midland Park.
Sohikish had knee surgery in the off-season and is still working his way back to the form he displayed as one of Bergen County's top point guards a year ago. It appears he has finally turned the corner. He hit four of his five second-quarter shots and scored 12 points during the eight-minute span to help Fair Lawn stretch its lead out to 38-22 by halftime. His hot hand carried over into the third quarter where he nailed a pair of three-pointers as the Cutters cruised into the Round of 16.
"This is kind of like the beginning of the season for me personally and for us as a team," said Sohikish. "We were a good team but the little holes we have we feel like are closing up. Midland Park came out with a 1-2-2 press today that slowed us down a little bit and it took a few minutes for us to figure it out. But once we started getting into a rhythm we started playing the way we're capable of."
Sohikish led all players with 25 points, five assists, and four steals for Fair Lawn (12-3). Sundjyevsky netted 11 of his 19 points in the first quarter. John Burek and Jamin Reyes each chipped in with 11 points.
Murray finished with a team-high 16 points for Midland Park (10-7). Luberoff also played well with 14 points, 11 rebounds, and four blocks.
Fair Lawn will take on seventh-seeded Ridgewood in the Round of 16 next Saturday. The Cutters are the only team remaining in the Jambo whose entire starting five are seniors. With this being their last shot to make a run the Cutters want to show they are among the elite teams in Bergen County.
"We're starting to jell together like we did last year and we're getting to where we feel we should be," said Sohikish. "We were upset when we lost year but we chalked it up as a great experience but now we want more. We want to win that next game and see how far we can go."
FOR MORE PHOTOS FROM THIS EVENT PLEASE CLICK HERE. TO BUY A COLLECTOR'S PRINT OF THIS STORY PLEASE VISIT 4-FeetGrafix.com.