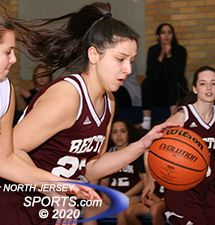 Francesca Matraxia and Becton found just enough offense to top North Arlington, 37-28, to snap a five-game losing streak.
NORTH ARLINGTON – Having to keep the morale up and spirits high on a team mired in a five-game losing streak is no easy task, but it is exactly what first-year Becton Regional head coach Jesse Romano was faced with. While the offense has been a work in progress all season, Romano has implemented a full-court trapping defense to try to force the pace of games. Facing NJIC-Meadowlands Division rival North Arlington, the Wildcats once again struggled to find a rhythm. However, they were able to get enough stops and make enough shots at the right time to hold off a stern challenge.
Francesca Matraxia had a strong first half to help the Wildcats forge a lead before holding off a fourth-quarter run as Becton snapped the losing streak with a 37-28 win over North Arlington on Tuesday afternoon in North Arlington.
"We knew it was going to be a battle and we had to win it with our defense," said Romano. "We're a far cry from a good offensive team right now so we pride ourselves on our defense to keep us in games. The ball wasn't going in for us so we had to get as many stops as we could."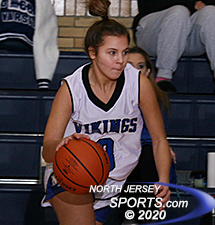 Jordyn Nelson and North Arlington hung in there well into the fourth quarter.
It was evident right from the opening tap that game would be a physical battle without much of a flow. The two teams scratched and clawed for loose balls from the first minute until the last. Matraxia opened the scoring with a three-pointer and Jordyn Nelson answered back for the Vikings with a long jumper. From the there the Wildcats' full-court pressure started to take control.
Becton went the next 12 minutes without allowing a field goal and slowly padded its lead during the second quarter. Matraxia hit another high-arcing three-pointer and point guard Felicia Carty added a driving layup as the Wildcats bumped the lead up to double-digits by halftime, 23-12.
"Defense wins games. When we get turnovers it creates easier shots for us," said Matraxia. "We had five losses in a row so we needed to make something happen in this game to build our confidence back up."
The pace slowed to a near halt in the third quarter. Both teams combined for 18 jump balls and 20 turnovers during the eight-minute stretch. Becton started hitting from the outside with Matraxia and Samirah Reyes hitting back-to-back jumpers to give the Wildcats a 19-point lead.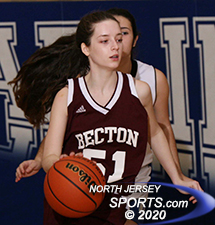 Felicia Carty scored 8 points for Becton, which improved to 4-6 on the season.
North Arlington continued to fight though and quickly made it a game. After hitting just three field goals over the first 23:59 of the game the Vikings scored on five straight possessions. It started with a buzzer-beating putback by Angelina Torres to close out the third quarter. Two minutes into the fourth quarter, Rayna Taormina hit a deep baseline jumper to cap an 11-0 run to trim the Wildcats' lead back down to eight, 31-23.
Despite momentum going against them the Wildcats stayed calm. Carty halted the run with a jumper from the top of the key and Ari Haynes followed with a short baseline jumper to help Becton hold on for a much-needed victory.
Matraxia was the lone player from either team to reach double-figures in scoring with 13 points for Becton (4-6). Carty and Reyes each added eight points. Izabella Feliciano had a team-high eight points for North Arlington (3-7).
After winning four of their first five games the Wildcats fell into a rut before Tuesday's win. With a stretch of competitive games ahead of them, they hope it fuels better days for a program looking to move into the upper half of the NJIC-Meadowlands Division.
"I thought we could have done a better job on the boards tonight and we're going to need to if we want to keep winning games," added Romano. "We've been working on that a lot in practice. It feels good to win again. We're still very young and there will be some growing pains. I know these girls will keep working hard and keep learning how to play together. If we can play good defense and rebound a bit better I think we can be pretty competitive for the rest of the season."
FOR MORE PHOTOS FROM THIS EVENT PLEASE CLICK HERE. TO BUY A COLLECTOR'S PRINT OF THIS STORY PLEASE VISIT 4-FeetGrafix.com.