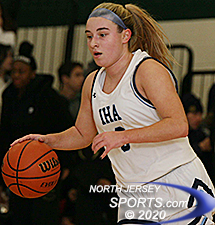 Brittany Garff and IHA allowed just 8 points over the final three quarters in a 58-19 win over Westwood in the quarterfinals of the Bergen County Tournament.
FRANKLIN LAKES – With as dominant as Immaculate Heart Academy has been this season there have not been too many wake-up-call moments for this senior-laden team.
It did not look like it would happen in the Bergen County quarterfinals when the Blue Eagles ripped off 10 straight points to start the game, but when upstart Westwood hit consecutive three-pointers in the final minute of the first quarter to get back in the game it showed that no team can be taken for granted. It was a lesson that was learned from and dealt with on the fly as the Blue Eagles followed that one bad minute up with three masterful quarters of play.
Top-seeded IHA clamped down defensively and allowed just eight points over the final three quarters in cruising to a berth in the Bergen County semifinals with a 58-19 win over No. 9 seed Westwood on Saturday at Ramapo High School in Franklin Lakes.
IHA created the pace right from the outset with a game-opening 10-0 run with half of those points coming from Samantha Rinaldi. Things looked even worse when Westwood point guard Meghan Riedel went down with a wrist injury in the first quarter and did not return. The Cardinals kept playing hard and showed some life with back-to-back threes by Samantha Moleti and Camilia Brown to slice the lead to 15-11 at the end of one quarter.
"Having an undefeated record we know that every team is going to give us their best effort to try and knock us off," said senior point guard Brittany Graff. "It might have been the best thing to happen to us when they hit those threes. We knew we had to pick it up and we did. It starts with our defense and we got some fast-break layups to get us going again."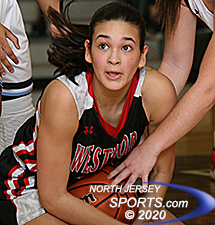 Cassidy Orbe and Westwood hung around early before falling to 13-7 on the season.
Rinaldi got the Blue Eagles back on track with a three-pointer of her own. They held Westwood (13-7) to just two points in the quarter and regained a double-digit lead heading into the locker room at the half, 25-13.
The intermission did little to slow down IHA, who was completely in sync. Anna Morris dominated the paint on both ends of the floor in the second half, scoring 14 of her 18 points. The Blue Eagles did not allow a field goal over the final 10 minutes of regulation
IHA (18-0) got 11 points, four assists, and three steals from Graff. Rinaldi added nine points while A'Nyah Barker and Gina Gaccione each chipped in with seven. It was the 11th time this season that the Blue Eagles have won by a 30-plus point margin and the fifth consecutive game in which that has happened.
That will surely change this upcoming week with their toughest week of the season to date. They will take on one of New Jersey's top teams in Trenton Catholic before taking on Teaneck in the BCT semifinal next weekend.
"We have a tough week coming up and we have to be ready," said Rinaldi. "Every game is 0-0 and we treat every game like it's our Super Bowl. We'll be ready and this is the time of year where we have to bring it."
FOR MORE PHOTOS FROM THIS EVENT PLEASE CLICK HERE. TO BUY A COLLECTOR'S PRINT OF THIS STORY PLEASE VISIT 4-FeetGrafix.com.