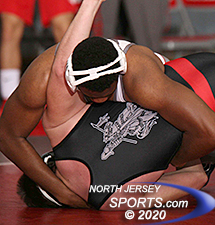 Kyle Irby-Mason pinned at 220 for Fair Lawn, which opened its league schedule with a 53-16 victory over Lakeland.
FAIR LAWN – When a team is a reigning league champion and loses several starters to graduation it becomes vulnerable to opponents trying to take its place. Fair Lawn not only had some holes to fill in its lineup and also has battled the injury bug However, with the Big North-Indepedence Division schedule upon them the Cutters had no time for excuses.
Trailing a red-hot Lakeland after four bouts and needing a spark, two of Fair Lawn's senior captains stepped up and showed why they are leaders in the wrestling room.
AJ Puerto started a run with a major decision and Ben Liss followed with a pin that gave the Cutters the lead for good, hitting their stride and winning 9 of the final 10 bouts in a 53-16 win over Lakeland on Wednesday night.
"Every match matters, every point matters, and we know every team in our league is going to come after being that we've been league champs the past two years," said Puerto. "As a team we want to force the action. Working on our setups and creating angles so that our shots are nice and crisp. Everyone is grinding in the room every day at practice. That intensity carries over into matches."
Lakeland came into to the showdown with Fair Lawn on a five-match winning streak. That momentum carried over into the early portion of the match with bonus points in three straight bouts. Tyler Mursen and Kenny Langenmayr scored back-to-back major decisions before Billy Barna's tech fall at 160 pounds put the Lancers up 13-5.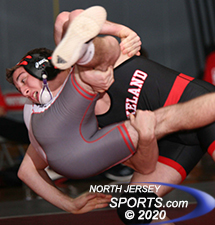 Billy Barna's tech fall at 160 gave Lakeland an early 13-5 lead.
There was no panic on the Fair Lawn side with the meat of its lineup on deck. Puerto used a methodical approach to take control early and gradually pulled away for a major decision at 171 pounds and Liss followed suit with an impressive display of power at 182 to score a pin in 3:06 to put Fair Lawn in front, 15-13.
"I know I had to do my job when I got out there," said Liss. "Everyone on this team is a grinder and we have a lot of young guys that are really stepping up to the plate. We have great coaching and they challenge us every day. It's about wrestling smart and staying in control all while pushing the pace. Something we emphasize is to start early and finish strong."
What was a hotly contested match through six bouts was all but over by the time it got back to the lower weights. Amir Michael, Kyle Irby-Mason, and Zach Shapiro all pinned at 195, 220, and 295 pounds, respectively. That turned a two-point lead into a 20-point lead, 33-13, and the Cutters cruised from there to their 12th straight win against division opponents spanning the last four years.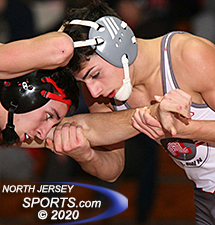 Anthony Motta (right) scored a pin for Fair Lawn, which improved to 4-1 on the season.
Natan Tsyrlin and Anthony Motta also scored pins for Fair Lawn (4-1). Guy Ben-Sadigh added a win by decision at 113 pounds. Joe Ribitzki snapped the Cutters' five-bout win streak with a decision at 106 pounds for Lakeland (5-2).
Although the Cutters are still working to get back to full health there is a confidence amongst the wrestlers who are out there that this can be another championship year for Fair Lawn.
"We have a good mix of returning starters who had (20+) wins and also some kids who are getting their first experience on the varsity level," said Fair Lawn head coach Ricky Eichenlaub. "The important thing is that we're working every day and I thought all of our guys wrestled smart tonight. Every single kid wrestled hard and that's what you need to do to be successful. Our league is tough and Group 4 for the state tournament is really tough. If we keep working hard, get healthy, and catch some breaks along the way I think we have a pretty good season."
FOR MORE PHOTOS FROM THIS EVENT PLEASE CLICK HERE. TO BUY A COLLECTOR'S PRINT OF THIS STORY PLEASE VISIT 4-FeetGrafix.com.