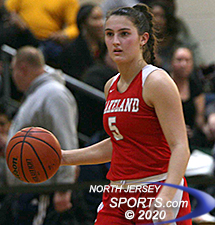 Keira Marks and Lakeland caught fire in the second quarter and rode it all the way to a 47-34 victory over top-seeded Lakeland in the semifinals of the Passaic County Tournament.
PATERSON – As the first quarter came to a close the Lakeland players were angry and understandably so. After not hitting single field goal and scoring just two points over the first eight minutes of the game against top-seeded DePaul, the Lancers had to raise their intensity if they were going to find a way out the rut they were in.
Behind the play of Keira Marks and Cameron Unger, the Lancers needed just three minutes to not only get out of the hole but take over the game.
The duo, along with Kaitlyn Collins, combined for all of the points in a 13-0 run to start the second quarter as fourth-seeded Lakeland cruised from there to a 47-34 victory over No. 1 seed DePaul in the Passaic County semifinals on Saturday at Paterson Kennedy High School.
After a wild Passaic County semifinal played at breakneck pace to open the day, the second semifinal had a considerably slower pace from the opening tip. DePaul seniors Ava Peiser and Riley Sikorski combined for seven of the Spartans' eight first quarter points to grab an 8-2 lead after one quarter.
As inept as the Lancers' offense looked in the first quarter their execution was flawless to start the second. Marks and Collins both scored on layups before Unger's 3 capped the 13-0 spurt. Marks and Unger each finished with seven second quarter points as Lakeland busted out for a 20-point quarter to take a 22-12 halftime lead.
"We're usually a second-half team but it was in the second quarter where we really started executing the plays that coach had drawn up," said Marks. "It starts with playing hard and playing with confidence. Once we started playing with confidence everything clicked."
Peiser hit another three-pointer early in the third quarter to cut the lead to eight but Marks answered quickly with a three-pointer of her own to bump the lead back up to double-digits and it never dipped below 10 as the Lancers avenged a loss to DePaul in the Passaic County semifinals last year to earn their second berth in the Passaic County final in the past three years.
Marks was on fire in the third quarter, scoring 14 of her game-high 25 points to go with 11 rebounds for Lakeland (15-9). Six-foot-3 freshman Lisa Star made a big impact off the bench with six points, six rebounds, three blocks, and two steals. Sikorski led the way for DePaul (8-12) with 11 points.
Lakeland will square off against league rival Wayne Valley in the Passaic County final next Saturday at Wayne Valley Valley High School with a 2:30 P.M. start. Although the Lancers have been on the short end in both of their regular-season meetings against the Indians they are confident heading into a third showdown with much more at stake.
"We have nothing to lose but we feel confident if we play our game that we can get the 'W'," added Marks. "Against a team like Wayne Valley we have to play good defense every single possession. Having seen them we know what to expect from them and we'll have to be ready for anything."
TO BUY A COLLECTOR'S PRINT OF THIS STORY PLEASE VISIT 4-FeetGrafix.com.