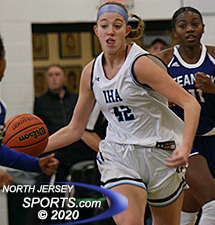 Senior Anna Morris scored a career-high 28 points for IHA, which advanced to the Bergen County Tournament championship game with an 83-42 win over Teaneck.
HILLSDALE – Anna Morris has been as consistent of a player as has ever come through North Jersey over her four-year tenure in an Immaculate Heart Academy uniform. The 6-foot-2 double-double machine has gladly sacrificed even gaudier statistics for the good of the Blue Eagles and their success as a team.
With the final games of her scholastic career in sight, the Northwestern-bound senior showed that when she is locked in the mode of looking for her shot that there may not be a player in the state who can guard her. Facing a Teaneck team that started four guards Morris saw an opportunity to set a tone. She did just that and kept going in a scintillating performance.
Morris netted a career-high 28 points and added 10 rebounds, five blocks, three assists, and three steals as top-seeded IHA took control in the second quarter. The Blue Eagles never took their foot off the gas and cruised into the Bergen County Tournament final with a 83-42 romp over fourth-seeded Teaneck on Sunday afternoon at Pascack Valley High School in Hillsdale.
"Putting the ball in the basket early gives us a lot of confidence and we kept it going for an entire four quarters," said IHA head coach Steve Silver. "We've been hunting good shots and we've been patient to get the shot we want. With two, three, or four passes we can get a good shot, but it's with five, six, seven passes that we often get a better one. Today we showed that commitment to getting the best shot we can get and we hit those shots."
Nahali Tittle finished with a double-double (13 points, 10 boards) for Teaneck.
Morris felt the hot hand right from the opening tap, hitting four of her five first quarter shots as IHA opened up a seven-point lead after one. Teaneck hung around early in the second quarter when a big turning point occurred with the Blue Eagles holding a six-point lead. Morris altered a potential Teaneck layup that was missed then hit a three-pointer at the other end of the floor.
Sophomore Gina Gaccione has been one of North Jersey's better players off the bench all year for IHA and she came up clutch again with a three-pointer and a layup during a 13-2 spurt as Morris already had 18 points by halftime and IHA was firmly in control, 41-24.
"We see now what we're capable of when we play together and everything clicks," said Morris, who has also been a first-team all-state volleyball player for Tournament of Champions winner at IHA in each of the last two years. "We emphasize working inside and outside to open things up for our shooters. I hit a couple of shots in the beginning and just felt comfortable all game."
Any hopes of a miracle second-half comeback were quickly put to rest when A'Nyah Barker put together a perfect third quarter, hitting all five of her shots from the floor and both free throw attempts.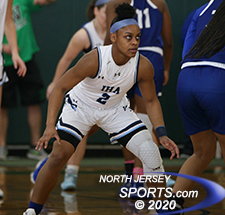 IHA's A'Nyah Barker put together a perfect third quarter, hitting all five of her shots from the floor and both free throw attempts.
The 83-point outburst is the biggest in the long tenure of head coach Steve Silver. IHA (19-1) shot 63.6-percent from the field, including a blistering 75-percent (30-for-40) from two-point territory. Barker's 19 points were a season-high and two off of her career best. Gaccione finished with 12 points and Emma Matesic chipped in with 10.
Taylor Riddick went 4-for-7 from three-point range on her way to a team-high 15 points for Teaneck (15-8). Nahali Tittle notched a double-double with 13 points and 10 rebounds.
The Blue Eagles will finally play the game they have had circled since last February. With a senior-laden squad that suffered a bitter loss to four-time defending Bergen County champion Saddle River Day in last year's Bergen County Tournament final, they are looking for not only revenge but at long last a chance to celebrate being county champions after getting close so many times.
"It's exciting but also bitter sweet because the season and our time at IHA is winding down so quickly," added Morris. "We've been with this group of girls for four years now and we've been through every big game together. This year we're hoping to get some championships under our belt because we've tasted it but haven't been able to finish. It's going to be tough but we have to just think of it as another game and try to put it all together like we did today."
FOR MORE PHOTOS FROM THIS EVENT PLEASE CLICK HERE. TO BUY A COLLECTOR'S PRINT OF THIS STORY PLEASE VISIT 4-FeetGrafix.com.