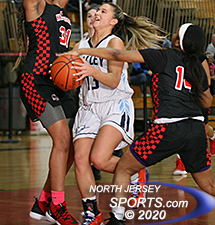 Hailey Cabanas scored a career-high 23 points and Wayne Valley needed every one of them in a 68-58, double overtime victory over Kennedy in the semifinals of the Passaic County Tournament.
PATERSON – When Paterson Kennedy's Samantha Ferreras nailed an improbable 30-foot shot to force a second overtime in the Passaic County Tournament semifinals it seemed like it was not going to be Wayne Valley's day, but the Indians have been a resilient team all season. They were not to let any more adversity deter them from their moving closer to their goal of being county champions and they adopted the mindset that the game was not over…instead it had just started.
Hailey Cabanas netted a career-high 23 points, including a big jumper that sparked a closing 10-1 run, as second-seeded Wayne Valley survived and advanced to the Passaic County Tournament final with a wild 68-58 triumph over No. 3 seed Paterson Kennedy on Saturday in Paterson.
"It comes down to heart and you need to battle for every loose ball," said Cabanas. "At the start of both overtimes we had to treat it like a whole new game because it basically was."
Going into the game it felt like the Indians might be at a disadvantage playing on Paterson Kennedy's home floor. That notion went out the window with Cabanas getting off to a blazing start. She scored 15 first-half points, the last of those coming on a three-pointer that gave Wayne Valley a commanding 28-11 lead.
With nothing to lose and their outside shots not dropping the Knights became more aggressive going to the basket late in the first half. That allowed them to get to the foul line and trim their deficit to 33-22 heading into the third quarter.
Kennedy's Samantha Ferreras led all players with a career-high 27 points.
Ferreras heated up quickly with 11 third-quarter points, the last of which came on a three-pointer to cut the disadvantage to 3. It appeared the Indians had weathered the storm on a basket by Cabanas and two free-throws from Brianna Neary pushed Wayne Valley's lead back up to seven heading into the fourth quarter.
The Knights kept playing hard before finally taking their first and only lead of the game on a rare basketball play. Kiana Hardison drilled a three-pointer while getting fouled. She then hit the ensuing free-throw to give Paterson Kennedy a four-point possession and a 49-47 lead with 1:48 to go.
Twelve seconds later, Brianna Neary hit two free throws to tie the game before the Knights held for the last shot. Inbounding the ball from mid-court with 6.5 seconds remaining Paterson Kennedy head coach Mar'Quette Burgess dialed up a perfect play that should have led to a game-winning layup. But the catch at the rim was midhandled and the Knights never got off a final shot and the game headed to overtime.
Wayne Valley quickly took the lead and had a chance to close it out in the final minute of the extra session, but a turnover and a floater from in the paint was off the mark, giving the Knights one last chance. The sharp-shooting Ferreras took advantage of it. With a defender draped all over her she hoisted a step back three from well beyond the three-point line. The gym went bonkers as the shot went in with two seconds left to tie the game and force a second overtime.
"I just told them that this is the longest practice you've ever had and you're prepared for this moment," said Wayne Valley head coach Kathy Sinram. "We work hard every day at practice and this was the time where we needed to dig in. This was a total team effort and we got a lot of production and some big minutes from our players off the bench."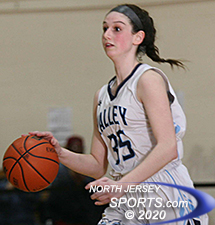 Sofia Neary and Wayne Valley will take on Lakeland in the Passaic County championship game on Saturday.
The Indians once again took the lead with the Knights having a chance to answer midway through the second OT. Clinging to a one-point lead the Indians caught a break when a wide-open layup rolled off the rim. On the ensuing possession, Cabanas used a quick release on her shot to hit a deep jumper from the baseline. Ava Whisten followed by stealing a pass and feeding Sofia Neary for a layup to make it 62-59 with 1:10 left. Daria Pontone and Clark each hit free-throws down the stretch as the Indians held on for a berth in the Passaic County Tournament final.
Sofia Neary had 12 points and Pontone added 11 for Wayne Valley (15-7). Vivian Testa chipped in with eight points, eight rebounds, and rock solid defense.
Ferreras led all players with a career-high 27 points for Paterson Kennedy (15-9). Hardison was the only other Knight to reach double-figures with 12 points.
Wayne Valley will take on fourth-seeded Lakeland next week with a Passaic County title on the line. The Indians have two convincing wins over Lakeland this season already, but they are aware that the previous results are out the window. All that matters is that the Indians put together their most complete game of the season in the most important one.
"It was a very rough year and we had to work really, really hard to get to this point," said Wayne Valley's lone senior Brianna Neary, who had nine points and seven rebounds. "It's definitely rewarding because of the work we've put in to get here. It hasn't paid off yet but we feel like we're playing our best basketball of the season right now and we're excited to play in the county final next week."
TO VIEW MORE PHOTOS FROM THIS EVENT PLEASE CLICK HERE. TO BUY A COLLECTOR'S PRINT OF THIS STORY PLEASE VISIT 4-FeetGrafix.com.