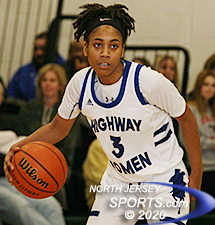 Taylor Riddick was one of four Teaneck starters to finish in double figures in a 59-47 win over Demarest in the quarterfinals of the Bergen County Tournament.
FRANKLIN LAKES – It was evident right from the opening tap that Northern Valley/Demarest forward Dayna Tirado was going to be a problem for Teaneck. She scored inside, she scored from the perimeter, but most importantly she was a presence in the paint defensively.
Unfortunately, Tirado suffered a shoulder injury early in the second quarter and did not return. That opened up paths to the basket and Teaneck took full advantage.
Clinging to a two-point lead when Tirado went down the Highwaywomen became more aggressive in their approach. Immediately following Tirado's departure, fourth-seeded Teaneck scored layups on its next five possessions and never looked back in advancing to the Bergen County semifinals with a 59-47 victory over No. 12 seed Northern Valley/Demarest on Saturday at Ramapo High School in Franklin Lakes.
"We had a slow start today and (Tirado) was a big presence that we didn't have an answer for," said Teaneck head coach Brad Allen. "It was a tough, unfortunate injury for her and for their team. We were going East-West too much and not enough North-South. Once we started going downhill and really attacking the basket was when things started clicking."
Teaneck's defense was designed to limit Tirado but it was to no avail. She hit on her first three shots, including a three-pointer and a fadeaway jumper, as the Norsewomen opened the game on an 11-3 run and looked to pull a second straight upset after beating Northern Valley/Old Tappan last week. Rachel Gordon shot the Highwaywomen back in the game hitting on all three of her three-point attempts in the first quarter.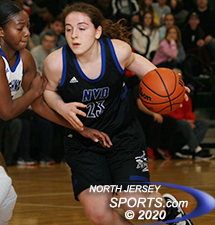 Casey Sullivan scored a game-high 26 points for Demarest.
The Highwaywomen pulled ahead by two when a collision caused Tirado to pop her shoulder out with 6:07 to play in the second quarter. The impact was immediate for both teams. Dejay Young and Nahali Tittle each scored twice on drives to the basket over the next three minutes as Teaneck built a double-digit lead at the half, 32-21.
"Once we started getting stops and with (Tirado) out the middle we had to take advantage of that," said Teaneck senior guard Taylor Riddick. "We kept going to the basket and set the tone that way. It was our time to go on a run and get a big lead  going into the second half."
Sophomore point guard Casey Sullivan did everything she could to keep her team in the game by going to the basket repeatedly. Despite having several defenders try to slow her down none of them were able to do it. She scored on a driving layup and then kicked it out to Liz Argenziano for a corner three-pointer that trimmed the lead to eight.
The Norsewomen were more effective in limiting drives to the basket but they were unable to stop Teaneck from keeping a comfortable lead throughout the second half. Senior guard Taylor Riddick knocked in a pair of three-pointers during the third quarter to get the Highwaywomen back on track and into the Bergen County semifinals for the first time since 2016.
"I love the way we fought and I thought we did a good job offensively, we just didn't get enough stops and it's tough to trade baskets when you're down eight to ten points," said Northern Valley/Demarest head coach Jenny Jurjevic. "Losing Dayna, our captain, is bad break for us but we have a tough schedule ahead of us. We will make adjustments, get back to the drawing board, and get ready for the games we have coming up."
Young led four players in double-figures for Teaneck (14-6) with 18 points. Riddick netted 10 of her 14 points in the second half. Tittle and Gordon chipped in with 11 points apiece.
Sullivan went a perfect 12 for 12 at the charity stripe on her way to a game-high 26 points for Northern Valley/Demarest (11-8).
Teaneck will face an even tougher test in the Bergen County semifinals next Sunday. Top-seeded IHA has a post presence in Northwestern University-bound senior Anna Morris, who can also step out hit shots from the outside. If the Highwaywomen want any chance of pulling the upset they will have to do a better job of protecting the paint.
"We have to do a better job of executing our gameplan or its going to be a long afternoon," said Allen. "We can't miss layups, have unforced turnovers, or have lapses defensively. It has to be 32 minutes of good basketball. We'll clean up those things and get ready to go for next week."
FOR MORE PHOTOS FROM THIS EVENT PLEASE CLICK HERE. TO BUY A COLLECTOR'S PRINT OF THIS STORY PLEASE VISIT 4-FeetGrafix.com.