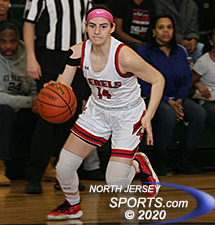 Jordan Janowski helped Saddle River Day turn defense into offense in a 66-45 win over Hackensack in the quarterfinals of the Bergen County Tournament.
FRANKLIN LAKES – For the past four years Saddle River Day has relied on unmatched offensive firepower and creating mismatches all over the court. With most of the players that led the Rebels to four straight Bergen County Tournament championships now playing at the Division 1 level, this year's squad had to completely overhaul how it plays.
There are going to be times where the Rebels cannot find an offensive flow and stretches of play where jumpers simply do not go in. The one constant this season has been the pressure defense created by guards Jordan Janowski and Saniah Caldwell. Among the state's leaders in steals this season, they are a dynamic duo that can turn a close game into a rout in a matter of minutes.
That is exactly what happened against Hackensack. The Comets did everything they could to hang around but the pressure kept coming in waves. Janowski and Caldwell combined for 20 second-quarter points as second-seeded Saddle River Day pulled away for a 66-45 victory over No. 7 seed Hackensack in the Bergen County quarterfinals on Saturday at Ramapo High School in Franklin Lakes.
Hackensack came into the game with nothing to lose and played like it early on. Natalie Patterson hit on all three of her first-quarter shots in the paint to keep the Comets within four heading into the second quarter. That is where the Rebels had by far their best eight-minute stretch with a smothering defensive effort. They forced one turnover after another and converted them into points on the other end. Janowski, who averages 12 points per game, equaled her scoring average in the second quarter alone. She hit 5 of 7 shots in the period, including both three-point attempts with Caldwell adding eight points and three of her game-high five steals as the Rebels opened up a comfortable lead by halftime, 41-21.
"It all starts with defense and that can create our offense by getting out in transition," said Janowski. "We usually start out a game with a lot of energy but today Hackensack came out with more energy than we did. We turned that around in the second quarter by setting the tempo but we can't into the habit of starting off games like that. The way we started the second quarter is the way we should be starting off every quarter."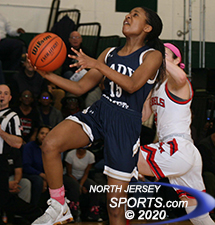 Natalie Patterson had a team-high 17 points for Hackensack.
Caldwell led all players with 26 points and Janowski added 16 for Saddle River Day (16-3). Cierra Pearson added nine points off the bench and the Rebels were deadly at the foul line, going 19-23 (83%). Kristina Mathurin also had a game-high with 16 rebounds.
Patterson led the way for Hackensack (11-7) with 17 points. Jayla Hall also reached double-figures with 13.
With the level of competition raised from here on out the Rebels know that the only chance of holding onto their title as Bergen County champions is through four full quarters of execution.
"We definitely have a lot to work on and we don't have time anymore to work things out, we have to figure it out now," added Janowski. "There are only tough games from now on. Today was a learning lesson and a opportunity for us to get better. There are no more quarters off, no more possessions off. We say all-in or all-out a lot. I think we're really starting to buy into that and that will help us moving forward."
FOR MORE PHOTOS FROM THIS EVENT PLEASE CLICK HERE. TO BUY A COLLECTOR'S PRINT OF THIS STORY PLEASE VISIT 4-FeetGrafix.com.