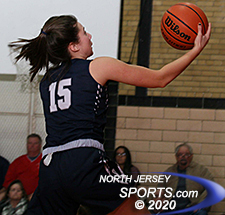 Jocelyn Rodriguez came off the bench to score a career-high 13 points for Rutherford, which pulled away from Pompton Lakes in a 42-30 victory.
POMPTON LAKES –  Through two-and-a-half quarters against a stingy Pompton Lakes squad, Rutherford head coach Ed Guy was searching for answers. He tried making adjustments and switching around his lineup but nothing could seem to shake the pesky Cardinals with the teams battling to a virtual stalemate. Questioning where he could find any type of scoring production in this defensive duel he turned to his bench and found the answer in Jocelyn Rodriguez.
The sophomore forward scored seven of her career-high 13 points during an 8-2 run to end the third quarter as Rutherford remained atop the NJIC-Colonial Division with a hard-fought 42-30 win over Pompton Lakes on Thursday night at Pompton Lakes High School.
"As a team we had to stay together and keep playing tough defense," said Rodriguez. "In the beginning we were taking too many three-pointers and we didn't get to the basket enough. We're in first place in the league so every game is going to be a tough one with teams trying to knock us off. The way we finished the game we have to come with that energy every game from now on."
Pompton Lakes is a team that always plays tough on its home floor. This game would be no different as Emma Diamond scored inside and Kayla Sampong stroked a three on the Cardinals' first two possessions for a quick 5-0 lead. Rutherford answered back with seven straight points capped by a three-pointer from Mia Capobianco. It appeared that this may be a game of runs, but in fact it proved to be completely the opposite.
Emily Ramirez finished with 9 points, 3 assists, 3 rebounds and 2 steals for Pompton Lakes.
Neither team led by more than two points for the remainder of the half. The teams were tied at 5, 7, 9, 11, 13, and finally at 15 at the half on Diamond's two free-throws.
It felt like there was no way that trend could continue in the second half but it did. Tied at 17, Pompton Lakes point guard Emily Ramirez banked in a rainbow three-pointer and had a chance to stretch the lead. Rutherford clamped down on defense with Emilia McCarthy getting a steal then going the length of the court for a conventional three-point play to tie the game again. It was tied one more time at 22, the ninth tie of the game, midway through the third quarter before the Bulldogs pulled away. McCarthy had another layup to give them the lead before Rodriguez nailed a three from the top of the key and added a drive to help Rutherford take a 30-24 lead heading into the fourth quarter.
"I made some shots but it was all about us moving the ball," added Rodriguez. "It was difficult early in the season because we were still figuring out how to pass the ball to one another in places where we can score. We always pick each other up and this team is really more like a family."
Rodriguez added another bucket to start the fourth quarter and the Bulldogs' defense was relentless. They allowed just eight points over the final 12 minutes of regulation to remain unbeaten in the NJIC-Colonial Division.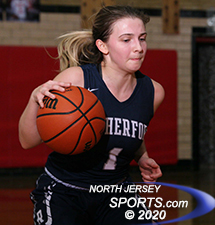 Emilia McCarthy totalled 8 points, 6 rebounds, 5 steals and 4 assists for Rutherford, which improved to 9-1.
Averaging just over 3 points per game, Rodriguez quadrupled that with 9 of her game-high 13 points in the second half for Rutherford (9-1). McCarthy stuffed the stat sheet with eight points, six rebounds, five steals, and four assists.
Diamond led the way for Pompton Lakes (6-4) with 12 points, eight rebounds, and three blocks. Ramirez added nine points, three assists, three rebounds, and two steals.
With Manchester Regional and Glen Rock just one game back in the NJIC-Colonial Division and Glen Rock coming to town on Tuesday Rutherford knows it needs to be more consistent to create some breathing room in the race for a league title.
"We always seem to have a problem shooting in this gym and we had to execute better in the second half after shooting less than 20-percent in the first half," said Guy, Rutherford's head coach. "It was a struggle against a tough team tonight and we got through it. But to be a league champ you have to play 32 minutes every night and do all the little things right. We did just enough of those little things to get by tonight."
FOR MORE PHOTOS FROM THIS EVENT PLEASE CLICK HERE. TO BUY A COLLECTOR'S PRINT OF THIS STORY PLEASE VISIT 4-FeetGrafix.com.