Freshman Madison McCarthy's broke out in a big game in Saddle River Day's 59-43 win over Ramapo in the semifinals of the Bergen County Tournament.
HILLSDALE – A 6-foot-1 athlete on a court with mostly shorter guards makes it hard not to notice Saddle River Day's Madison McCarthy, but coming into her freshman year her high school basketball world was full of uncertainties. Attending a new school, battling through injury and not even knowing if she would be a varsity player, McCarthy had a lot of work to do in order to be a contributor.
It took some time for her to get adjusted to the rigors of a high school basketball season and the speed of playing at the varsity level. She is finally found her rhythm both on and off the court. Facing a talented Ramapo team in the Bergen County semifinals, McCarthy needed less than three quarters to go from an unknown commodity to a not-so-secret weapon for a team that is chock full of them.
McCarthy hit big three-pointers in both the first and third quarters as second-seeded and four-time defending Bergen County champion Saddle River Day used a 13-0 run to close out the first quarter en route to a 59-43 triumph over third-seeded Ramapo on Sunday at Pascack Valley High School in Hillsdale.
"We went into this game knowing that we had to play as a team, play tough defense and take good shots," said Saddle River Day sophomore guard Cierra Pearson. "When we move the ball and play together things start to flow easier. People were doubting us coming into this year thinking we would fall off. We understand that after losing so many good players and it's something that motivates us to work hard every day."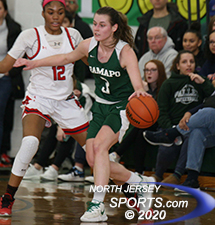 Ramapo's Lauren Achter scored a game-high 18 points for Ramapo, which lost for just the third time in 24 games.
Both teams had plenty of young players as only two of the 10 combined starters for both teams (Saddle River Day senior Jordan Janowski and Ramapo junior Lauren Achter) were not freshmen or sophomores. Those players are not without big-game experience though and Ramapo showed early that they were not intimidated. Madison Schiller scored on a drive to the basket and Achter followed with a putback as Ramapo grabbed an 8-6 lead midway through the opening stanza.
Saddle River Day head coach Danny Brown was looking for a spark and found it with a trio of long-range bombers off the bench. Pearson, McCarthy and another freshman, Mia Walsh, all nailed three-point attempts during the 13-0 run that put the Rebels ahead by double-digits heading into the second quarter, 19-8.
"They have five players out there at all times who can score, even with their players off the bench there's no weak link," said Ramapo head coach Sandy Gordon. "We got off to a strong start. Then there was a lid on the basket for a bit. When you don't make shots and have a few turnovers (Saddle River Day) is a team that makes you pay. I think it will really help us moving forward but tonight it was tough to come back once we fell behind."
The lead was still 11 before a late surge gave the Rebels a bigger cushion going into the locker room. Dakota Corey hit a short jumper and Pearson beat the halftime buzzer with another three-pointer to make it a 32-16 lead.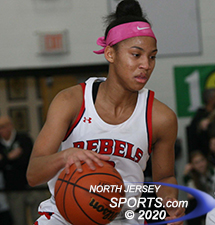 Saniah Caldwell stuffed the stat sheet for Saddle River Day with 14 points, 8 assists, 4 steals and 4 rebounds.
Behind the play of Schiller, the Green Raiders showed some fight in the third quarter. The sophomore guard's layup trimmed the lead to 10 and there was a buzz around the gymnasium that this could end up being a close game.
Once again, when her team needed her most, McCarthy came up big. She followed Schiller's basket by pump-faking on a three-point attempt. When the defender did not close out on her she let it fly and hit nothing but the bottom of the net to quell the Ramapo run. She added a short jumper as the lead was pushed back up to 17 by the end of the third period and the Rebels punched their ticket to a fifth straight berth in the Bergen County championship game.
"I wasn't that confident early in the season. I didn't even know if I'd play a lot of minutes on the varsity," said McCarthy. "I've been practicing harder and playing more as a result. When I miss shots now I pay attention to why I missed them and try to correct it. This team has so much heart and we feed off of one another. Every possession is a fight and you have to battle with everything you have to win that fight. But if you don't win it you have to have a short-term memory and focus on winning the next battle."
Saniah Caldwell led a balanced scoring attack for Saddle River Day (18-3) with 14 points to go with eight assists, four steals, and four rebounds. Pearson and Corey added 12 and 11 points, respectively. Kristina Mathurin had a solid game in the paint with eight points and ten rebounds. After scoring eight or more points just once over the Rebels' first 19 games of the season, McCarthy has now done it in back-to-back games.
Achter led all players with 18 points for Ramapo (21-3). Schiller finished with 11 points, five rebounds, and five assists. Backcourt mate and fellow sophomore Julia Corella also filled the stat sheet with six points, eight rebounds, five assists, and two steals.
Saddle River Day will go for its fifth straight Bergen County title. There waiting will be top-seeded IHA, whom the Rebels beat in a great game in last year's Bergen County final.  With the Rebels rounding into form and the entire rotation starting to contribute they are excited for the opportunity that is now directly in front of them.
"This is what we play for, this is where we want to be," said Saddle River Day head coach Danny Brown. "With the exception of Jordan Janowski, our entire team is freshmen and sophomores. That doesn't mean we don't have experience though. Our schedule has prepared us for this type of environment against a team like IHA. The team is really coming together and we're now getting really getting good minutes out of our bench like McCarthy gave us today. It's going to be a battle on Sunday but we'll be ready."
FOR MORE PHOTOS FROM THIS EVENT PLEASE CLICK HERE. TO BUY A COLLECTOR'S PRINT OF THIS STORY PLEASE VISIT 4-FeetGrafix.com.