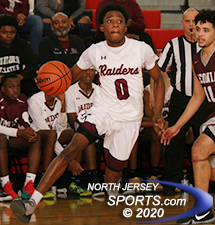 Berlin Placide scored 22 points for Dwight Morrow, which held off Leonia, 66-57, in the opening round of the Bergen County Jamboree on Saturday.
WESTWOOD – As Dwight Morrow took the floor for the second half the mood was light. There was joking around, laughing, and high-fiving. The Maroon Raiders, with a 14-point halftime lead, were relatively comfortable.
In the Bergen County Jamboree, however, anything can happen and their opponent, Leonia, never stopped playing hard. As the Dwight Morrow players looked at the scoreboard with less than five minutes remaining in regulation the mood was markedly different as they found themselves trailing. Needing a leader to help guide the ship Berlin Placide happily took control.
He scored seven points in a 44-second span that helped create the necessary distance for 12th-seeded Dwight Morrow to hold off an upset bid by No. 21 seed Leonia with a 66-57 victory in the first round of the Bergen County Jamboree on Saturday at Westwood High School.
"It was a crazy game but we had to stay under control," said Placide. "We've faced tough situations throughout the year but this one was a little different."
The entire Dwight Morrow squad was feeling it from the perimeter throughout the first half. Andres Fulgencio and Placide each hit a pair of first-quarter threes to help build an early lead. That lead grew in the second quarter with Darius Butcher providing a spark off the bench. He hit all three of his field goal attempts and scored all seven of his points during the second quarter to give the Maroon Raiders a 40-26 halftime lead.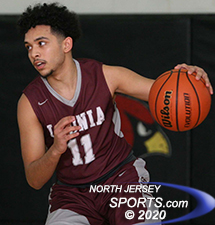 Tony Whiteman hit a free throw to give Leonia a fourth quarter lead.
Much like a boxing match, Leonia was on the ropes and covering up as the bell (or halftime buzzer in this instance) sounded, but in the third quarter the tide changed quickly. With a three-guard attack and a renewed sense of urgency on the defensive end the Lions came out swinging to start the second half. Before the Maroon Raiders knew what hit them Leonia had battled all the way back. When senior guard Sean Irby hit an NBA-range three just before the buzzer the Lions had remarkably tied the game at 44 heading into the fourth quarter.
"To be honest, we got too comfortable with the lead and thought we had the game won," said Placide. "But there are no bad teams when you get to this level and you have to keep your foot on the gas pedal. Leonia is a good team and they had good guard play. We had to get back to business and that started with getting stops then getting out on the break."
Tony Whiteman's free throw gave Leonia a one-point lead with 4:59 to play. With time dwindling fast in this hotly contested battle, Placide became more aggressive going to the basket in transition. Three straight defensive stops turned into layups on the other end, the last which turned into a conventional three-point play that put the Maroon Raiders up seven with 2:31 to go en route to a first-round Jambo win for the third consecutive year. Although the end result was not the desired one, Leonia showed it certainly belonged in the Jambo with a spirited effort and a tireless work ethic.
"It's a tough ending but we've battled back all season from deficits and we did that again today," said Leonia head coach Steve Herget. "This time never quits and always gives it everything they have. In the first half, we just gave them too many second and third-scoring opportunities that they took advantage of. You don't get those possessions back. I love this group and it was a great game both ways. It's a great experience for a small school like us. We want to get used to playing in this environment and get used to coming here to play in the Jambo."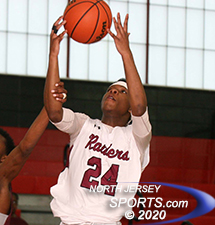 Isaiah Dolphy and Dwight Morrow will play Paramus Catholic in the Round of 16.
Placide led all players with 22 points, 10 of those coming in the fourth quarter for Dwight Morrow (12-5). Fulgencio added 15 points.
Leonia (11-3) had a balanced scoring attack. Daryl Baldwin had 13 points and 10 rebounds and Irby also had 13 points. Jeremiah Donmartin, Eric Mency, and Whiteman had 12, 10, and 9 points, respectively.
Dwight Morrow punched its ticket into the Round of 16 where fifth-seeded Paramus Catholic will be waiting. The Maroon Raiders are happy to move on but are well aware that a full four-quarter effort will be needed to pull the upset.
"We feel like we can score with anyone but it comes down to defense, it always does," said Placide. "I think we learned a lesson today. Every possession matters and we have to always be aggressive. We have to play better defense and rebound a lot better against (Paramus Catholic) or we'll be the ones going home."
FOR MORE PHOTOS FROM THIS EVENT PLEASE CLICK HERE. TO BUY A COLLECTOR'S PRINT OF THIS STORY PLEASE VISIT 4-FeetGrafix.com.