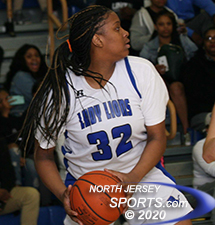 Tiyanni McClary, who finished with 18 points and 17 rebounds for Lincoln, which won its second straight North 2, Group 2 state sectional title with a 59-36 victory over Fort Lee on Monday.
JERSEY CITY – As Lincoln warmed up in preparation to defend its North 2, Group 2 state sectional crown it went from being a confident team to being an overconfident one after seeing the size advantage it had over an opponent it knew little if anything about before Friday.
Fort Lee pulled off a shocking upset over top-seeded Newark Central and with a strong start in its first-ever appearance in a section final, the Bridgewomen showed they belonged.
It was a wake-up call that Lincoln needed.
Tiyanna McClary did damage inside to help the Lions pull in front in the first half. Teammate Jakira Coar was scorching hot from three-point range hitting seven of her 11 attempts, including back-to-back threes that broke the game open, as second-seeded Lincoln pulled away to win a second straight North 2, Group 2 title with a 59-36 win over fourth-seeded Fort Lee on Monday afternoon at Lincoln High School in Jersey City.
Lincoln felt loose in warmups, but maybe a little too loose. Fort Lee played with five guards and never had anyone above 5-foot-7 take the floor at any point in the game. That did not matter early on as the Bridgewomen showed no signs of fear. Yishi Huang pump-faked and hit a pull-up jumper from the elbow then hit a high-arcing three on the next possession. A minute later, Emily Diaz banked in a three-pointer and before the Lions knew what hit them they were staring at a seven-point deficit, 10-3.
"Honestly, maybe we underestimated them in the beginning but that was a big mistake," said Coar. "We saw in the first couple of minutes that they could shoot and we had to focus on playing better defense and getting the ball inside when we had the ball."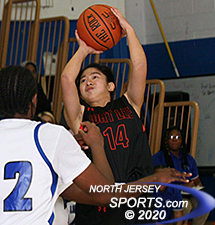 Yishi Huang scored a team-high 14 points for Fort Lee, which was making its first-ever appearance in a section final.
Lincoln normally likes to get out in transition after a defensive stop. On this afternoon the Lions switched things up by slowing the pace down and focusing on working a high-post, low-post game against a 2-3 zone. That strategy was effective as the Bridgewomen had no match underneath for senior center Tiyanna McClary.
She had a pair of conventional three-point plays among her 10 points during a 15-0 run that pulled the Lions ahead, 18-10. The Bridgewomen did what they have done all year long when faced with adversity. The senior-laden squad scratched and clawed their way back into the game. 
Huang used the glass to drop in a three-pointer. Emily Diaz stole the ensuing inbounds pass and fed Amy Diaz for a layup that cut the lead down to two, 23-21. The Bridgewomen had a chance to tie the game on a wide-open transition layup but it was off the mark and Coar drilled a three on the other end. The lead got as big as ten before Huang banked in her third three-pointer of the quarter to cut the lead to 31-24 at halftime.
Fort Lee retained that momentum through the first three minutes of the second half with Chloe Diaz hitting a three to trim the lead to six. But the Bridgewomen had to pick their poison defensively with McClary becoming too much to handle inside. They collapsed to limit her touches but that left Coar open in the corner. She hit two big threes in the third quarter to bump the lead up to double-digits.
With the Bridgewomen down 12 early in the fourth quarter it felt like they were still in the game and could make a run. But in a manner of seconds that was put to rest as Coar drilled back-to-back threes as Lincoln did not allow a point over the final five minutes of regulation to close out the win and earn the right to keep the North 2 Group 2 title.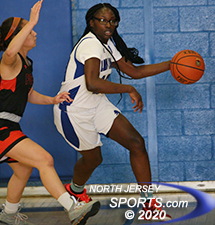 TyMira Miller and Lincoln will play Westwood in the Group 2 semifinals on Wednesday.
"With (Fort Lee) having so many players inside they left me open a lot," added Coar. "When I was open I had to take it. I was feeling it once I hit my first one early in the game and I just kept shooting."
"We have nothing to hang our heads about, we played hard and for three quarters played pretty well," said Fort Lee head coach Bill Straub. "We knew to beat them that we had to play perfect. We knew we couldn't stop everything and that's a great team that executed their stuff well. It's the first time that girls basketball is on the map at Fort Lee. There are going to be some tears in the locker room but our girls should be extremely proud, especially our eight seniors. They've done something at this school that nobody has ever done before."
McClary finished with 18 points and 17 rebounds for Lincoln (19-7). Coar led all players with 23 points, all but two of them coming from behind the three-point line. Briana Davis added 12 rebounds, nine points, and four assists.
Huang led Fort Lee (17-12) with 14 points. Emily Diaz had nine points, Chloe Diaz had six, Amy Diaz added five points, and Leilah Collazo also netted a bucket.
Lincoln will see a familiar foe in the Group 2 semifinals in North 1, Group 2 champion Westwood, a 37-32 winner over top-seeded Jefferson on Monday night. The two teams clashed in last year's Group 2 semis with Lincoln advancing with a 42-28 win. They will meet again on Wednesday at Union High School with a scheduled 7:00 P.M. tip-off.
While the names on the front of the jerseys are the same the teams are markedly different from last year. How they handle the pressure of being on a bigger stage will decide which team makes the trip down to Toms River for a shot at a state title and which team will be packing away their uniforms come Thursday.
"No matter how small or how big a team is we have to come with the same intensity because every team could be our last," said McClary. "The pressure is on and we have to be ready for it. I'm a senior and I want us to go out with a bang. We won a section title and we're happy about that but we're not satisfied. We want a chance to play for a Group 2 title."
TO VIEW MORE PHOTOS FROM THIS EVENT PLEASE CLICK HERE. TO BUY A COLLECTOR'S PRINT OF THIS STORY PLEASE VISIT 4-FeetGrafix.com.