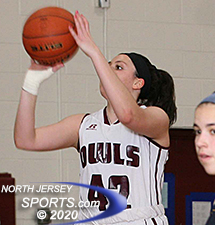 Shannon Burns posted an impressive double-double of 24 points and 11 rebounds for Park Ridge, which cruised into the North 1, Group 1 state sectional semifinals with a 68-32 win over Saddle Brook.
PARK RIDGE – After losing in the North 1, Group 1 state sectional final to rival Cresskill last year the lone motivation for the Park Ridge girls basketball team coming into this season was to get back to that game and hope for a better outcome. Standing in the way of that possibility was an upstart Saddle Brook squad looking to pull an upset, but that threat never really materialized.
Led by seniors Shannon Burns, Lexi Vonderleith, and Kira Mitchell Park Ridge quickly set the tone with their smothering defense and the outcome was never in doubt.
The three seniors were among six different players who scored during a 19-1 first-half run as fourth-seeded Park Ridge put together a full four quarters of good basketball and advanced to the North 1, Group 1 semifinals with a 68-32 win over No. 5 seed Saddle Brook on Wednesday afternoon at Park Ridge High School.
"This time of year we have to be ready for every team and we have that hunger to keep winning because our next loss will be our last," said Burns. "I thought we played really well on defense and offensively we passed up good shots to get better ones. We moved the ball really well today and everybody got involved."
The game was high-paced from the start with Saddle Brook's standout senior athlete Ashley Georgevich being a bright spot. She hit two straight rainbow three-point attempts to cut the deficit to 8-6 early.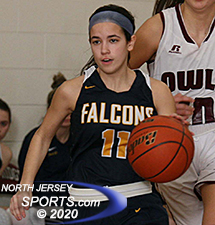 Ashley Georgevich scored a team-high 16 points for Saddle Brook, which finished the season with an 18-8 record.
From there the Lady Owls turned up the pressure and extended out on the Falcons' shooters with a  variety of zone defenses. That allowed Park Ridge, specifically sophomore Ella Madden, to step into passing lanes and start the fast break. The Lady Owls ran the break effectively all game long and when they were in a set offense they were equally as efficient. Vonderleith and Burns ran the high post-low post game to perfection. Even when their shots were off, which was not often the case, the Falcons had no answer for the dynamic duo on the glass.
Burns, Vonderleith, and Mitchell combined for 13 points during the crucial 19-1 run spanning the first and second quarters. Going over nine minutes without allowing a single field goal during that stretch as the game was essentially wrapped up by halftime, 41-11.
"Early in the season we rushed too many shots, but today really showed just how much this team has grown and matured," said Park Ridge head coach Ryan Dennis. "Our defense and our transition game has been really strong all year. When we set our pace on offense and we have a better tempo in the half court that is when we become a complete team."
Burns led all players with 24 points and 11 rebounds for Park Ridge (19-7). Vonderleith had 14 points with Madden having an outstanding overall performance with 10 rebounds, nine points, six assists, and four steals.
Lexi Vonderleith finished with 14 points for Park Ridge, which will host Midland Park in the sectional quarterfinals on Friday.
Georgevich (16) and freshman Ella Marchesani (11) combined for 27 of the 32 points scored by Saddle Brook, which finished the season with an 18-8 record.
On top of the masterful performance the Lady Owls got some more good news later on in the evening when Midland Park upset top-seeded North Warren in another North 1, Group 1 quarterfinal. That means Park Ridge will get one more home game with a berth in the section final at stake. The Lady Owls have beaten Midland Park twice during the regular season. But all that matters now is what happens in the third matchup with the season on the line.
"Shannon, Lexi, and I have been playing together since second grade and we're best friends, so we want to keep this ride going as long as we possibly can," said Mitchell. "On the back of our warmup shirts it says 'Unfinished Business'. There are no days off and we're just excited to be in the gym for one more day together as a team. The key is not to get too amped up or let any little mistake get to our head. We'll go into the game on Friday and just play the way we know how."
TO VIEW MORE PHOTOS FROM THIS EVENT PLEASE CLICK HERE. TO BUY A COLLECTOR'S PRINT OF THIS STORY PLEASE VISIT 4-FeetGrafix.com.