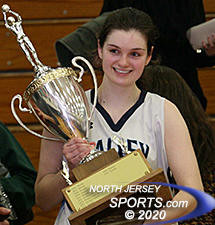 Brianna Neary scored a team-high 14 points to pace Wayne Valley, which won its second Passaic County championship in the last three years with a 53-43 win over Lakeland on Saturday in Paterson.
WAYNE – Having beaten Lakeland twice during the regular season and playing on its home court, Wayne Valley had every reason to be confident heading into the Passaic County Tournament championship game and that confidence helped the Indians race out to a 10-point lead just five minutes into the contest.
As the teams headed to the locker room for halftime the lead had dwindled down to a single point. If the Indians were going to win a championship they needed someone to help get them back on course in the second half.
After a scoreless first half, Hailey Cabanas caught fire in the third quarter. The Indians' point guard scored on the first two possessions of the third quarter to right the ship. Second-seeded Wayne Valley pulled away in the third quarter en route to its second Passaic County title in the last three years with a 53-43 victory over No. 4 seed Lakeland on Saturday at Wayne Valley High School.
"We knew we had to play our best and we got off to a good start," said Brianna Neary. "We worked in practice a lot on moving the ball a lot on offense and staying disciplined on defense."
Wayne Valley was clicking on all cylinders early hitting six of its first nine shots. Brianna and Sofia Neary were both feeling it right from the opening tap. They combined for 11 points in a 16-6 run to open the game.
Lakeland has often looked to senior guard Keira Marks to get them out of a jam. On this afternoon the Lancers found contributions from other players in the first half to get back in the game. Shannon Hartnett and Lisa Starr scored back-to-back baskets inside to trim the deficit down to two. Indians' guard Ava Whisten answered with a three-pointer but Marks answered right back with a pair of baskets late in the second quarter as Wayne Valley's seemingly comfortable double-digit lead was sliced all the way down to one, 21-20, by halftime.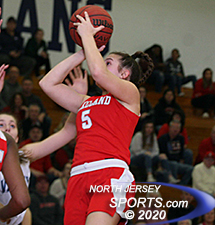 Lakeland senior Keira Marks finished with a game-high 26 points.
Cabanas could not get her shot to drop early in the first half but her confidence never wavered. She knew she had to stay aggressive and the sophomore made a statement right out of the locker room. On the first possession of the second half, her ankle-breaking move off the dribble created plenty of space for her to knock down a jumper from the wing. Then on the very next possession, Cabanas knocked down a three from the corner to get the Indians going in the right direction.
The lead grew as large as 11 on a Brianna Neary basket until Marks started to heat up. Her acrobatic drive to the basket cutting it to four. Once again when her team needed her most, Cabanas came up clutch. She started the quarter by putting a defender on the deck for a jumper and ended the quarter the same way. This time she drilled a step back three-pointer to push the lead up back up to seven, 38-31, heading into the fourth quarter.
"The first half wasn't my best but I had to keep playing hard and start fresh for the second half," said Cabanas. "I wanted to stay aggressive but stay under control. I had the confidence in my teammates and they had confidence in me. We had so much energy today and the connection on this team is amazing. We've been in tough games before so we knew what to do. We had to block out the crowd and just focus on what we were doing on the court."
Marks did everything she could to keep the Lancers in it. All but five of the Lancers' second-half points came from the senior. However, the Indians were never really threatened because of the free-throw shooting of Vivian Testa and Daria Pontone. Over the final three minutes, the duo combined to go 9-12 from the charity stripe as the Indians touched off a wild celebration as the final buzzer sounded.
Darla Pontone scored 9 points for Wayne Valley, which will visit River Dell in the opening round of the North 1, Group 3 state sectional tournament.
Offensive balance was key as all five Wayne Valley (18-7) starters scored at least eight points, led by 14 from Brianna Neary. Sofia Neary had 10, Testa and Pontone finished with nine, and Cabanas had all eight of her points in the crucial third quarter.
Marks led all players with 26 points to go with six rebounds and five steals for Lakeland (15-10). She is also closing in on becoming the all-time leading scorer for Lakeland girls' basketball. The Lancers will try to regroup in the North 1, Group 2 state tournament on Tuesday when they take on Northern Valley/Demarest at home.
Wayne Valley also has a tough first-round opponent in the state tournament. As the No. 11 seed in North 1, Group 3, the Indians will travel to face sixth-seeded River Dell. From this point on though any run made is just an added bonus. The goal for this team from day one was to be Passaic County champions and they accomplished that in impressive fashion.
"It feels great to be a part of this," said Sofia Neary. "We'll enjoy this and get ready for Monday. For the younger players now we know what this feels like and it will drive us to do it again next year."
TO VIEW MORE PHOTOS FROM THIS EVENT PLEASE CLICK HERE. TO BUY A COLLECTOR'S PRINT OF THIS STORY PLEASE VISIT 4-FeetGrafix.com.