Yasen Crawford finsihed with 17 points for Kennedy, which won a second straight Passaic County Tournament title with an 84-54 win over rival Eastside in front of a packed house at Wayne Valley High School.
WAYNE – Just looking into the crowd at Wayne Valley high school made it obvious to the Kennedy that this game would be different from any other game they had ever played in.
It was the Passaic County Tournament final, the gym was sold-out and packed to the rafters and the opponent was none other than crosstown rival Eastside. None of that mattered to the Knights. They were out to not only defend their stranglehold on the city borders but also continue their dominance in an already legendary season for the program. The level of focus was evident early and continued all the way through the final minute as the Knights left no doubt as to who the best team in Passaic County is.
A three-point barrage boosted the Knights to an early lead and they never took their foot off the gas pedal. Top-seeded Kennedy picked apart its rival in every way in cruising to a second straight Passaic County Tournament title with an 84-54 victory over sixth-seeded Eastside on Saturday afternoon.
"I'm going to let this one sink in for a bit. This is the type of performance I wanted to see in our biggest game of the year," said Paterson Kennedy head coach Tommie Paterson. "We moved the ball well, we shot it well, we made smart decisions, we rebounded and we defended. As a coach that's all you can really ask for."
The crowd was hyped up from well before tip-off and Eastside looked to add to its upset-laden run through the tournament with one last shocker. Preston Brown Jr.'s jumper cut the Knights' lead to 12-10 late in the first quarter, but the Knights were not to be denied on this day. Mark Heber and Jesus Romero hit back-to-back threes on the final two possessions of the opening stanza to push the lead up to eight. Paterson Kennedy went 5-for-7 from three-point range in the first quarter.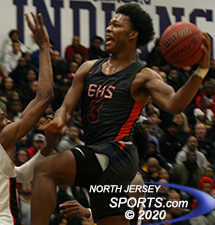 Joshua Cash and Eastside came from the No. 6 seed to make it all the way to the Passaic County final.
The Ghosts had to extend out on Kennedy's bevy of shooters and that opened lanes to the basket. Point guard Deishon Harrison took full advantage of this with bookend drives to the basket wrapped around another drive by Jayquan Briggs as Kennedy was in complete control by halftime, 41-24.
"We had a gameplan to spread the floor knowing that if we hit some shots against their zone early that it would open everything up," said Heber. "It's a county final but it's also a rivalry. We had to match their intensity and execute. It's all about keeping it simple with us, putting the ball in the basket and stopping the other team from doing it."
Eastside tried to switch things up and force the pace in the third quarter but it was to no avail. Harrison kept the hot hand going in the third quarter with both him and Yasen Crawford scoring seven third-quarter points as the outcome was decided before the fourth quarter even began. While the outcome in the Passaic County Tournament final was not what Paterson Eastside was hoping for the journey to get there showed that the Ghosts are on the rise behind head coach and former Paterson Catholic star Marquis Webb.
"When you play a team of this caliber every possession matters and we learned that lesson the hard way," said Webb. "It's definitely an experience for us to be here and we definitely will learn from this. We got a taste of what it takes to get to this level and now we know what we have to do all year from this point to get back here next year."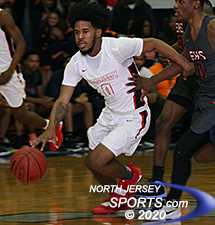 Deishon Harrison scored 17 points for Kennedy, which is now 23-3 heading into the North 1, Group 4 state sectional tournament.
Harrison and Crawford each had 17 points for Paterson Kennedy (23-3). Heber had 14 of his 16 points in the first half and Romero gave the Knights quality production off the bench with nine points.
Levi Holton and Brown Jr. had 12 points apiece for Paterson Eastside (13-13).
Paterson Kennedy will again be the top seed, this time in the North 1 Group 4 state tournament. After a crushing loss to Ridgewood in the North 1 Group 4 quarterfinals last year, there is extra motivation to end the year with another championship. It will not come easy though in a section that is absolutely loaded from top to bottom.
"We remember how hard it was losing to Ridgewood and we don't want to experience that feeling again," said Harrison. "We're happy to be county champs but we're not satisfied. Come Monday our season starts over again. County and state tournaments, that's what we play for. It's all about being a team player and working towards a goal as a team. As hard as we played today we're only going to play even harder every game from now on."
TO VIEW MORE PHOTOS FROM THIS EVENT PLEASE CLICK HERE. TO BUY A COLLECTOR'S PRINT OF THIS STORY PLEASE VISIT 4-FeetGrafix.com.