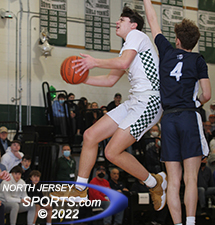 Sophomore Peyton Seals scored a team-high 18 points for Ramapo, which advanced to the North 1, Group 3 state sectional final with a 63-46 win over Paramus.
FRANKLIN LAKES – The Ramapo and Paramus boys basketball programs are at different stages of development, but were in the same place on Saturday afternoon.
Ramapo, the top seed, is just at the beginning of what should be sustained run of success under first-year head coach Nick Veir, who has a roster that includes just one senior and a freshman team that made it all the way to the Junior Jambo final ready to move up and bolster the program. Paramus, with three senior starters, had completed its long slog back to relevancy even before making a run to the North 1, Group 3 state sectional semifinals as the No. 13 seed.
The outcome was the same as the two regular season matchups between the league rivals, but both could walk off the floor with a sense of accomplishment.
For Ramapo it was a 63-46 win that gave the Green Raiders a sweep of the season series and a home game in the state sectional final against Tenafly on Tuesday night.
"The boys really focused in on the game plan and we executed," said Veir, who team raced out to an 18-2 lead and went wire-to-wire. "Offensively we like to spread it out, especially against a team like Paramus that has two bigs, but what has been separating us has been our defense effort. Paramus is a very good half-court team and we wanted to pressure them and make them uncomfortable."
For Paramus it was for a season well-played, the best since at least the 1990s, although nobody could really remember the last time the Spartans were this good or went this far in the state tournament.
Nick Rennar finished with a game-high 19 points for Paramus, which closed the season with a 15-10 record.
"We took some lumps last year, but we knew we had a chance to be pretty good. We brought back five starters, we put something together and we kind of caught lightning in a bottle a little bit. We've gotten better throughout the year, practices were better in February than they were in January and that is all a credit to this group of kids," said Paramus head coach Dan Reddan. "I am not a big history guy, but the history book for Paramus basketball is pretty thin. We had a feeling that these guys could be pretty good and they put it on the floor."
Chris Cervino scored on Ramapo's first possession and Paramus Nick Renner answered on the other end to forge the game's lone tie at 2-2. Ramapo than reeled off the next 16 points with Nate Burleson's pull-up jumper putting Ramapo in front for good and Peyton Seals' two straight baskets giving the Raiders some separation that they would never relinquish.
"Paramus had nothing to lose and we knew they were going to give us their best shot. We had to come out from the beginning and set the tone," said Seals, Ramapo's sophomore point guard. "We came out with good energy on defense, we sped them up a little and that got us out in transition. We hit some shots, and that obviously helps."
Facing the big early deficit, Paramus decided to settle in rather than check out. Renner scored 12 first half points and John Taraboleija's layup got the Spartans as close as 12 points at 29-17 with 2:06 to go in the first half and that basket forced a Ramapo timeout.
When they returned to the floor the Raiders got a 3 from the wing by Seals, fastbreak basket by Wyatt Eglinton Manner off a lead pass by Grant Sloan and the Raiders were back up comfortably, 34-19, by halftime.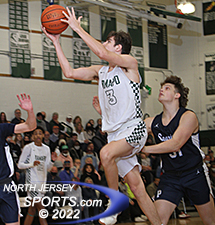 Wyatt Eglinton Manner finished with 16 points for Ramapo, which will host Tenafly in the section final on Tuesday.
Ramapo showed its typical balance on the offensive end. Seals led the way with 18 points, Eglinton Manner added 16 and Burleson finished with 10, including a dunk off a Sloan assist, to make it three Raiders in double figures. Cervino chipped in with 8 points, Sloan finished with 6 and David Weidmuller (4 points) had the lone bench points for Ramapo, which improved to 21-6 on the season as it gets ready to host the section final.
"From the beginning of the season I have just tried to keep these guys in the right mindset. If we have that everything is going to fall into place because these guys are real basketball players. Everybody here plays basketball outside of Ramapo and everybody here knows how to play the game," said Sloan, the lone senior on Ramapo's roster. "We have put in a lot of work and we could not ask for a better situation. Tenafly is a great team and we have to prepare for them, but we could not ask for more than home court advantage in a state sectional final."
Renner lead Paramus with 19 points, Mason Bellinger finished with 11, Taraboleija and Firad Tulu each had 7 and Corey Petruzzella had the other field goal for the Spartans, who wrapped up their stellar year with a 15-10 record and having made a trip to the final of the Bergen Invitational Tournament and the section semis. The overtime win on the road against River Dell in the sectional quarterfinals was also one to remember.
The question now is…
"Is it sustainable? It's a great question and I guess we are going to find out," said Reddan. "Corey Petruzzella and Firad Tulu are juniors. We think highly of them and they started for most of the year. I have some good juniors on the bench, my JV team was 15-5, my freshman team I like, so we are hoping that this is not just a one-year thing. We are hoping we have turned the corner and that we can continue to build from here."
FOR MORE PHOTOS FROM THIS EVENT PLEASE CLICK HERE. TO BUY A COLLECTOR'S PRINT OF THIS STORY PLEASE VISIT 4-FeetGrafix.com.