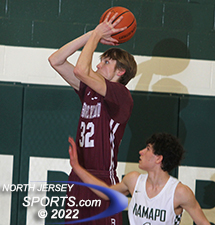 Joe Skoric came off the bench to score 11 points for Ridgewood, which improved to 13-2 on the season with a 49-46 win over Ramapo in front of a packed house in Franklin Lakes.
FRANKLIN LAKES – It was a game between two of the best public school programs in North Jersey, between long established rivals and with league title implications on the line and what stood out most was how many people, besides just the players and their families, seemed to care. It was Ridgewood on the road at Ramapo and the gym in Franklin Lakes was friggin' packed.
"I missed this. This was the closest thing to normal that we have had in the last three years and these teams deserved this," said Ridgewood head coach Mike Troy. "This was awesome tonight. Win or lose, this was awesome."
It was Ridgewood that got that little bit extra of awesome as, with a 13-3 run over the game's final five minutes, the Maroons grabbed a 49-46 victory and even more momentum heading into Saturday's Round of 16 in the Bergen County Jamboree. Ridgewood, the No. 4 seed, will take on No. 20 Northern Valley/Old Tappan at Tenafly High School.
For all but one player on either team, Ridgewood senior Nicky Crane, who was in uniform for the section final against Kennedy in 2020, the experience of playing inside the chaos of dueling fan sections was brand new.
Ridgewood senior Joe Skoric was honest about his first taste.
"I was terrified when it all got started," said Skoric. "This is my first year on varsity, so it was different coming in the game in an atmosphere like that. I loved it."
Skoric, who stands about 6-foot-6, came off the bench to provide an advantage inside for the Maroons, who were playing from behind right from the jump when Grant Sloan, Ramapo's only senior, scored the game's first six points. Ridgewood never led in any of the first three quarters and there was only one tie in the game, 9-9, when Rick Son finished a drive to open the second quarter scoring. Ramapo was never able to pull away, however, and Skoric took his turn keeping his team in the hunt with 9 of his 11 points coming in the second quarter.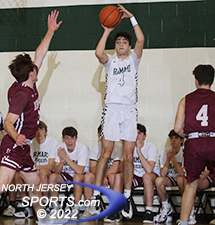 Grant Sloan, Ramapo's only senior, finished with 9 points.
He scored off the offensive glass twice, finished through contact in the post and finished off a conventional 3-point play and scored off a dime dropped by Crane, Skoric's tap-in with :26 left in the second quarter before Wyatt Manner's floater gave Ramapo a 27-22 lead at the break.
Ramapo opened the third quarter with a 7-2 run and went up by double digits for the first and only time at 34-24 after Manner got all the way to the basket with 2:10 left in the third quarter. Manner, who led all scorers with 17 points, hit a short fadeaway just before the third period buzzer to give the Raiders a 39-32 lead.
While it was Skoric, a senior, that provided a lift off the bench in the first half, it was freshman Johnny Jackson who did it after halftime. He was right in the middle of a pivotal sequence that could have seen Ramapo pull away. Ridgewood was called for an intentional foul when Ramapo's Nate Burleson was taken down hard on a drive to the basket and he made both technical free throws to put the Raiders up 43-36 with 5:56 left in the game.
Ramapo was unable to take advantage of the extra possession that came with foul shots and Jackson went down the other end and made a 3-pointer from the top of the key to turn the momentum. Then Crane took over down the stretch.
Crane took his smaller defender into the post to score the first of his three straight baskets, the last of which led to the Maroons' first lead of the game with 2:23 to play. Defending on the perimeter, Crane closed the distance as his mark was about to shoot a jumpshot. Crane stepped forward and not only blocked the shot, but he also caught it and went coast to cast for the layup that put his team up 45-44.
"I just try to get up on him and not give him a shot. I can't really tell you how it happened, but I blocked it, turned it into a couple of points and it was a game-changer," said Crane. "Going into the section final in my sophomore year against Kennedy in a gym that was also packed, that was what tonight was like and that experience certainly helped me tonight. I love playing in these environments with the added adrenalin. It is so much better than playing in an empty gym."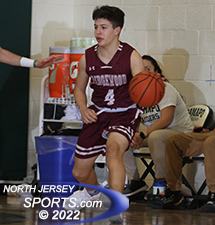 Freshman Johnny Jackson scored 8 points off the bench for Ridgewood, which will play Old Tappan in the Jambo on Saturday.
Ramapo grabbed the lead back temporarily on two Peyton Seals free throws with 1:54 left, but Crane answered with a spin in the lane that created enough space to make a short jumper with 1:26 to go and then he set up Skoric's lone bucket of the second half. Skoric's layup made it a 3-point game with just under a minute to play and Ramapo still have five fouls to give before it was able to put the Maroons on the line.
Ridgewood did not take its first one-and-one attempt until the 15 second mark and even though it missed the front end, it forced Ramapo into a tight spot. The Raiders did not get an open look at a potential game-tying 3-pointer before taking a time out with :02.3 left and then could only force one up at the buzzer as Ridgewood evened the season series. If both teams win out in league play they will share the league title.
Crane scored 10 of his team-high 14 points in the second half and Skoric (11 points) and Jackson combined for 19 off the bench for the Maroons, who improved to 13-2 on the season heading into the Jambo this weekend.
"That block/catch and coast-to-coast was just a great play and [Crane] played great in the second half. He made so many big plays," said Troy. "So many guys stepped up for us, Johnny Jackson made a couple of big baskets and every kid just did their job and we needed every one of them. This was our best win of the season."
Manner scored a game-high 17, Seals finished with 11 and Sloan scored all 9 of his points in the first half for third-seeded Ramapo, which will play Fort Lee in the Jambo's Round of 16 on Saturday at Northern Highlands.
FOR MORE PHOTOS FROM THIS EVENT PLEASE CLICK HERE. TO BUY A COLLECTOR'S PRINT OF THIS STORY PLEASE VISIT 4-FeetGrafix.com.