Marcus Philips scored a team-hihg 17 points and gave a heckuva good interview after Ridgewood's 53-26 win voer NV/Old Tappan in the Bergen County Jamboree's Round of 16 at Tenafly High School.
TENAFLY – There is no hotter team in North Jersey than the Ridgewood boys basketball team. With just two losses all season, one against parochial powerhouse Don Bosco Prep, the Maroons followed up Thursday night's impressive road win at Ramapo with a less dramatic but just as impressive victory in the Round of 16 of the Bergen County Jamboree.
Ridgewood, the No. 4 seed, held Northern Valley/Old Tappan to just six first half points and none in the second quarter of a 53-26 victory and secured a spot in next weekend's quarterfinal round against No. 5 St. Joseph Regional.
Ridgewood, which is now 14-2 on the season, put on a defensive clinic as it limited Old Tappan seven field goals in the game.
"That is our M.O. We are defense first and we are getting contributions from a lot of different guys on different nights. That is making us better," said Ridgewood head coach Mike Troy, who team is in the middle of a six-games-in-10-nights bender. "I am happy that we are out here, I am happy the kids are getting some normalcy and this is awesome."
Ridgewood has been awesome all season and led for all but 59 seconds. Frank D'Ercole's layup gave Old Tappan a 2-0 Nicky Crane's bucket kicked off a 23-4 run that lasted for the rest of the first half. Sam Saraceno's 3-pointer 2:04 into the opening quarter gave Ridgewood the lead for good.
"We kind of just kept up the physicality and the intensity that we played with the other night against Ramapo," said Saraceno, Ridgewood's senior point guard. "We have a lot of confidence in our defense. We ride that and we know that eventually the offense will come. We really just want to make it tough on people when we are on defense and everything else comes off of that."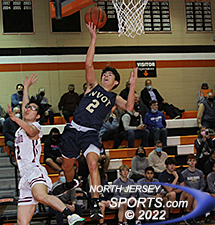 Senior Frank D'Ercole scored 18 of Old Tappan's 26 points.
Crane made two free throws and then scored on a cut to the basket and a Saraceno assist to put the Maroons up 18-6 with 3:07 in the opening half and the lead stayed in double digits the rest of the way.
Marcus Philips lead Ridgewood in scoring with 17 points and Crane added 10, but the rest of the point were spread between nine other players with no one else scoring more than 5. Ridgewood has depth, and quality depth at that.
"I feel like that is what has contributed to a lot of our team's success because we are not really reliant on one or two or even three guys. We have some many guys that are able to create, so many guys who are able to score based on however the defense is playing," said Marcus Philips, an eloquent senior who broke it all down into terms that even a reporter could understand. "We can't really be taken out of our game just because a defense focuses on one or two guys because we just have so many different options."
Old Tappan's best offensive option was D'Ercole, who scored 18 of the Golden Knights' 26 points with four other players recording one field goal each.
"I am always proud of my kids. Even though the score was what it was they never stopped playing. We can use this as a chance to get better and we will be ready to go on Tuesday," said Old Tappan head coach Craig Ferraro, whose program won its first county tournament game in six years when it beat Rutherford in the opening round last weekend. "This was a great opportunity and we are happy that we got the chance to get in and that our kids got to experience the county tournament."
Sam Saracino and 4th-seeded Ridgewood will play No. 5 St. Joseph Regional in the quarterfinals on Saturday.
Ridgewood will be sticking around in the Jambo and the game against SJR in the quarterfinals will be a rematch of a game from late December won by Ridgewood by eight points. That was a different St. Joe's team, however, as the Green Knights have only been at full strength from a roster standpoint for the last two weeks.
No matter the outcome of that game, Ridgewood's trajectory as a program has been a steady climb and, again, Philips puts it perfectly into words.
"Over the last few years our program has built a culture, especially with the addition of [assistant] coach [Doug] Aday. We pretty much implemented a new defense three years ago when we were sophomores and I feel like that has really contributed to building a program that isn't surprised to be [this deep in the Jambo], but expects it," said Philips. "And I think that is what is going to be happening in the future, too. Every year we choose one word to be on the back of our practice jerseys and the word we chose this year was 'Legacy.' I think that is what we have been creating and what we are looking to continue to create this year."
FOR MORE PHOTOS FROM THIS EVENT PLEASE CLICK HERE. TO BUY A COLLECTOR'S PRINT OF THIS STORY PLEASE VISIT 4-FeetGrafix.com.