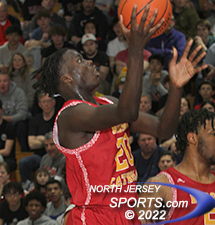 Brandon Benjamin scored 6 points in a row during a decisive fourth quarter spurt in Bergen Catholic's 71-64 win over Don Bosco Prep in the Bergen County Jamboree final at Hackensack High School.
HACKENSACK -- A sophomore playing in a championship game in front of a just-about-packed house with top level talent running all around the floor might have a couple of moments of trepidation. Before Saturday's Bergen County Jamboree final, Bergen Catholic head coach Billy Armstrong thought he might drop a couple of words of wisdom on his sophomore forward Brandon Benjamin.
"He is just a great kid. Before the game I told him in the lay-up lines I told him, 'Hey Brandon, just to have some fun," said Armstrong. "He said, I always have fun, Coach."
Benjamin was certainly all smiles during a key stretch in the fourth quarter against top-seeded Don Bosco Prep, which had swept the regular season series against the second-seeded Crusaders. Dylan Harper had just scored to pull Bosco to within two points with 6:05 left to play in the game before Benjamin took over. He scored on three consecutive possessions, first off the offensive glass and the last on a fastbreak that showed off his full range of skills.
Listed at 6-foot-7, Benjamin made a steal right around the free throw line on the defensive end, busted into a sprint and finished a lay-up with a Euro step in transition in a personal 6-0 run that pretty much decided the contest.
That spurt put Bergen Catholic in front by 8 with 4:44 left to play and Bosco never got closer than six points the rest of the way. With a 71-64 victory at Hackensack High School, Bergen Catholic won its first county title since 2019, its third under Armstrong and 11th overall in the 65 year history of the Oscar F. Thompson Bergen County Jamboree.
And Benjamin enjoyed every minute of it.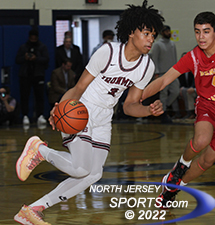 Sophomore Dylan Harper finished with a team-high 20 points for Don Bosco Prep.
"My thing is just to always work hard until the buzzer rings and to have fun doing it," said Benjamin. "I try not to think too much about the situation. I am always just in the mood to play. I don't worry about if we are up or down on the scoreboard, I just play hard every time on both ends."
Benjamin has blossomed this season and that has accelerated with the injury to 6-foot-9 sophomore Terry Copeland, who missed the last 12 games with an injury. Benjamin put up a monster double-double of 25 points and 25 rebounds the last time Bergen played Bosco and his confidence has grown accordingly. Copeland returned to the starting lineup on Saturday and he and Benjamin scored 12 points apiece, all of them from inside the paint. It was the perfect complement to the backcourt duo of seniors Julian Brown and Will Richardson, who each scored 21 points and took turns carrying the offense.
Bosco led by as many as 8 points in the first quarter against Bergen Catholic's zone defense, a rarely employed strategy. The Crusaders stayed in it for just about the whole of the opening period, which ended with Bosco in front 21-14. For Bergen, the defensive change-up was a way to quell early nerves, stay out of foul trouble and save some legs for a team that got all of its points from it starting five.
"We haven't gotten off to good starts and I really just kind of wanted us to settle in for like the first four minutes of the game," said Armstrong. "I was hoping that the zone defense would kind of change the rhythm and it worked to a certain degree."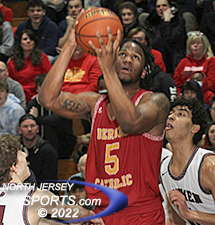 BC sophomore Terry Copeland scored 12 points in his return from injury.
And then Richardson got hot to open the second quarter. He hit three 3-pointers in the first 2:43 of the period to get BC back even at 23 and there were a couple of lead changes before Bergen Catholic put its nose in front for good 29-28 on a Brown bucket on the break.
Bergen led 36-33 at halftime and just kept the Ironmen at arm's length throughout the second half. Bosco's Dylan Harper, one of the most highly ranked sophomores in the nation according to a couple of national publications that traffic in that type of thing, was once again a handful as he scored 13 of his team-high 20 points in the second half. His 3-pointer from just to the right of straightaway with 5:25 left in the third quarter got the Ironmen to within 40-39 and they got as close as one point one other time in the period, but could be never get over the hump.

Harper beat the third quarter horn with a 3-pointer that cut the deficit to 50-48 and it was 52-50 in BC's favor after Harper scored off an assist from Isaiah Edmond, but then Benjamin went on his personal scoring spree to push the lead back up to 8 and force a Bosco timeout. It was pretty much done and dusted from there as Bergen made 7 of 8 free throws in the fourth quarter to finish off its well-earned victory.
"This is big right here, but this is just the first step, you know? We want to be state champions," said Brown, the Wagner University commit. "I just love my guys and I just want to enjoy my time with them."
FOR MORE PHOTOS FROM THIS EVENT PLEASE CLICK HERE. TO BUY A COLLECTOR'S PRINT OF THIS STORY PLEASE VISIT 4-FeetGrafix.com.