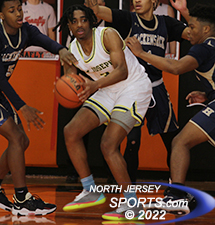 Justin Noelizaire was one of five double digit scorers for St. Joseph Regional, which advanced to the Jambo quarterfinals with a hard-fought 79-74 win over Hackensack.
TENAFLY – St. Joseph Regional has barely been whole all season. A combination of injuries, illness and transfer waiting periods have left the Green Knights struggling to fill uniforms and they played a couple of games earlier this season with just seven available players.
Having persevered well enough to earn the No. 5 seed in the Bergen County Jamboree, SJR is finally at full strength and has put itself in the conversation of Jambo contenders which looked like a two horse race between Don Bosco Prep and Bergen Catholic when the tournament started.
"We have only had four or five games with a full team, so we are still developing. We had COVID hit us, we had transfers…A lot to deal with," said SJR junior Donovan McKoy. "I think that these last few games that we have had a full team we are really starting to come together. We have a great coaching staff, great players and I feel like we are just starting to build something really special."
The Green Knights had the toughest matchup in the Round of 16 against an under-seeded Hackensack team and it was a battle, the most competitive of the eight games played on Saturday across two sites. It was a wide open game, especially in the first half with Hackensack's Shawn Reckley pushing the pace. He scored 9 of his game-high 34 points in the first quarter that ended with the Comets in front, 22-21, and he had 19 in the first half.
With its full arsenal finally available, SJR was more balanced offensively with five differently players making at least one field goal in the second quarter as the Knights went to the locker room with a 45-38 lead. Hackensack closed to within 56-53 heading into the fourth, which opened with a bang.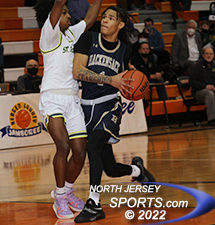 With his game-high 34 points, Hackensack's Shawn Reckley totaled 76 points in his two Jambo games.
SJR's Justin Noelizaire and Reckley combined to score 13 points in the first 1:40 of the final quarter with Reckley's driving layup getting the Comets to within 62-60 with 6:20 to play. Khalil Baker, Hackensack's 6-foot-5 senior center, scored inside on consecutive trips to tie the game at 64 with just under five minutes to play and there were two more ties (at 66 and 67) and two more lead changes in the final four-and-a-half minutes.
Hackensack went in front, 66-65, John Judkins free throws and at 67-66 when Judkins made one of two with 3:56 left.
"When the seeds came out and I looked at the matchups and saw Hackensack, I was like, 'Wow, that is a tough game.' They are a really, really good team, they have played a tough schedule and I knew it was going to be a tough game," said SJR head coach Mike Doherty. "I am not surprised that it came right down to the end."
It did as it was not until McKoy's jumper from the elbow with 2:38 left in the game that Joe's went ahead for good at 69-67 and it was still a one possession game, 75-72, with 29 seconds left when Giovanni Payne scored inside for Hackensack, but the Comets stalled after that.
Christopher Williams made two clutch free throws for SJR, Hackensack followed with a bad shot on an empty possession and McKoy's bucket with four second to go finally ended the festivities.
"I think our guys battled, but there are some little things that we didn't do and it hurt us in a close game like this," said Hackensack head coach Aaron Taylor. "We were in foul trouble a lot. They were in the double bonus both halves and I know that we were fouling that much more than they were, but I never blame anybody else. I always talk to our guys about what we can do better. If we make a couple more layups, if we were a little more disciplined and we didn't commit some fouls that definitely were fouls, bad fouls, than maybe we end up on the other end."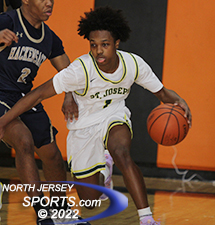 Christopher Williams scored 14 points for SJR, which will play Ridgewood in the quarterfinals..
Reckley certainly made his mark in his two-game stay in the Jambo. He went for 42 points last weekend in an opening round win over Waldwick and backed that up with his 34 point effort on Saturday to go along with 4 rebounds and 4 assists. Judkins (14 points), Baker, who had 12 points and 6 boards before fouling out with 4:10 to play, and Damir Shelley (10 points) made it four in double figures for the Comets, who fell to 11-8 on the season.
SJR put five players in doubles with McKoy's 19 leading the way. Williams (14), Noelizaire (13), Montique Nedd (11) and Jahmir Joseph (10) joined him and Mason Piorkowski added 8 points for the Knights, who will take on No. 4 Ridgewood in the quarterfinals next Saturday at Hackensack High School.
Ridgewood won the regular season meeting, but that was when SJR was undermanned. Both teams are playing their best basketball of the season right now.
"The kids are great. We are far from perfect, obviously, but they really work hard and they have shown an ability to kind of stick around in tight games. Not that we always win, but to be there and today was another one," said Doherty. "Happy to be playing next week and we know it is going to be a tough one."
FOR MORE PHOTOS FROM THIS EVENT PLEASE CLICK HERE. TO BUY A COLLECTOR'S PRINT OF THIS STORY PLEASE VISIT 4-FeetGrafix.com.