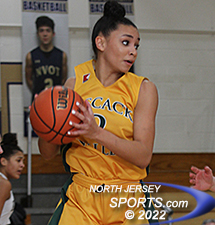 Lindsay Jennings scored on a coast-to-coast layup to force overtime and Pascack Valley made the most of the extra session in a 36-33 upset of NV/Old Tappan in the quarterfinals of the North 1, Group 3 state sectional playoffs.
OLD TAPPAN -- Out of synch and seemingly out of answers against Northern Valley/Old Tappan's smothering man-to man-defense, Pascack Valley was limping out of the state tournament. Just two days after dropping 66 points in a first round win over fourth-seeded Wayne Valley, the 13th-seeded Panthers managed just 7 points total in the entire first half as they tried to spring as second straight playoff upset.
Seven points in the first half? More precisely seven points through the first 19:13 of the game. No shot, right?
Well, things got crazy, so crazy in fact that Pascack Valley scored more points in the fourth quarter (16) than it had in the three previous quarters combined (14) and scraped together just enough offense to force an overtime.
And then, BANG! Jules Vassallo hit a 3-pointer at the buzzer in the extra session to cap an improbable comeback.
Vassallo took an inbounds pass from deep in the corner, dribbled around a screen to the top of the key, squared her shoulders and, with a hand in her face, drilled the game-winner in a 36-33 victory that sends Pascack Valley into the North 1, Group 3 semifinals where it will visit top-seeded Sparta on Saturday.
"We were supposed to stack it and try to get something going towards the rim, but I got the ball and I know I am a good 3-point shooter, and I put it up," said Vassallo, who scored 11 of her game-high 16 points after halftime. "I kind of always dreamt of doing something like this and now it has finally happened."
With just three first half field goals Pascack Valley was obviously struggling on offense early in the game, but did not carry it over to the other end of the floor. The Panthers' defense kept them close and despite the meager point production, they trailed by less than double digits, 15-7, at halftime.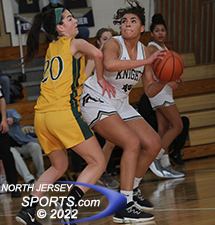 Maya Giordano scored a team-high 11 points for Old Tappan.
"The beauty of the game of basketball is that we played a heckuva game on Tuesday against Wayne Valley. We were way out of our comfort zone. We scored 66 points two days ago and today we scored seven in a half, but every game is its own," said Pascack Valley head coach Jeff Jasper. "Normally, as you know, or more times than I care to remember, our season has come to an end in this [visitor's] locker room [at Old Tappan]. Today the karma is in our line."
The karma did not really align itself with PV until the fourth quarter as Old Tappan actually extended its lead to double digits by the end of the third. Senior Emily Clune snuck in to grab an offensive rebound on the back side and put it back in at the buzzer to give the Golden Knights, playing in front of a packed house on their own home floor, a 24-14 lead heading into the fourth quarter.
It is not like there was one moment where everything changed. Pascack Valley's comeback was more subtle; a couple of baskets followed by a couple of NV/OT mistakes and the Panthers crept back in it. Ava Burke, one of two unflappable freshmen in the Pascack Valley lineup along with point guard Celina Bussanich, got the fight back started by sweeping across the lane for a layup to open the fourth quarter scoring.
Old Tappan answered PV's first two baskets of the fourth as Mackenzie Ward hit an elbow jumper and sophomore Maya Giordano converted a lob pass thrown into the paint by her sister, Layla, to counter Vassallo's 3-pointer, but then the home team started to run out of steam.
Four of Tori Criscuolo's six points came consecutively. She put back a missed shot and then got all the way to the basket on a drive for four straight points that drew PV back to within 28-23 with 2:24 left in regulation. The score was the same inside the final minute and Old Tappan's Marin DeGennaro made both ends of the one-and-one to extend the lead back to seven points with 44 seconds left, but the Knights missed the front end on both of their next two trips to the line to keep the door open.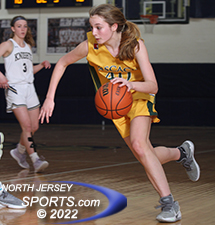 Freshman Ava Burke made two clutch free throws in overtime for Pascack Valley, which will play top-seeded Sparta in the semifinals on Saturday.
Vassallo made two free throws to make it a 5-point game with 31 seconds left, she turned OT's first missed free throw into a runner at the other end to make it a 3-point game with :14 left and, after Old Tappan missed again from the stripe, Lindsay Jennings single-handedly kept PV's season alive.
Jennings grabbed the defensive rebound, dribbled coast-to-coast, made the layup, was fouled and added the free throw to tie the game, 30-30, with 5 seconds left. When Vassallo made a free throw 54 seconds into the extra session, Pascack Valley had its first lead since the score was 3-2.
Old Tappan made just 3 of its 8 free throw attempts in the fourth quarter and overtime, but Maya Giordano made one and then scored on a turnaround jumper of an inbounds pass with 37 seconds left to put the Knights back in front, 33-31.
Next up in the pressure cooker for Pascack Valley was Burke, the freshman, who has steadily earned playing time as the season has gone along. She was fouled with 19 seconds to play, her team was down by two and the crowd was at its playoff crescendo. Burke calmly sank the first, waited out an Old Tappan timeout designed to ice her, then returned to the stripe and just as calmly knocked down the second to tie the game at 33.
"I was so nervous and I really could not have done it without our assistant [coach], we call her my mom on the team, Ms. [Tina] Marchiano. She always tells me elbow in and make sure you finish with your elbow at your eyebrow. I was just thinking that in my head as I was taking the first foul shot and then, of course, the timeout happened and I had even more time to get anxious about it," said Burke. "It was really stressful. If I didn't make those [free throws] then everyone in the crowd would be think that the loss is on me. I wasn't used to all of this pressure. I am only a freshman."
After Burke tied the game Old Tappan never got the ball to the other end. The Knights maintained possession on a jump ball but then through away the ensuing inbounds pass to give PV the ball in the corner from where the build up to Vassallo game-winner started. Both teams were out of timeouts, so PV had no margin for error and could not move from the inbounds spot. Vassallo took the inbounds pass and a couple of dribbles before sending the Panthers through to the semifinals.
"We went into tournament with a young team, but we have grown a lot. We have learned to play together," said Vassallo. "When we play with a lot of energy we can play great."
Vassallo was the only double digit scorer for Pascack Valley. Jennings was next with 9, Criscuolo added 6 and all 4 of Burke's points were absolutely critical. Shana Weiss' third quarter free throw accounted for the other point for Pascack Valley, which improved to 16-11 on the season. Maya Giordano topped Old Tappan with 11 points, Ward finished with 8 and Melissa Brennan (6 points) had both of NV/OT's two made 3-pointers.
Jasper has won more than 1,000 games in his unparalleled coaching career, PV and Old Tappan have played so many classics over the years in both the regular and post seasons and this was just another great chapter in one of Bergen County's best rivalries.
And now we know who Ava Burke is.
"At the beginning of the season I wasn't even playing. I was on the bench," said Burke. "About halfway through the season we had a couple of girls out because of COVID and one had mono so that was about the time when I got to show what I could do on the court and that probably the reason why I am playing now. If you are asking if I thought I would ever be in this situation, the answer is definitely 'No."
FOR MORE PHOTOS FROM THIS EVENT PLEASE CLICK HERE. TO BUY A COLLECTOR'S PRINT OF THIS STORY PLEASE VISIT 4-FeetGrafix.com.