Ian Solomon (24) played almost the entire second half with four fouls and finished with 15 points for Pascack Hills, which improved to 6-1 with a 63-49 win on the road at River Dell on Tuesday.
ORADELL – It takes a lot to force Pascack Hills out of its preferred man-to-man defense, but a tight rotation, foul trouble and a stiff challenge from a feisty opponent on the road pushed the issue on Tuesday night.
Pascack Hills center Ian Solomon had a rough three minute stretch on the bridge between the second and third quarters. He picked up two quick fouls, one of the technical variety, inside the final minute of the first half and then picked up his fourth on a charge call 2:19 into the second half to make it a total of four personal fouls.  Normally that would mean a trip to the bench for an extended rest, but instead, head coach Paul Derrico rolled the dice, switched to the zone and let his big man try to ride it out.
"It was a gamble, but I thought it was one I had to take," said Derrico. "We were kind of forced into it a little bit tonight, we went to the 2-3 and when they missed their first couple of shots we stuck with it. You go to it when you need a change, we needed it and it worked out for us tonight."
It worked out because Solomon, playing one foul away from disqualification for the final 13:41, found a way to stay on the floor for the duration and found a bunch of ways to contribute in the process. He scored 10 of his 15 points in the second half and also allowed Pascack Hills' cohesive starting five to stick together and pull away.
"We have been working on the zone in practice. We didn't think that we would have to go into it as much as we did tonight, but things happen in a game," said Solomon. "I was just trying to get rebounds. That was where I could contribute most with the foul trouble because I could not really play the aggressive defense that I wanted to. I just wanted to contest shot, get rebounds and stay in the game."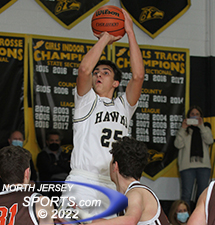 Junior Hamilton Roth scored a team-high 16 points for River Dell.
Solomon also made himself an option on the offensive end. He scored on the business end of a pick-and-roll with 6:23 left in the game to kick off a game-ending 17-7 run that finally took the starch out of the home team. With its 63-49 victory Pascack Hills improved to 6-1 and extended its winning streak to six straight games.
Pascack Hills hit the ground running as it made its first four shots and opened a 10-0 lead less than three minutes into the game and led by as many as 11 twice in the first quarter that ended with the Broncos in front 22-15. River Dell had some answers, however, and junior Hamilton Roth was one of those. A tough matchup with good size, Roth is tough on the baseline and has a lethal midrange game that is bolstered by a true jump shot with elevation.
Roth scored 12 of his team-high 16 points in the second quarter and his layup from the endline with 53 seconds left in the second quarter drew River Dell to within 30-29. Roth also hung two fouls on Solomon in the final 33 seconds of the half, made all four free throws and put the Golden Hawks up 33-30 at the intermission.
The switch to the zone came shortly after the teams returned to the floor and Pascack Hills held River Dell to just three third quarter field goals and just six points.
"They run their offense, their man-to-man stuff very well, which they have traditionally, and with the foul trouble they forced us into the zone," said Derrico. "You go to it and if they miss their first couple of shots you stay with it and see how long you can go. We got a lot out of it tonight."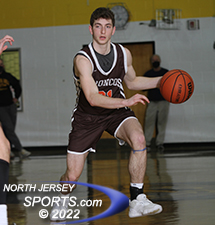 Andrew Brodsky scored 13 points for Pascack Hills, which is on a six-game winning streak.
Ryan Milnes' pull up jumper with 5:26 left in the third quarter broke the game's final tie and gave River Dell its final lead of the night at 37-35. Then Aidan Berson heated up. Pascack Hills' senior guard scored six points in the 8-0 run that Pascack Hills put together to close the third quarter. He made two steals and two layups on consecutive River Dell possessions to put the Broncos up 44-39 and he made a 3-pointer from the wing with 4:06 to play that put PH up 51-44. The Hawks never got any closer.
"We are so close, we have been playing together since like third grade, so when any of us get hot we just keep getting them the ball. It could be any of us," said Berson. "Tonight it was me, but that was just the way this game went. Next game it could be somebody else and that is one of the strengths of this team. We want each other to do well."
Pascack Hills got all of its scoring from its all-senior starting five. Berson led the way with 21 points and Solomon (15 points) and Andrew Brodsky (13 points) made it three Broncos in double figures. Jesse Belnick (7 points) made two first quarter 3-pointers and Morrison Bibi made two fourth quarter field goals.
Roth scored all of his team-high 16 points in the opening half and Milnes finished with 12. Colin Quinn, River Dell's hard-nosed point guard who did a little bit of everything for the Hawks and did it all at full speed, added 8. Braden Kreutzer made two fourth quarter 3-pointers, Matt Brunner made on the first quarter and Matt Kelleher added a couple of field goals off the bench for River Dell, which fell to 3-4 on the season.
Pascack Hills has not lost since falling to Paramus Catholic on opening night.
"Berson missed our first two games, he was hurt, but we are healthier now and we are playing pretty well," said Derrico. "I think offensively we are clicking right now and I am pleased with where we are right now."
FOR MORE PHOTOS FROM THIS EVENT PLEASE CLICK HERE. TO BUY A COLLECTOR'S PRINT OF THIS STORY PLEASE VISIT 4-FeetGrafix.com.